The Twelve Absolutes of Leadership
Gary Burnison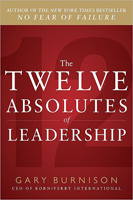 Format:
Hardcover, 240pp.
ISBN:
9780071787123
Publisher:
McGraw-Hill
Pub. Date:
February 21, 2012
Average Customer Review:


For Bulk Orders Call: 626-441-2024

Description and Reviews
From
The Publisher:
ALL IN, ALL THE TIME
For Gary Burnison, CEO of the world's largest executive search firm, these five simple words perfectly capture the essence of great leadership. There can be no half measures. Complete commitment, total engagement, and a powerful sense of personal responsibility are the criteria for true leadership excellence. It's more than a job; it's a way of life. But how do you get there? In this groundbreaking book, Burnison provides the answer.
As the leader of Korn/Ferry International, Burnison is particularly well qualified to write a guide to effective leadership. On a personal level, he experiences every day what it's like to be responsible for the lives of others, the careers of his employees, and the expectations of stakeholders. He also deals one-on-one with some of the world's top leaders.
In
The Twelve Absolutes of Leadership
, Burnison distills this vast experience into an actionable plan for building world-class leadership skills. You'll learn how to train your focus on the twelve most critical elements of leadership, so you can
Establish your vision and develop a strategy for achieving it
Inspire your people to embrace the change you envision
Measure the effectiveness of your leadership
Build powerful teams that are aligned in purpose and strategy
Foresee new opportunities and adjust your course to meet them
Nothing in business or life generates greater personal satisfaction than affecting peoples' lives in a positive way through excellent leadership. Burnison refers to it as the "eighth wonder of the world."
The prospect might seem daunting, but Burnison makes it more accessible than you thought possible. He presents a framework based on enduring human truths, which is applicable in every leadership role and arena. All you have to do is apply it with dedication and determination.
You have the ability. Take your first steps to leadership excellence with The Twelve Absolutes of Leadership.

Reviews
"In The Twelve Absolutes of Leadership, Gary Burnison captures the timeless principles that leaders must possess, beyond intelligence, courage and heart. These essential elements speak to the integrity and authenticity that underscore all effective leadership."
—Carlos Slim, entrepreneur, Investor, and the world's richest man
"Only a few good leaders have paused to reflect seriously on being leaders. Xenophon and Ulysses S. Grant did, and now Gary Burnison can be added to the list. This is not a business book. This is a book about the business of life."
—P.J. O'Rourke, political satirist, journalist, and author
"Gary Burnison has distilled leadership into its essential elements—the absolute truths about leadership that apply in every arena. For those who want to know what leadership is all about, this book has the answers."
—Lt. Gen. (Ret.) Franklin "Buster" Hagenbeck
"Leadership is the most important ingredient in any successful organization. Gary Burnison explores the essential elements of leadership through conversations with some of the world's most seasoned and accomplished leaders."
—Eli Broad, founder of The Broad Foundations, KB Home, and SunAmerica
"Gary Burnison's wisdom and insight cut straight to the heart of the matter—to the essential elements of any leadership framework. His stories, observations, and conversations with leaders artfully illustrate these principles, applicable to everyone."
—Vicente Fox, former President of Mexico


Reader's Index
Send us your favorite quotes or passages from this book
.
• "Leaders are mirrors for the entire organization." Page 3
• "As a leader, you must move beyond 'what must be done' to 'why we're doing this.' This is the essential difference between a manager and a leader. Without the why, there is no real buy-in; it's just aiming for the targets and hoping for a short-term reward." Page 17
• "Show your team members that they are part of something bigger than themselves. No matter what the conversation, even if you are firing someone, everyone who comes into your office should leave feeling better than when he walked in." Page 65
• "There is no room in the orchestra for a one-man band. Leadership is not about the use of power, but about the leader's restraint in using power. True leaders do not worry about undermining their authority when others become empowered. They care most about enabling others and making the team successful." Page 89
• "Employees work harder for leaders who demonstrate respect for their work. Authentic, purposeful praise is a power skill of the successful leader. Everywhere." Page 117
• "As a leader, you must be the message. Without ownership, your words, whether written or spoken, will have little impact. The success of the communication rests in the results it achieves." Page 165
• "For all leaders, a powerful lesson to learn is how to find and develop the right people, not mere replicas of the leader. Leaders must be comfortable with differing views, providing others with the opportunity to dissent." Page 197

About the Author
Gary Burnison
is Chief Executive Officer of Korn/Ferry International, the world's largest executive recruiting firm and a leading global provider of talent management solutions. Based in Los Angeles, the firm delivers an array of solutions that help clients to attract, deploy, develop, and reward their talent. Burnison is a regular contributor to CNBC, CNN, Fox Business, and to other international news outlets.

Find Items On Similar Subjects

No Fear of Failure
: Real Stories of How Leaders Deal with Risk and Change