InsideOut Enneagram
: The Game-Changing Guide for Leaders
Wendy Appel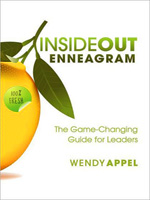 Format:
Paperback, 442pp.
ISBN:
9780984884209
Publisher:
Palma Publishing
Pub. Date:
March 8, 2012
Average Customer Review:

For Bulk Orders Call: 626-441-2024

Description and Reviews
From
The Publisher:
InsideOut Enneagram: The Game-Changing Guide for Leaders
will guide you to change the way you see and think and the way you show up as a leader. It will decode the Enneagram, an ancient system for modern times, to shine light on your strengths and challenges, and the often unconscious habits and motivations that drive you and others. It will allow the best of you to emerge as a leader that others trust and are inspired to follow.
InsideOut
provides a set of tools to turn complex theories of personality into practice with case studies, exercises and practices. This book was written with leaders, managers, coaches, consultants, and counselors in mind.
InsideOut
is also meant for those who want to augment strength, courage, and success, and who may take a lead in the future.

Reviews
"the most useful book I have ever read on the Enneagram and its application to leadership...takes the new-world Enneagram on a journey that bridges business life and interpersonal relationships."
—Sylviane Cannio | Master certified coach, speaker, and former vice president, International Coach Federation
"To read InsideOut and follow the exercises is to begin the journey toward transforming yourself. Be prepared for an adventure!"
—Mary Bast | Coach and mentor Coauthor of Out of the Box: Coaching with the Enneagram
"This is the kind of book the world needs, for in this fractured world, we need leaders who are self-actualized. This book looks certain to create a shift in those who read and practice."
—John Renesch | Futurist
"Engaging, relevant, usable... an inspirational, insightful, and practical guidebook for leaders."
—Angeles Arrien, PhD | Cultural Anthropologist, Author
"High-functioning teams face complex challenges requiring diverse skills and varied sources of motivation. To achieve that vital mix, a leader must have a wide and deep understanding of behavior and performance. At Frost & Sullivan, we thrive in a highly competitive global economy, thanks in no small part to Wendy Appel. She has coached me make masterful use of the Enneagram - an extraordinary system to build team resources uniquely designed to address complexity. She has now made the tools available through InsideOut Enneagram. This engaging book provides a case study framework using deep attention to detail to ensure that leaders and teams can learn to use precision tools to achieve a desired result. Indeed, Wendy's work as a coach, grounded in her international business experience, and her carefully structured guidance throughout this book provide a map for team success that I have not found elsewhere."
—David Frigstad | Chairman, Frost & Sullivan

About the Author
A few years ago, internationally acclaimed organizational consultant
Wendy Appel
felt the call to slow down and look inward. In the quiet of her new home in a tiny village on a Mediterranean island, she reflected on three decades of guiding organization and leadership transformation at companies such as Kaiser Permanente, Cardinal Health, and Pfizer. During this time she transformed her professional experience and intellectual insights into a framework for leadership and team development that are captured in this book. She drew on twenty years of study and work with the Enneagram to bring ancient, personal, and practical wisdom to leaders and their teams to navigate the current world situation. Today her work takes her around the world as a consultant, coach, thought leader and public speaker on Spirituality in Business, the Enneagram, and Change and Transformation.

Find Items On Similar Subjects

Please Understand Me II
: Temperament, Character, Intelligence