Please Understand Me II
: Temperament, Character, Intelligence
David Keirsey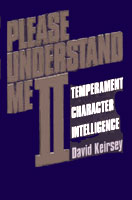 Format:
Paperback, 350pp.
ISBN:
9781885705020
Publisher:
Prometheus Nemesis Book Co
Pub. Date:
May 1998
Average Customer Review:

For Bulk Orders Call: 626-441-2024

Description and Reviews
From
The Publisher:
The Please Understand Me Phenomenon
: Keirsey and Bates's
Please Understand Me
, first published in 1978, sold nearly 2 million copies in its first 20 years, becoming a perennial best seller all over the world. Advertised only by word of mouth, the book became a favorite training and counseling guide in many institutions—government, church, business—and colleges across the nation adopted it as an auxiliary text in a dozen different departments.
Why?
Perhaps it was the user-friendly way that
Please Understand Me
helped people find their personality style. Perhaps it was the simple accuracy of Keirsey's portraits of temperament and character types. Or perhaps it was the book's essential message: that members of families and institutions are OK, even though they are fundamentally different from each other, and that they would all do well to appreciate their differences and give up trying to change others into copies of themselves.
Now
:
Please Understand Me II
For the past twenty years Keirsey has continued to investigate personality differences—to refine his theory of the four temperaments and to define the facets of character that distinguish one from another. His findings form the basis of
Please Understand Me II
, an updated and greatly expanded edition of the book, far more comprehensive and coherent than the original, and yet with much of the same easy accessibility. One major addition is Keirsey's view of how the temperaments differ in the intelligent roles they are most likely to develop. Each of us, he says, has four kinds of intelligence—tactical, logistical, diplomatic, strategic—though one of the four interests us far more than the others, and thus gets far more practice than the rest. Like four suits in a hand of cards, we each have a long suit and a short suit in what interests us and what we do well, and fortunate indeed are those whose work matches their skills. As in the original book,
Please Understand Me II
begins with The Keirsey Temperament Sorter, the most used personality inventory in the world. But also included is The Keirsey Four-Types Sorter, a new short questionnaire that identifies one's basic temperament and then ranks one's second, third, and fourth choices. Share this new sorter with friends and family, and get set for a lively and fascinating discussion of personal styles.

About the Author
Dr. David W. Keirsey
is a veteran personologist specializing in the pragmatics of coaching children, parents, and spouses to decrease conflict and to increase cooperation. Late in his long career he set up a training program for those who sought to learn how to intervene correctively in the character defense games that children play with parents and teachers, and that spouses play with each other. His best selling book "
Please Understand Me
" had sold over two million copies. He finished his book, a completely rewritten and expanded version,
Please Understand Me II: Temperament, Character, Intelligence
.
Dr. Keirsey is a clinical psychologist who worked for public schools for 20 years as a corrective interventionist, and followed this with 11 years training therapists and pathologists (California State University) in the art of changing dysfunctional behavior in children and adults. His students and colleagues agree that drugging active children is unnecessary, having achieved uniform success in using the logical consequences rule and the abuse it—lose it method. He joins the thousands of psychotherapists in America in speaking out against the epidemic abuse of our children by those who do not understand how to teach self control to them.
He is currently working on his new book,
Temperament and Talent
, which examines the complex interaction between our inborn preferences, what we practice, our natural talents, and our developed skills.

Table of Contents
| | | |
| --- | --- | --- |
| | | |
| 1 | Different Drummers | 1 |
| 2 | Temperament and Character | 17 |
| 3 | Artisans | 32 |
| 4 | Guardians | 75 |
| 5 | Idealists | 116 |
| 6 | Rationals | 161 |
| 7 | Mating | 208 |
| 8 | Parenting | 252 |
| 9 | Leading | 286 |
| | | |
| | Chapter 2 Notes | 331 |
| | Bibliographies | 337 |
| | The Keirsey Four Temperament Sorter | 341 |

Find Items On Similar Subjects

Breakthrough Creativity
: Achieving Top Performance Using the Eight Creative Talents

The Platinum Rule