YOU — According to Them
: Uncovering the Blind Spots That Impact Your Reputation and Your Career
Sara Canaday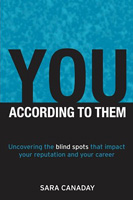 Format:
Paperback, 206pp.
ISBN:
9780984659111
Publisher:
T&C Press
Pub. Date:
August 23, 2012
Average Customer Review:

For Bulk Orders Call: 626-441-2024

Description and Reviews
From
The Publisher:
Learn the secrets of accelerating your journey toward success by better understanding yourself and how others perceive you.
You—According to Them
will offer practical steps to help you leverage the perceptions of a great reputation into bottom-line success.
If you've ever worked in an organization of any size, you've probably seen it: the talented geniuses with all the right credentials who don't really seem to be going anywhere in their chosen careers. Sometimes that "talented genius" is us, and we are hard-pressed to understand what's blocking our ability to advance. In her this book, Sara Canaday draws on her years of corporate experience and research to not only explain WHY smart people can end up with stalled careers, but also HOW they can fix the problems (or avoid them in the future). The timing for this insight couldn't be better, given today's increasingly competitive work environment.
You—According to Them
deals directly with the blind spots and perception disconnects we all face as we navigate our own sometimes-winding career paths. Sara identifies eight different "syndromes" using very distinct characters and case studies from her 20 years of work on the subject:
• Don't Fence Me In
• Intellectual Snob
• Frozen Compass
• Dust in My Wind
• No Crying in Baseball
• Safety Patrol
• Faulty Volume Control
• Passion Pistol
• Perpetual Doer
In each chapter, Sara describes one of these blind spots in detail, along with a list of "quick fixes" for fast response. She also closes the chapter with a long-term action plan and specific exercises to guide readers through the process for conquering that particular syndrome.
"Once we understand the power of our personal reputations," Sara says, "we can begin to see how others' perceptions of us can impact our ability to compete in the marketplace -- for jobs, for raises and for promotions."

Reviews
"For leaders (current and future) who want to accelerate their careers, Sara's book is the next best thing to having your own career coach."
—John Baldoni, President of Baldoni Consulting LLC Internationally Acclaimed Leadership Expert, Author and Speaker
"A thoughtful and insightful exploration of the notion of 'blind spots' and how they can impact your contribution in the workplace. In particular, the real-life examples of each blind spot resonate in a clear and compelling way with my 35 years of work experience. Well done, Sara!"
—Douglas R. Conant, Former President & CEO, Campbell Soup Company New York Times Best-Selling Author of "TouchPoints"
"Every day I see it...otherwise talented people with blind spots that keep them from being their best, and accomplishing all that they could in this life. This book is a timely piece of wisdom."
—Bob Beaudine, Author of "The Power of WHO"
"This book gives a vivid description of the many ways leaders undermine their own reputations and careers. It will help you see yourself 'warts and all.' More importantly, in what feels like a very personal coaching session, Sara Canaday then gives you very candid and caring advice for how to succeed. An immensely practical and useful guide."
—Mette Norgaard, Consultant and Co-Author of the New York Times and Wall Street Journal Best Seller, "TouchPoints"
"I've seen many careers stalled or derailed by blind spots related to the seemingly subtle behaviors that sabotage leaders' effectiveness. This book helps you 'self-diagnose' your blind spots and understand the impact of perceptions on your career success."
—Marcia Silverberg, Vice President, Chief Human Resources Officer Ascension Health, HR Strategic Initiatives and System Office
"There are few things more valuable or fragile than your reputation. But too many of us either lack the courage to ask what others really think or aren't willing to consciously develop virtuous habits that will shape how others see us. This book will help you see yourself through the eyes of others, so you can become the person you were meant to be."
—Jeffrey Sandefer, Founder, Acton School of Business Named by BusinessWeek as one of the top Entrepreneurship Professors in the United States
"You -- According to Them is a must-read for anyone serious about improving the perceived value of their personal brand. It will help readers understand the power of personal reputation and how others' perceptions can impact their ability to compete in the market place. Sara's clear writing style and helpful 'fast fixes' make it easy for readers to evaluate their own reputations, take action to elevate them, and accelerate their own journeys towards success."
—Dr. Rich Handley, President & Founder, EQ University
"Sara Canaday'sYou -- According to Them hits the nail right on the head. Want to have a great company with customers who love you and keep coming back? Start on the inside. Help your leaders fix their blind spots, and they'll build the kind of workplace where customer-facing employees can be their best."
—Jill Griffin, International Speaker and Corporate Advisor Author of Business Best Seller, "Customer Loyalty: How To Earn It, How To Keep It"

About the Author
Sara Canaday
is a recognized expert in leadership development with bottom-line impact at the corporate level. Specifically, she helps companies' high-potential employees integrate the elusive leadership skills that research now proves are critical for corporations to succeed. As a compelling speaker, executive coach, and owner of the consulting firm Sara Canaday & Associates, she has a unique gift for connecting and communicating with her audiences to propel them from light-bulb-moment insight to strategic change. To date, Sara has helped thousands of people to identify the professional blind spots that are preventing them from taking their careers - and their companies - to the next level. You—According to Them allows Sara to share this highly relevant and beneficial message with a broader, more diverse audience.

Find Items On Similar Subjects

Blind Spots
: Achieve Success by Seeing What You Can't See