Blind Spots
: Achieve Success by Seeing What You Can't See
Claudia Shelton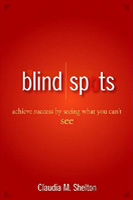 Format:
Hardcover, 272pp.
ISBN:
9780470042250
Publisher:
Wiley
Pub. Date:
March 23, 2007
Average Customer Review:

For Bulk Orders Call: 626-441-2024

Description and Reviews
From
The Publisher:
Do you know why you're not getting a promotion, taking on new leadership roles, managing a team with top-notch effectiveness, or reaching your full potential in the workplace and in your personal relationships?
Maybe it's what you don't see about yourself that's holding you back.
Now, executive coach Claudia Shelton reveals how her revolutionary approach to personal development can help you recognize your personal blind spots—and then take immediate action that will lead to unprecedented personal achievement. Blind Spots is a proven and realistic approach to professional development that offers a step-based system for gaining a new and clearer perspective on who you are and how you can achieve more.
Shelton sees blind spots not as faults or weaknesses, but as doors to possibilities that you couldn't previously imagine for yourself. With this positive outlook, you'll be able to easily modify your attitudes, habits, and behaviors to create new personal strengths. Blind Spots provides the tools you need to build a positive mindset and learn what it is you haven't been able to see about yourself. Once you have that perspective and start working to fulfill your ultimate potential, unlimited success will be right around the corner.
Shelton offers a complete system for identifying and adjusting personal behaviors and habits that hold you back. You'll learn the five most common blind spots, the five principles that open your thinking to new ways of doing things, and specific strategies that help you implement effective action. And you'll discover simple steps you can take to improve your performance—and your life—immediately.
No matter what you want to achieve in life, this one-of-a-kind guide will help you tear down the walls between you and what it is you want—whether that's a promotion, a new business, optimum performance, greater recognition, more social impact, a more balanced personal life, enhanced personal relationships, or any other goal. While the process of recognizing what you don't know about yourself can be frustrating and confusing at times, Blind Spots provides a roadmap that is always simple and straightforward.
The book includes 15 chapters organized in 4 sections:
Section 1: Know Your Blind Spots
Defines what we mean by Blind Spots and introduces a 3-step approach to eliminate them. Illustrated by in-depth cases, a model of the Five Most Common Blind Spots framework is presented for self-evaluation.
Section 2: Principles of Clear Sight
Readers need a fresh perspective that helps them comprehend what they have yet been unable to see about themselves. The Five Principles of Clear Sight assist in building the mindset and tools they they need to see new possibilities.
Section 3: Build a Model of Yourself
Provides readers with the Blind Spots FinderProfile, a step-by-step inventory for identifyingtheir own blind spots. Translates reader-provided information into Blind Spot themes and solutions, which can pin-point hidden blind spots. Also provides a way to get information from other people.
Section 4: Clear Sight Strategies
Provides strategies which eliminate blind spots in ways that achieve different goals: getting promotions and expanded responsibility, dealing with difficult people, managing complexity and diversity, maintaining life balance, and dealing with change.

Reviews
"Shelton's open and candid style inspires trust among readers. Management teams and those making career choices can push their effectiveness up a notch with her skilled approach to facing blind spots and moving beyond them."
—Rick McNutt, Executive Vice President, National City Bank
"Blind Spots gives individuals a comprehensive, but very manageable, set of tools and strategies to see themselves differently. The stories of people whose lives have been changed by Shelton's principles and techniques enhance the strategies she presents. This is a compelling book with the power to improve lives dramatically."
—Eleta A. Jones, PhD, LPC, Assistant Director, Center for Professional Development, University of Hartford
"Shelton's approach to identifying blind spots goes to the heart of effective leadership. Such interest arose from this work that requests poured in for not only follow-on training regarding Blind Spots, but also for developmental coaching. Six months later, people are still talking about Blind Spots."
—Jack Bergquist, Vice President, Kaman Aerospace
"When I recognized my blind spots that made me underestimate my entrepreneurial strengths, I was able to move forward to launch a successful company. This book is a must for building resilience to face the challenges of a start-up."
—Marilyn Nemarich, entrepreneur and owner, Marilyn's Pies
"This book can teach you how to see inside yourself. As I was reading it, I kept thinking of the song On a Clear Day You Can See Forever. Learning about your blind spots leads to clear sight, which can create possibilities for innovation and growth."
—Jane Hunt, Assistant Vice President for Executive Development, The Hartford Financial Services Group, Inc.

About the Author
Claudia M. Shelton, President of The Hopewell Group, is an author, speaker, educator, and executive coach. For more than fifteen years, she has used the powerful Blind Spots approach to help executives, managers, professionals, and entrepreneurs see themselves more clearly so they can accomplish their most important professional and personal goals, earning praise from leading executives in Fortune 500 companies as well as from managers, educators, and founders of start-up companies.

Table of Contents
Preface
xi
Acknowledgments
xv
Section One: Unlock the Secrets of Your Greatest Strengths
1
1
See Blind Spots
3
2
Develop Clear Sight
17
3
Can You See What They See?
27
Section Two: Discover Your Blind Spots
37
4
Model Yourself
39
5
The Way They See the Things You Do
49
Section Three: The Five Principles of Clear Sight
63
6
Shift to Neutral
65
7
Imagine Positive Possibilities
79
8
Simply Focus on Success
87
9
Stretch Your Strengths
97
10
Choose with Confidence
105
Section Four: The Strategies for Clear Sight
117
11
Identify Strengths
119
12
Check Old Habits
131
13
Address Stress
145
14
Tune Radar
157
15
Connect
165
Section Five: See Their Blind Spots
177
16
See TheirWay
179
17
Identify Group Blind Spots
187
Section Six: Build Success for Life
197
18
Find Purpose Over Time
199
19
Pass the Possibilities
209
Appendix


219
Descriptions of All Tools
The Five Most Common Blind Spots Framework
Priority for Handling Blind Spots Grid
Blind Spots Profile Matrix
Blind Spots Profile: Descriptions of the Nine Models
Blind Spots Finder Tools Online
Blind Spots Profile Online
Blind Spots 360
Discussion Format: How Do You See My Strengths and Blind Spots?
The Confidence Triangle
Old Habits Blind Spots Grid
Characteristics of Disconnection
Group Blind Spots Finder
Notes
237
Additional Resources
243
Index
245

Find Items On Similar Subjects

What Got You Here Won't Get You There
: How Successful People Become Even More Successful

Now, Discover Your Strengths