How The Mighty Fall
: And Why Some Companies Never Give In
Jim Collins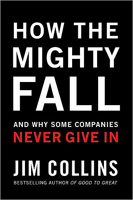 Format:
Hardcover, 240pp.
ISBN:
9780977326419
Publisher:
HarperBusiness
Pub. Date:
May 19, 2009
Average Customer Review:

For Bulk Orders Call: 626-441-2024

Description and Reviews
From
The Publisher:
Decline can be avoided.
Decline can be detected.
Decline can be reversed.
Amidst the desolate landscape of fallen great companies, Jim Collins began to wonder: How
do
the mighty fall? Can decline be detected early and avoided? How far can a company fall before the path toward doom becomes inevitable and unshakable? How can companies reverse course?
In
How the Mighty Fall
, Collins confronts these questions, offering leaders the well-founded hope that they can learn how to stave off decline and, if they find themselves falling, reverse their course. Collin's research project—more than four years in duration—uncovered five step-wise stages of decline:
Stage 1: Hubris Born of Success
Stage 2: Undisciplined Pursuit of More
Stage 3: Denial of Risk and Peril
Stage 4: Grasping for Salvation
Stage 5: Capitulation to Irrelevance or Death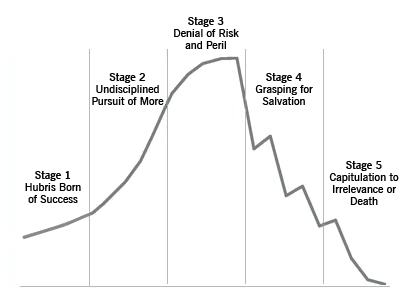 By understanding these stages of decline, leaders can substantially reduce their chances of falling all the way to the bottom.
Great companies can stumble, badly, and recover.
Every installation, no matter how great, is vulnerable to decline. There is no law of nature that the most powerful will inevitable remain at the top. Anyone can fall and most eventually do. But, as Collin's research emphasizes, some companies do indeed recover—in some cases, coming back even stronger—even after having crashed into the depths of Stage 4.
Decline, it turns out, is largely self-inflicted, and the path to recovery lies largely within our own hands. We are not imprisoned by our circumstances, our history, or even our staggering defeats along the way. As long as we never get entirely knocked out of the game, hope always remains. The mighty can fall, but they can often rise again.
Picking up where
Good to Great
and
Built to Last
left off, bestselling author Jim Collins introduces a framework for diagnosing and correcting a company's decline.
Good to Great
and
Built to Last
identified the distinguishing characteristics shared by companies that not only achieved greatness, but also sustained it. In
How the Mighty Fall
, Jim Collins considers the "dark side," offering a perspective on how a fall from greatness can happen -- to even the seemingly invincible. Adapting the very methodology that established
Good to Great
as a landmark,
How the Mighty Fall
shows that every institution, no matter how great, is vulnerable to decline, but recovery is possible. In some cases, companies emerge stronger -- even after having crashed into the depths of a near-catastrophic fall. Collins presents a framework that will help business leaders and companies identify the "silent creep of impending doom" and swiftly set a correction course. Rigorous in its analysis, surprising in its findings,
How the Mighty Fall
is an in-depth look at the decline of some of our nation's greatest companies and a useful tool for companies and individuals seeking to avoid such a fate. Themes from
How the Mighty Fall
:
Whether you prevail or fail, endure or die, depends more on what you do to yourself than on what the world does to you.
An institution can look strong on the outside but already be sick on the inside, dangerously on the cusp of a precipitous fall.
The signature of the truly great versus the merely successful is not the absence of difficulty, but the ability to come back from setbacks, even cataclysmic catastrophes, stronger than before...As long as you never get entirely knocked out of the game, hope always remains.

About the Author
Jim Collins
is a student of companies -- great ones, good ones, weak ones, failed ones -- from young start-ups to venerable sesquicentenarians. The author of the national bestseller
Good to Great
, he serves as a teacher to leaders throughout the corporate and social sectors. His work has been featured in
Fortune, Business Week, The Economist, USA Today
, and
Harvard Business Review
.

Table of Contents
| | | |
| --- | --- | --- |
| | | |
| | Acknowledgements | ix |
| | Preface | xii |
| | | |
| | The Silent Creep of Impending Doom | 1 |
| | Five Stages of Decline | 13 |
| | Stage 1: Hubris Born of Success | 27 |
| | Stage 2: Undisciplined Pursuit of More | 45 |
| | Stage 3: Denial of Risk and Peril | 65 |
| | Stage 4: Grasping for Salvation | 85 |
| | Stage 5: Capitulation to Irrelevance or Death | 103 |
| | Well-Founded Hope | 113 |
| | | |
| | Appendices and Notes | 125 |
| | Index | 213 |

Find Items On Similar Subjects

Good to Great
: Why Some Companies Make the Leap... And Others Don't

Built to Last
: Successful Habits of Visionary Companies

Good to Great and the Social Sectors
: Why Business Thinking Is Not the Answer • A Monograph to Accompany Good to Great

Revival of the Fittest
: Why Good Companies Go Bad and How Great Managers Remake Them