Built to Last
: Successful Habits of Visionary Companies
James C. Collins and Jerry I. Porras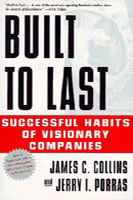 Format:
Paperback, 368pp.
ISBN:
9780060516406
Publisher:
Harper Business
Pub. Date:
August 2002
Average Customer Review:

For Bulk Orders Call: 626-441-2024

Description and Reviews
From
The Publisher:
This is not a book about charismatic visionary leaders. It is not about visionary product concepts or visionary products or visionary market insights. Nor even is it about just having a corporate vision. This is a book about something far more important, enduring, and substantial. This is a book about visionary companies.
So write James C. Collins and Jerry I. Porras in this groundbreaking book that shatters myths, provides new insights, and gives practical guidance to those who would like to build landmark companies that stand the test of time. Drawing upon a six-year research project at the Stanford University Graduate School of Business, Collins and Porras took eighteen truly exceptional and long-lasting companies -- they have an average age of nearly one hundred years and have outperformed the general stock market by a factor of fifteen since 1926 -- and studied each company in direct comparison to one of its top competitors. They examined the companies from their very beginnings to the present day -- as start-ups, as midsize companies, and as large corporations. Throughout, the authors asked: "What makes the truly exceptional companies different from other companies?" By answering such questions, Collins and Porras go beyond the incessant barrage of management buzzwords and fads of the day to discover timeless qualities that have consistently distinguished outstanding companies. They also provide inspiration to all executives and entrepreneurs by destroying the false but widely accepted idea that only charismatic visionary leaders can build visionary companies.
Filled with hundreds of specific examples and organized into a coherent framework of practical concepts that can be applied by managers and entrepreneurs at all levels,
Built to Last
provides a master blueprint for building organizations that will prosper long into the twenty-first century and beyond.
What makes a visionary company? This book, written by a team from Stanford's Graduate School of Business, compares what the authors have identified as "visionary" companies with selected companies in the same industry.
The authors juxtapose Disney and Columbia Pictures, Ford and General Motors, Motorola and Zenith, and Hewlett-Packard and Texas Instruments, to name a few. The visionary companies, the authors found out, had a number of common characteristics; for instance, almost all had some type of core ideology that guided the company in times of upheaval and served as a constant bench mark. Not all the visionary companies were founded by visionary leaders, however.

About the Authors
James C. Collins
operates a management education and consulting practice based in Palo Alto, California. He is the co-author of Beyond Entrepreneurship and a recipient of the Distinguished Teaching Award at Stanford University Graduate School of Business, whose faculty he joined in 1988. Previously he held positions at McKinsey Company and Hewlett-Packard.

Table of Contents
| | | |
| --- | --- | --- |
| | | |
| | Acknowledgments | |
| | Introduction to the Paperback Edition | |
| | Preface | |
| | | |
| Chapter 1 | The Best of the Best | |
| Chapter 2 | Clock Building, Not Time Telling | |
| | | |
| Interlude | No "Tyranny of the OR" | |
| | | |
| Chapter 3 | More Than Profits | |
| Chapter 4 | Preserve the Core/Stimulate Progress | |
| Chapter 5 | Big Hairy Audacious Goals | |
| Chapter 6 | Cult-Like Cultures | |
| Chapter 7 | Try a Lot of Stuff and Keep What Works | |
| Chapter 8 | Home-Grown Management | |
| Chapter 9 | Good Enough Never Is | |
| Chapter 10 | The End of the Beginning | |
| Chapter 11 | Building the Vision | |
| | | |
| Epilogue | Frequently Asked Questions | |
| | Appendix 1: Research Issues | |
| | Appendix 2: Founding Roots of Visionary Companies and Comparison Companies | |
| | Appendix 3: Tables | |
| | Appendix 4: Chapter Notes | |
| | Index | |

Find Items On Similar Subjects

How The Mighty Fall
: And Why Some Companies Never Give In

Good to Great
: Why Some Companies Make the Leap... And Others Don't