The Practical Drucker
: Applying the Wisdom of the World's Greatest Management Thinker
William A. Cohen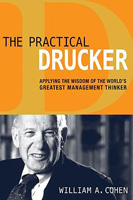 Format:
Hardcover, 288pp.
ISBN:
9780814433492
Publisher:
AMACOM
Pub. Date:
November 12, 2013
Average Customer Review:

For Bulk Orders Call: 626-441-2024

Description and Reviews
From
The Publisher:
Business gurus come and go. But not Peter Drucker, who remains a towering figure, widely regarded to be the father of modern management and the world's most influential business thinker.
Drucker's uncanny ability to codify management practices and predict future trends has ensured his lasting impact. His dozens of books include the landmark Concept of the Corporation and The Effective Executive, which remains a bestseller decades after its first appearance.
Drucker aimed high to illuminate the big picture of organizations, their people, and the global forces affecting them. As such, his focus on the "what to do" eclipsed the "how to do it" that managers and executives crave. Yet crystalline insights into "how" were always there.
Scattered throughout his massive oeuvre are solutions to recurring problems and answers to perplexing questions. The Practical Drucker culls 40 of the most important how-to lessons, each interpreted for today's business challenges and illustrated with fascinating stories and examples. Discover what Drucker had to say about how to:
• Engage your workforce in four essential steps
• Use the 80/20 rule to improve performance and cut costs
• Stay ahead of the competition by actively anticipating change
• Build synergy between marketing and selling
• Find the just-right price for your product or service
• Conduct useful marketing research, and toss out irrelevant data
• Embrace profitability, while avoiding the dangers of profit maximization
• Make a business case for acting in socially responsible ways
• Make the single most important leadership decision
• And much more
As a student, scholar, and longtime friend of Peter Drucker, author William A. Cohen is uniquely positioned to illuminate these timeless teachings of the management master, which resonate today with as much force and relevance as when they were first articulated.

About the Author
William A. Cohen
, Ph.D. (Pasadena, CA) is an authority on leadership and strategy formulation and deployment. He gives speeches and seminars for the Industrial College of the Armed Forces, the Air War College, the FBI Academy, all four armed services, and corporations from Boeing to The Cheesecake Factory. He is the author of many books including The New Art of the Leader, The Wisdom of the Generals , and How to Make It Big as a Consultant.

Table of Contents
| | |
| --- | --- |
| | |
| | Foreword |
| | Introduction |
| | |
| | Part One | People |
| 1 | General Business Ethics |
| 2 | Drucker on Engagement |
| 3 | Drucker's Favorite Leadership Book |
| 4 | The Seven Deadly Sins of Leadership |
| 5 | Three Principles for Developing Yourself |
| 6 | Move Your Company Ahead by Encouraging Your People |
| 7 | The Most Important Leadership Decision |
| 8 | Drucker and Heroic Leadership |
| 9 | What Everyone Knows Is Usually Wrong |
| 10 | Power Comes from Integrity |
| 11 | People Have No Limits |
| | |
| | Part Two | Management |
| 12 | Fear of Job Loss Is Incompatible with Good Management |
| 13 | You Can Accomplish More with Less |
| 14 | What to Do About Office Politics |
| 15 | Above All, Do No Harm |
| 16 | How to Avoid Failure |
| 17 | Quality Is Not What You May Think |
| 18 | Implementation Requires Controls |
| 19 | Do the Right Thing at the Right Time |
| 20 | How to Be a Managerial Fortune-Teller |
| 21 | What Are You Going to Do About It? |
| | |
| | Part Three | Marketing and Innovation |
| 22 | Can Marketing and Selling Be Adversarial? |
| 23 | The Five Great Marketing Sins |
| 24 | You Can't Get the Right Strategy from a Formula |
| 25 | Drucker's Four Approaches to Entrepreneurial Marketing |
| 26 | If You Conduct Marketing Research, Conduct It Right |
| 27 | Be Careful in Using a Bribe |
| 28 | There Are No Irrational Customers, Only Irrational Marketers |
| 29 | Where the Best Innovations Come From |
| 30 | Drucker's Theory of Abandonment |
| 31 | The Mysteries of Supply-Side Innovation |
| | |
| | Part Four | Organizaton |
| 32 | The Purpose of Your Business Is Not to Make a Profit |
| 33 | Social Responsibility Is a Win-Win |
| 34 | There Are Only Two Organizational Functions |
| 35 | Ignorance Is Good |
| 36 | What to Do When an Organization Faces a Crisis |
| 37 | The Ultimate Requirement for Running a Good Organization |
| 38 | Is Leadership a "Marketing Job"? |
| 39 | You Must Know Your Strengths |
| 40 | Drucker's Most Valuable Lesson |
| | |
| | Endnotes |
| | Index |

Find Items On Similar Subjects

A Class With Drucker
: The Lost Lessons of the World's Greatest Management Teacher