Leading at The Edge
: Leadership Lessons from the Extraordinary Saga of Shackleton's Antarctic Expedition
Dennis N. T. Perkins with Margaret P. Holtman, Paul Kessler, Catherine McCarthy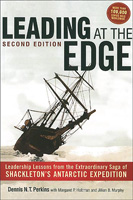 Format:
Paperback, 288pp.
ISBN:
9780814431948
Publisher:
AMACOM
Pub. Date:
Second Edition March 28, 2012
Average Customer Review:

For Bulk Orders Call: 626-441-2024

Description and Reviews
From
The Publisher:
n December of 1914, the British Imperial Trans-Antarctic Expedition, led by Sir Ernest Shackleton, sailed from the island of South Georgia in the Southern Ocean. Its goal: the first overland crossing of Antarctica. Soon trapped in a prison of solid pack ice, the crew became engaged in a legendary fight against brutal cold, impenetrable ice, dwin­dl­ing food, and complete isolation. Despite these seemingly insurmountable obstacles, the team remained cohesive, congenial, and mercifully alive - a fact that speaks not just to luck but to an unparalleled feat of leadership.
Part adventure tale, part leadership guide,
Leading at The Edge
demonstrates the power of strong leadership in times of adversity, uncertainty, and change. This engaging and practical book reveals Ten Strategies for Success™, illustrating how leaders can:
• Instill optimism while staying grounded in reality
• Have the courage to step up to risks worth taking
• Consistently reinforce the team message
• Set a personal example
• Find something to celebrate and something to laugh about
• Never give up—there's always another move!
The
second edition features
new case studies highlighting the strategies in action, tools to uncover and resolve conflicts, and expanded resources. An updated epilogue compares Shackleton's leadership style with that of famed polar explorers Roald Amundsen and Robert Scott, and offers insights into how their contrasting approaches led to strikingly different outcomes.
Today's leaders have much to learn from this gripping account of survival against all odds.
Leading at The Edge
will help them navigate the rough waters of any turbulent environment and achieve success in the face of adversity.

About the Author
Dennis N. T. Perkins
, Ph.D. is the chief executive officer of The Syncretics Group, a consulting firm dedicated to effective leadership in demanding environments. He has taken his passion for The Edge to Antarctica, where he retraced Shackleton's journey. MARGARET P. HOLTMAN and JILLIAN B. MURPHY are consultants specializing in leadership, coaching and team development.

Find Items On Similar Subjects

Leading at The Edge
• Hardcover