Leading at the Edge
: Leadership Lessons from the the Extraordinary Saga of Shackleton's Antarctic Expedition
Dennis N. T. Perkins with Margaret P. Holtman, Paul Kessler, Catherine McCarthy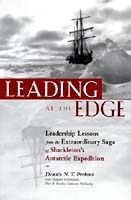 Format:
Hardcover, 288pp.
ISBN:
9780814431948
Publisher:
AMACOM
Pub. Date:
March 28, 2012
Average Customer Review:

For Bulk Orders Call: 626-441-2024

Description and Reviews
From
The Publisher:
Part adventure story, part leadership guide, this intriguing book examines Shackleton's legendary Antarctic expedition through the lens of business—to reveal a set of powerful strategies for corporate leaders.
In the chronicles of extraordinary adventures and against-the-odds survival, nothing compares to the story of Sir Ernest Shackleton and his team of South Pole explorers. Stranded in the frozen sea for nearly two years, they endured extreme temperatures, hazardous ice, dwindling food, complete isolation, and perpetual blackness.
Yet, despite the seemingly insurmountable obstacles, the group remained cohesive, congenial, and mercifully alive—a fact that speaks not just to luck but to an unparalleled feat in leadership.
Now, for the first time ever,
Leading at the Edge
draws on this amazing story to reveal the power of effective organizational leadership under conditions of uncertainty, ambiguity, and rapid change. The book uncovers 10 lessons—complete with stirring examples from the Shackleton expedition, as well as contemporary business case studies of the strategies in action—on what it takes to be a great leader. Readers learn how to:
Set a personal example with vivid symbols and behaviors
Instill optimism while staying grounded in reality
Reinforce the team message constantly
Find something to celebrate and something to laugh about
Have the courage to take big risks, and more.
For managers and executives who feel stressed out or stretched thin, these memorable strategies will help bring order to chaos—and success in the face of the most daunting adversity.

Reviews
Dr. Perkins, a management consultant whose clients include American Express, Bose, Citibank, and Marriot is ... a connoisseur of leadership in circumstances of great peril. His new book offers lessons in leadership "at the outer limits of human endurance—the place I call The Edge." This thoughtful work has the feel of a lifelong obsession.... Dr. Perkins builds his corporate leadership text around the astonishing story of the British Imperial Trans-Antartic Expedition, led by Sir Ernest Shackleton.... Dr. Perkins offers us Ernest Shackleton as the model leader, a captain obsessed with the welfare of his men. Cautious or daring as circumstances required, Shackleton was a rock.... Dr. Perkins has distilled 10 principles from these survival experiences, and he offers them as a guide for business leadership at the edge.
—New York Times, May 28, 2000

About the Authors
Dennis N. T. Perkins, Ph.D.
(Branford, CT) is president of the Syncretics Group, a consultancy that specializes in effective leadership. Margaret P. Holtman is director of employee development at Hartford Life, Inc. Paul R. Kessler is a managing consultant at Stromberg Consulting.
Catherine McCarthy, Ph.D.
, is a consultant with Organizational Psychologists, L.L.C.

Table of Contents
| | | |
| --- | --- | --- |
| | Acknowledgements | ix |
| | Preface | xiii |
| | The Shackleton Saga | 1 |
| Part 1 | Ten Strategies for Leading at The Edge | |
| 1 | Vision and Quick Victories: Never lose sight of the ultimate goal, and focus energy on short-term objectives | 15 |
| 2 | Symbolism and Personal Example: Set a personal example with visible, memorable symbols and behaviors | 29 |
| 3 | Optimism and Reality: Instill optimism and self-confidence, but stay grounded in reality | 40 |
| 4 | Stamina: Take care of yourself: Maintain your stamina and let go of guilt | 56 |
| 5 | The Team Message: Reinforce the team message constantly: "We are one—we live or die together." | 70 |
| 6 | Core Team Values: Minimize status differences and insist on courtesy and mutual respect | 86 |
| 7 | Conflict: Master conflict—deal with anger in small doses, engage dissidents, and avoid needless power struggles | 98 |
| 8 | Lighten Up! Find something to celebrate and something to laugh about | 113 |
| 9 | Risk: Be willing to take the Big Risk | 125 |
| 10 | Tenacious Creativity: Never give up—there's always another move | 139 |
| Part 2 | Case Studies in Leading at The Edge | |
| 01 | Introduction to the Case Studies | 153 |
| 12 | Business Communication Systems (AT&T/ Lucent Technologies): Back to the Future | 157 |
| 13 | Rice Health Systems: Healing a Sick Organization | 170 |
| 14 | Weyerhaeuser Company: Transforming a Culture | 185 |
| 15 | Malden Mills: Rising from the Ashes | 198 |
| Part 3 | Continuing Your Expedition | |
| 16 | Learning to Lead at The Edge | 215 |
| 17 | Epilogue: A Perspective on Success and Failure | 227 |
| Part 4 | Resources for Leading at The Edge | |
| | Resources | 233 |
| | Critical Leadership Skills Survey | 234 |
| | Your Leadership Expedition: A Personal Development Plan | 241 |
| | Your Leadership Expedition Map | 245 |
| | Further Readings from The Edge | 247 |
| | Notes | 251 |
| | Index | 261 |

Find Items On Similar Subjects

Shackleton's Way
: Leadership Lessons from the Great Antarctic Explorer