Work Your Strengths
: A Scientific Process to Identify Your Skills and Match Them to the Best Career for You
Chuck Martin with Richard Guare and Peg Dawson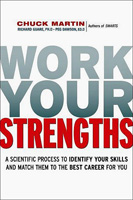 Format:
Hardcover, 256pp.
ISBN:
9780814414071
Publisher:
AMACOM
Pub. Date:
June 2, 2010
Average Customer Review:

For Bulk Orders Call: 626-441-2024

Description and Reviews
From
The Publisher:
Ever feel like you're in the wrong job, maybe even the wrong career? You may be right. But before you make another move, consider this: Your brain is hardwired with a unique combination of 12 different Executive Skills—the cognitive strengths that determine how well you will perform in a particular role. Your strongest and weakest Executive Skills can make the difference between big-time career success and years of disappointment and failure.
Work Your Strengths
helps you avoid "trial-and-error" career moves by matching your strengths to the jobs that call on those skills specifically. Based on the authors' two-year study of more than 2000 top-performers at hundreds of organizations of all types, from Fortune 500 companies to nonprofits, the book reveals which strengths correlate with success in different jobs.
Take a one-time, free online profile to determine your unique strengths and weaknesses and then use that information to identify your ideal career path. Not ready for a move yet? Work Your Strengths can also make a world of difference in the job you're in now. It can help you not only focus on the projects best suited for you but also recognize skills in others and assign tasks accordingly.
So whether you're planning a jump to the career of your dreams or just wondering how to make your current job easier and more rewarding, Work Your Strengths gives you the science and the system to find your success.
No more haphazard job switching, hazy career path, or worse, landing a really great job that you're really bad at! Now there's a sure­fire, scientific way to pinpoint the best job for you—and those you should definitely avoid.
Work Your Strengths
taps into the powerful new concept of Executive Skills, which you can use to predict and maximize career success. With Work Your Strengths, the ground­breaking neuroscience behind the Executive Skills model has finally been brought into the career realm.
Executive Skills aren't simply your IQ or temperament or even education and training. Instead, they're a combination of brain functions that begin at birth and become hardwired in adulthood. Take the authors' free online test to discover your innate strengths and weaknesses in areas such as working memory, emotional control, sustained attention, organizational skills, goal-directed persistence, flexibility, stress tolerance, and more. By matching your own profile against the Executive Skills of high achievers in a multitude of professions and industries, you'll understand exactly which ones are crucial in which positions—and which weaknesses could spell serious trouble in specific jobs, departments, and industries.
The authors dig deeper than the vague "good with numbers" or "likes working with people" assessments. And the focus is far more practical than career books that ask you to explore your inner desires. Instead, Work Your Strengths draws on original research with more than two thousand people at hundreds of organizations of all types, from Fortune 500s to nonprofits, and at all levels, from CEOs to frontline employees. This is solid, real-life data that you can use to match how your brain is wired with the wiring of people already successful in specific jobs. And the book makes its message plain, with an easy-to-read style devoid of scientific jargon and an abundance of examples of everyday behaviors that indicate high or low skills in each of the twelve areas.
Whether you are seeking a new and better job for yourself, or a manager struggling to match the right employees with the right jobs, Work Your Strengths brings you a completely new, science-based way to build a highly successful career.
Do you panic when your car won't start or blurt out the first thing that pops in your mind? Can you keep track of your possessions and remember your appointments? How good are you at coming up with long-term plans and then actually sticking to them? The answers are determined by your Executive Skills, a set of cognitive functions hard­wired in the adult brain that define who you are and how you operate. Figure out the strengths and weaknesses of your own skill set and you can figure out exactly what job you'll excel at.
That's the promise of
Work Your Strengths
, the most on-target, research-based career advice you'll ever find. Written by an award-winning author, together with experts in the field of neuroscience and psychology, Work Your Strengths draws on the latest discoveries about the brain and the authors' original data to help you accurately assess your Executive Skills, pinpoint your ideal job—and avoid potential trouble. You'll learn about working memory, emotional control, sustained attention, organizational skills, goal-directed persistence, flexibility, stress tolerance, and more—skills that can make or break your chances of success. Take a free online test to gauge your own skill set, then match your profile against the Executive Skills exhibited by more than two thousand high achievers in a multitude of industries and positions.
Packed with the authors' eye-opening findings, this unique book gives you a wholly new, scientifically sound way to play to your strengths—and locate the job that best fits your own strongest set of Executive Skills.

r>
About the Authors
Chuck Martin
is the Chairman and CEO of NFI Research, a top management research firm, and a highly sought-after speaker.
Richard Guare
, Ph.D., is a neuropsychologist and the director of the Center for Learning and Attention Disorders.
Peg Dawson
, Ed.D., is a psychologist at the Center for Learning and Attention Disorders. Together, they are the authors of
Smarts: Are We Hardwired for Success?

Find Items On Similar Subjects

Smarts
: Are We Hardwired for Success?