Smarts
: Are We Hardwired for Success?
Chuck Martin wth Peg Dawson and Richard Guare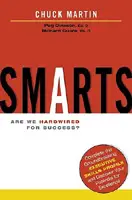 Format:
Hardcover , 226pp.
ISBN:
9780814409060
Publisher:
AMACOM
Pub. Date:
January 31, 2007
Average Customer Review:

For Bulk Orders Call: 626-441-2024

Description and Reviews
From
The Publisher:Baffled by employee behaviors?Frustrated by personal shortfalls?
New York Times business bestselling author Chuck Martin shows how to understand and work exceptionally well with strengths and weaknesses
A rising corporate star gets promoted and then crashes in the new position.
A manager wonders why an employee can't complete what seems like a simple task.
A company selects five of its best and brightest to develop a new product and it never gets off the ground.
Everyone is familiar with confounding workplace scenarios like these. The common problem is not lack of training or lack of motivation, but a mismatch between the person and the skills the situation requires. What's lacking is an understanding of cognitive functions that largely determines why some people succeed with remarkable ease and some people continuously struggle and fail, in spite of their education, dedication, and hard work.
Smarts: Are We Hardwired for Success?
challenges conventional wisdom about continuous learning, self-improvement, and achievement. Bestselling business author Chuck Martin draws on his extensive research into workplace trends and management priorities, the expertise of his co-authors, psychologist Peg Dawson and neuropsychologist Richard Guare, and principles grounded in cognitive development and neuropsychology, to present a groundbreaking self-help and management guide.
Smarts
sheds light on how 12 brain-based capabilities, fully developed and essentially unchangeable by young adulthood, determine each person's unique combination of strengths and weaknesses. Because they help to execute tasks, as well as regulate decision-making, control emotions, and determine success or failure on the job, they are called Executive Skills:
Self-Restraint
Working Memory
Emotion Control
Focus
Task Initiation
Planning/Prioritization
Organization
Time Management
Defining/Achieving Goals
Flexibility
Observation
Stress Tolerance
Eye-opening and practical,
Smarts
gives readers a powerful self-assessment tool to identify their strongest and weakest Executive Skills. Then, armed with this new self-awareness, they'll find strategies and tactics for playing to their strengths and working around their weaknesses, without using them as an excuse for poor performance. They'll also learn how to quickly spot and effectively deal with Executive Skills strengths and weaknesses in others—including colleagues, bosses, employees, friends, and relatives.
With
Smarts
, anyone can learn to:
Identify types of work best suited to their Executive Skills Profile and benchmark their specific strengths to the skills required for a specific task or position.
Ask the right questions to assess the Executive Skills needed for a job before pursuing it.
Compensate for their natural skill deficits and apply creative solutions to ongoing workplace challenges, from problems with teamwork to difficulty meeting deadlines.
Effectively manage and coach Executive Skills in others — and build a well-rounded, skill-balanced team, department, or small business.
Rich in insights and packed with targeted advice,
Smarts
is a welcome book for everyone eager to work better, with less stress and more satisfaction, and those striving to attain their true potential for excellence.

Reviews
"Smarts is, above all, an exercise in crystal-clear thinking—a valiant and, to my mind, very successful attempt to take the emotional guesswork out of learning how to work smart."
—Stephen J. Dubner, co-author, Freakonomics

About the Authors
Chuck Martin
(Madbury, NH) is a highly sought-after speaker, and Chairman and CEO of NFI Research, a firm that analyzes business and management trends. He is the author of the New York Times bestseller The Digital Estate.
Peg Dawson, EdD
(Brentwood, NH), is a psychologist at the Center for Learning and Attention Disorders at Seacoast Mental Health Center.
Richard Guare, PhD
(Rye, NH), is a neuropsychologist and is Director of the Center for Learning and Attention Disorders in Portsmouth, New Hampshire.

Find Items On Similar Subjects

Emotional Intelligence