Remarkable Leadership
: Unleashing Your Leadership Potential One Skill at a Time
Kevin Eikenberry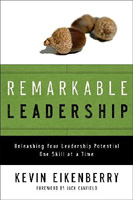 Format:
Hardcover, 288pp.
ISBN:
9780787996192
Publisher:
Jossey-Bass
Pub. Date:
August 17, 2007
Average Customer Review:


For Bulk Orders Call: 626-441-2024

Description and Reviews
From
The Publisher:
We are all given a unique set of talents when we are born and it is our job to tap into our personal skills and abilities to maximize our potential throughout our lives. Some of our natural talents help us on our journey to become a leader, but other skills need to be nurtured and developed.
Remarkable Leadership
is a practical handbook written for anyone who wants to hone the skills they need to become an outstanding leader. In this groundbreaking book, Kevin Eikenberry outlines a framework and a mechanism for both learning new things and applying current knowledge in a thoughtful and practical way. Eikenberry provides a guide through the most important leadership competencies, offers a proven method for learning leadership skills, and shows approaches for applying these skills in today's multitasking and overloaded world of work. The book explores real-world concerns such as focus, limited time, incremental improvement, and how we learn.
Remarkable Leadership
outlines a practical plan for focusing on one of twelve competencies each month. The core competencies define the remarkable leader as someone who champions change, communicates powerfully, develops others, builds relationships, focuses on customers, influences with impact, thinks innovatively, values collaboration and teamwork, solves problems and makes decisions, takes responsibility and accountability, manages projects and processes successfully, and sets goals and supports goal setting. The overarching, thirteenth competency--the Remarkable Leader learns continuously--incorporated throughout the book.
Remarkable Leadership
is an original book that is based on Eikenberry's Remarkable Leadership Learning System—a proven process designed to help people become more proficient in their role as a leader.

Reviews
"Kevin accurately reminds us that whatever our job title or position, we are all leaders--and all have the potential to become truly remarkable. His belief in us and our ultimate success is real and can be read on every page. This belief is inspiring and empowering--as you read these pages his belief in you will build your own belief, an important ingredient in any successful learning journey."
—From the Foreword by Jack Canfield, author of The Success Principles
"Remarkable Leadership is a must-read for anyone wanting to improve their leadership skills. I highly recommend this book."
—Ivan Misner, New York Times bestselling author and founder of BNI
"Kevin is a true believer that leaders can be made. He has identified the key behaviors that remarkable leaders exhibit, and more importantly, he has given us practical ways to develop these behaviors. This book will be encouraging for those who desire to become remarkable leaders."
—Steve Boeckman, president and CEO, Great Lakes Energy Cooperative
"Remarkable leaders are not born—they are made and developed. That's why I loved this book. Kevin Eikenberry shares a set of powerful principles, skills, and action steps that develops leaders at all levels of the organization and anyone aspiring to be a leader. If you want to be a better leader or develop skilled leaders within your organization, then read this practical and powerful leadership manual and follow the action plan."
—Jon Gordon, bestselling author of The Energy Bus: 10 Rules to Fuel Your Life, Work, and Team with Positive Energy
"Kevin Eikenberry does a masterful job dissecting the key elements of effective leadership and makes a convincing case that becoming a master leader is always a work in progress, even for remarkable leaders. Becoming an effective leader means becoming an active learner, acquiring skills best mastered through carefully planned activities and practice. This book can help leaders at all levels build and strengthen their leadership skills."
—Vic Lechtenberg, vice provost for Engagement, Purdue University

About the Author
Kevin Eikenberry
is the chief potential officer of The Kevin Eikenberry Group, a learning consulting company that provides a wide range of services including organizational consulting, training delivery and design, speaking facilitation, and performance coaching services

Table of Contents
| | | |
| --- | --- | --- |
| | | |
| 1 | The Leader in You | 1 |
| 2 | Leadership Development in the Real World | 8 |
| 3 | How to Get the Most Out of This Book | 17 |
| 4 | Remarkable Leaders Learn Continually | 21 |
| 5 | Remarkable Leaders Champion Change | 42 |
| 6 | Remarkable Leaders Communicate Powerfully | 63 |
| 7 | Remarkable Leaders Build Relationships | 80 |
| 8 | Remarkable Leaders Develop Others | 101 |
| 9 | Remarkable Leaders Focus on Customers | 125 |
| 10 | Remarkable Leaders Influence with Impact | 143 |
| 11 | Remarkable Leaders Think and Act Innovatively | 161 |
| 12 | Remarkable Leaders Value Collaboration and Teamwork | 180 |
| 13 | Remarkable Leaders Solve Problems and make Decisions | 199 |
| 14 | Remarkable Leaders Take Responsibility and Accountability | 214 |
| 15 | Remarkable Leaders Manage Projects and Processes Successfully | 229 |
| 16 | Remarkable Leaders Set Goals and Support Goal Achievement | 243 |
| | Epilogue | 261 |
| | | |
| | References | 263 |
| | Acknowledgements | 267 |
| | The Author | 271 |

Find Items On Similar Subjects

Measure of a Leader