Measure of a Leader
Aubrey C. Daniels and James E. Daniels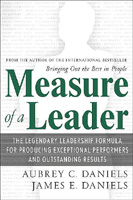 Format:
Hardcover, 224pp.
ISBN:
9780071482660
Publisher:
McGraw-Hill
Pub. Date:
February 2007
Average Customer Review:


For Bulk Orders Call: 626-441-2024

Description and Reviews
From
The Publisher:
"The greatest leader is not one who does great things. He's the one who gets people to do great things." —President Ronald Reagan
With executive turnover at an all-time high, corporations are facing a leadership crisis that cannot be fixed by relying on the old stand-by qualities of personality and profits. Aubrey Daniels and James Daniels, the foremost authorities on behavior in the workplace, present a revolutionary new model of leadership that targets the behavior of followers.
Based on the authors' 30 years of pioneering work with leading organizations, Measure of a Leader reveals how to lead more effectively by becoming a critical observer of human behavior. Turning conventional wisdom on its head, Daniels and Daniels provide a scientifically grounded approach to measuring the effect of your actions on your people-and then using that information to inspire above-and-beyond performance.
The authors present "12 Measures" designed to provide the best possible forecast of your impact on your business, your customers, the marketplace, and your leadership legacy. Divided into four key categories, these measures give you the power to take necessary action:
Momentum: how well do your followers respond to your direction?
Commitment: are your followers focused on your goals?
Initiative: are your followers working together?
Reciprocity: are your followers collectively working with the leader?
You'll also gain valuable inspiration for motivating your employees through real-life examples from leading companies such as NASA, Roche, and Westinghouse.
Great leaders bring out the best in their people. Measure of a Leader gives you groundbreaking methods for creating a workplace where your followers live out the vision and values of your organization.
Inspire, Motivate, and Activate Above-and-Beyond Performance from Every Employee, Team, and Company
Today's corporations are looking in the wrong places for effective leadership. Measure of a Leader reveals why effective leadership is not about personality or the bottom line; it is about how people react to what we do and say. Based on more than 30 years of pioneering work with organizations all over the world, the authors deliver a groundbreaking, field-tested approach that gives you the tools to craft a powerful leadership style, one that you'll use to
Create profitable habits and optimize performance at every level of your organization
Generate greater momentum, commitment, initiative, and reciprocity
Impact your customers and the growth of your business
Inspire your followers to go above and beyond the call of duty
Build leadership skills that leave a legacy

Reviews
"Finally! A book that speaks to the true measure of a leader. Daniels and Daniels use the rigor of scientific human behavior to reveal how we can provide leaders with the tools to produce extraordinary results. For anyone anxious to achieve long-term results through the discretionary efforts of their employees, this book should be your everyday playbook!"
—John R. Schueler, President, Publisher & CEO, ANG Newspaper Group

About the Author
Aubrey C. Daniels
is the author of the bestselling management classic
Bringing Out the Best in People
. His management consulting firm, Aubrey Daniels International, works with business leaders around the world. Daniels is an internationally recognized expert on management, leadership, and workplace issues. He has been featured in
The Wall Street Journal, The New York Times, Fortune
, and on CNN and CNBC.
James E. Daniels
, Vice President and Senior Consultant with Aubrey Daniels International, has developed productivity and quality improvement systems for corporations across the globe. He is coauthor (with Daniels) of the definitive behavioral text
Performance Management: Changing Behavior That Drives Organizational Effectiveness
.

Find Items On Similar Subjects

Judgment
: The Essence of Leadership