Why Should the Boss Listen to You?
The Seven Disciplines of the Trusted Strategic Advisor
James E. Lukaszewski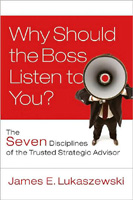 Format:
Hardcover, 240pp.
ISBN:
9780787996185
Publisher:
Jossey-Bass
Pub. Date:
February 8, 2008
Average Customer Review:

For Bulk Orders Call: 626-441-2024

Description and Reviews
From
The Publisher:
Why Should the Boss Listen to You?
Written by crisis and management leadership expert James Lukaszewski—named by PR Week as one of twenty-two "crunch-time counselors who should be on the speed dial in a crisis"—Why Should the Boss Listen to You? outlines the disciplines that anyone who counsels a CEO, or wants to, should embrace including systematic, pragmatic, and sensible ingredients and processes for getting to and working at the highest levels, and having maximum impact as a trusted advisor.
This is a book about gaining influence and becoming a key trusted advisor. It is for everyone who advises leaders and senior managers (accounting, finance, human resources, IT, law, marketing, public relations, security, and strategic planning) and for outside consultants in these functional staff areas. It's also for operations people yearning to finally be heard and heeded by their boss.
In this important book, Lukaszewski identifies and explains the crucial seven disciplines that trusted advisors must master to get and keep the confidence of leaders:
Be trustworthy
Be verbal visionaries
Develop a management perspective
Think strategically
Be a window to tomorrow
Advise constructively
Show the boss how to use your advice
As the author explains, a great advisor looks over the entire field of leadership interests. He explores the barriers, threats, constraints, options, and opportunities to offer powerful, sensible, and wise counsel and recommendations.
You are holding a handbook for becoming a trusted advisor, and a tool for leaders and bosses who employ consultants to teach advisors how to consult effectively, how to set appropriate expectations for the advice provided, and to teach advisors how to better serve.

Reviews
"Leaders must have trusted advisors. This book shows you how to be one and stay one."
—Harvey Mackay, author, New York Times #1 best-seller Swim with the Sharks Without Being Eaten Alive
"One of the most common complaints of managers and functional experts inside organizations is that their leaders don't listen to them and heed their advice enough. Jim Lukaszewski lays out with great clarity and practicality what anyone must know who wants to have more influence on a boss and more impact on organizational success."
—Dan Ciampa, author, Taking Advice: How Leaders Get Good Counsel and Use It Wisely
"As founder and CEO of the world's favorite florist, I have gotten advice from many thoughtful strategic advisors—none are more capable than Jim. This book provides the blueprint to become a Trusted Advisor."
—Jim McCann, founder and CEO, 1-800-FLOWERS.com
"I've worked side-by-side with Jim Lukaszewski. He brings enormous credibility to high-pressure situations. Clients listen to and trust him immediately. I've read every word of his book. If you want to add new value in your organization and be viewed as a trusted advisor, you should, too."
—Davis Young, author, Building Your Company's Good Name

About the Author
James E. Lukaszewski
is the founder, CEO, and chairman of The Lukaszewski Group Inc. He is a trusted advisor who helps leaders and managers contain and counteract tough, touchy, sensitive corporate management issues on a daily basis. His website—www.e911.com—is considered to be among the most important in crisis management and public relations.

Customer Reviews
Write your own online review
.

So you want to get to the table?
April 14, 2008
Reviewer: Otto Lerbinger from Boston, MA United States
An exciting and practical book about how to become a strategic trusted advisor to CEOs and other leaders. It is based primarily on Lukaszewski s more than 30 years of counseling experience, most of it as a crisis counselor, but also in leadership building, reputation recovery, and strategy. His readers benefit from his war stories, which serve to summarize the key lessons learned from working with CEOs, boards, and senior executives. He reminds the reader: Keep in mind that my career has been devoted to dealing mostly with the extraordinarily bad news of organizations, leaders, and institutions.
Why Should the Boss Listen to You? is highly readable, following the author s dictum: Be brief and to the point. Along with cogent ideas, the book provides some practical advice. His Three-Minute Drill, for example, is universally applicable in presenting recommendations to the boss. His six steps -- (a) situation, (2) analysis and assumptions, (3) the goal, (4) options, (5) recommendations, and (6) justification -- are not dissimilar to case study reports at the Harvard Business School. Lukaszewski, however, sets word limits on each step in recognition of the value of a CEO s time -- don t waste it. Of the 450-word total, the options step is allocated 150 words, more than twice that allocated to the other steps. More generally, he recommends that every document, every script, every written piece of information should be screened for its time requirement. His practical advice is: do a word count for every message and divide by 150, because that s the average rate at which people talk.
This book serves as a roadmap for anyone who aspires to become a strategic personal counselor for a boss or client; also for staff heads who want to become the Number One Number Two. Serving as a self-improvement guide, Part One of Lukaszewski s book clearly describes the realities of advising top executives: the pressures they face, what they expect from advisors, and how to achieve maximum impact. Part Two addresses the book s subtitle: The 7 Disciplines of the Trust Strategic Advisor. He offers copious advice on what each discipline means and how to build it.
The 5%
Lukaszewski s focus is on the 5% of problems affecting most organizations that present the greatest threat to organizational stability, reputation, and market share, rather than on the 95% which come directly from day-to-day operations. Public relations and public affairs professionals can especially identify with this 5%, because their responsibility is to attend to the socio-political environment. To this end, they have developed special skills, such as issues management. Lukaszewski advises aspiring counselors to study issues and trends as a way to improve on their forecasting ability and contribute to the CEO s ongoing concern about tomorrow s goals. You need to know what s going on in the world to be a window to tomorrow.
The Power of Patterns
To be a window to the future, the discipline of understanding the power of patterns is essential: the ability to use your understanding of known patterns of events and circumstances to recognize or forecast the results of various actions and decisions. Here Lukaszewski rivals academicians, because they would argue that one of the purposes of education is to teach this pattern recognition skill. Educators do it by discussing theories and concepts and rigorously applying them in case study analysis. Cases in academic texts are what Lukaszewski calls war stories -- the big difference being that professionals have lived through experiences.
Being an Intuitive Thinker
Compared with process thinkers and linear thinkers, strategic counselors are intuitive thinkers. They have the ability to see solutions and next steps even in the absence of evidence and data. Lukaszewski sees the further advantage that the intuitive mind has a significant amount of random experience from life floating around that gets triggered by having to find immediate or deadline-driven solution and answers. Often, the goal of the intuitive thinker is to find the great idea or the most interesting or creative solution -- the silver bullet -- that is especially relevant to highly emotional or perceptual issues.
To illustrate, his first discipline is to be trustworthy, which he deems a critical dimension without which a relationship cannot grow and survive because it requires open and trusted communications. As sociologists and public relations professionals remind us, trust is the cement that binds people and groups together and makes the existence of organizations and society possible. His exploration of the subject includes sensible, simple, constructive, and practical lists of what needs to be done; e.g., six necessary elements in establishing trust and ten of the most frequent and easily avoidable ways in which trust is busted.
Having a Strategic Mind-Set
The focus of a strategic personal advisor must be the boss. Lukaszewski pays homage to the boss, saying, I have to confess my unending admiration for those at the top of the pyramid. Fortunately, he draws a line -- unless what the boss is doing is immoral, illegal, completely stupid, or financially irresponsible. An advisor must think strategically: You have achieved a strategic mind-set when you are able to verbally inject mental energy into an organization s operational and strategic processes to help leaders and their organizations achieve management objectives. Although staff people -- one of the audiences of his book -- sprinkle their advice with the terms strategy and strategic, they too often fail to relate their specialized activities to the organization s goals.
The essence of strategy and of having a management perspective, which is another discipline, is to relate everything done in an organization to its goals. Becoming a verbal visionary, a further discipline, helps inject mental energy. Lukaszewski defines a visionary as an optimistic individual who can get others to focus on the future or on some meaningful, useful, positive goals, which those others willingly contribute to achieving. Verbal skills help to do this.
Seven skills (Lukaszewski enjoys making lists and numbering items) are required to become a verbal visionary: (1) Be a storyteller, (2) Be memorable, (3) Be inspirational, (4) Be thoughtful, (5) Be ethical, (6) Be a coach and mentor, and (7) Be virtuous. He considers storytelling among the most powerful verbal techniques in any culture and credits Jack Welch s verbal vision for enabling him to transform GE from a bureaucracy into an efficient and profitable corporation.
The Reward
A trusted strategic advisor who has learned the seven disciplines can counsel the boss constructively and show how to use advice. Optimistically, the advisor will experience significant individual rewards, such as access, influence, and impact. The way to manage your own destiny, says Lukaszewski, is by helping leaders realize theirs.

Find Items On Similar Subjects

The Trusted Leader
: Bringing Out the Best in Your People and Your Company