The Three Signs of a Miserable Job
: A Fable for Managers (And Their Employees)
Patrick M. Lencioni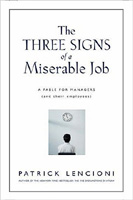 Format:
Hardcover, 272pp.
ISBN:
9780787995317
Publisher:
Jossey-Bass
Pub. Date:
August 17, 2007
Average Customer Review:

For Bulk Orders Call: 626-441-2024

Description and Reviews
From
The Publisher:
A bestselling author and business guru tells how to improve your job satisfaction and performance.
In his
sixth fable
, bestselling author Patrick Lencioni takes on a topic that almost everyone can relate to: the causes of a miserable job. Millions of workers, even those who have carefully chosen careers based on true passions and interests, dread going to work, suffering each day as they trudge to jobs that make them cynical, weary, and frustrated. It is a simple fact of business life that any job, from investment banker to dishwasher, can become miserable. Through the story of a CEO turned pizzeria manager, Lencioni reveals the three elements that make work miserable -- irrelevance, immeasurability, and anonymity -- and gives managers and their employees the keys to make any job more fulfilling.
As with all of Lencionis books, this one is filled with actionable advice you can put into effect immediately. In addition to the fable, the book includes a detailed model examining the three signs of job misery and how they can be remedied. It covers the benefits of managing for job fulfillment within organizations -- increased productivity, greater retention, and competitive advantage -- and offers examples of how managers can use the applications in the book to deal with specific jobs and situations.
When his employees were all seated, the new manager began. Deciding not to be clever or subtle, Brian got right to the point. "Show of hands. How many of you like your jobs?"
Nothing.
People just looked at one another as though Brian had asked the question in Russian.
"Okay, let me be clearer," he smiled. "How many people here get excited about coming to work? How many of you are in a good mood when you're driving here every day?"
Brian might as well have asked them if they liked being beaten with a stick. No one raised their hand. A few of them actually laughed out loud.
In this, his sixth and most anticipated fable, New York Times best-selling author Patrick Lencioni takes on his most universal and human topic to date: misery at work. In doing so, Lencioni presents a revolutionary yet simple model for making any job more rewarding and fulfilling.
Lencioni tells the unforgettable story of Brian Bailey, an abruptly retired executive searching for meaning in his career and his life. Through a series of twists and turns that take him from the executive suite of a well-respected company to the ski slopes of Lake Tahoe to the drive-thru window of a fast-food restaurant, Brian discovers the three universal causes of anguish and frustration at work, and the keys to overcoming them. Whether he's trying to convince an investment banker that job satisfaction matters, or motivating a pizza delivery driver to be friendlier to customers, Brian is forced to confront aspects of himself, and others, that make job misery a painful reality in so many organizations.
Whether you're an executive looking to establish a cultural competitive advantage, a manager trying to engage and motivate your people, or an employee searching for fulfillment in your work, The Three Signs of a Miserable Job will provide you with immediate relief—and hope.

Reviews
"This is a page-turner that unravels the mystery of job satisfaction for any manager. Whether you manage six or sixty thousand people, it is essential reading."
—Trevor Fetter, president and CEO, Tenet Healthcare Corporation
"In a sea of generic books on employee engagement and empowerment, Lencioni throws us a life preserver. His book is a masterful tale which I highly recommend to leaders and anyone else trying to build more personal satisfaction in their work."
—Kevin D. Wilde, vice president, chief learning officer, General Mills, Inc.
"Lencioni provides a powerful message to all who lead people, one that will produce exceptional loyalty and results. This simple book can make a huge difference."
—Robert W. Savage, chief operating officer, Taco Bell Corporation
"I love this clever and insightful book! It will remind any manager, at any level, why they became a manager in the first place."
—Greg Cross, senior vice president, Hilton Hotels Corporation
"Don't let the simplicity of his message fool you. Lencioni provides powerful, practical real-world solutions for improving results by putting people first. I found many new ideas for self-improvement that I can't wait to try!"
—Jeff Lamb, vice president, people and leadership development, Southwest Airlines

About the Author
Patrick M. Lencioni
is founder and president of The Table Group, a management consulting firm specializing in executive team development and organizational health. As a consultant and keynote speaker, he has worked with thousands of senior executives in organizations ranging from Fortune 500s and high-tech start-ups to universities and nonprofits. He is the author of six nationally recognized books, including the New York Times best-seller
The Five Dysfunctions of a Team
.

Find Items On Similar Subjects

The Five Dysfunctions of a Team
: A Leadership Fable

The Five Temptations of a CEO
: A Leadership Fable

The Four Obsessions of an Extraordinary Executive

Silos, Politics, and Turf Wars
: A Leadership Fable About Destroying the Barriers That Turn Colleagues Into Competitors