Silos, Politics, and Turf Wars
: A Leadership Fable About Destroying the Barriers That Turn Colleagues Into Competitors
Patrick M. Lencioni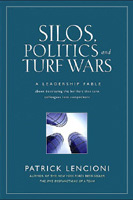 Format:
Hardcover, 224pp.
ISBN:
9780787976385
Publisher:
Jossey-Bass
Pub. Date:
February 24, 2006
Average Customer Review:

For Bulk Orders Call: 626-441-2024

Description and Reviews
From
The Publisher:
One week. That's all the time Jude had, because that's when his next workshop would take place at Children's Hospital. And so he became almost obsessed with figuring out the "silo thing," reading everything he could get his hands on having anything to do with organizational politics.
But Jude would not find his answer in any book. It would find him, in a more surprising way than he could ever have imagined.
In yet another page-turner, New York Times best-selling author and acclaimed management expert Patrick Lencioni addresses the costly and maddening issue of silos, the barriers that create organizational politics. Silos devastate organizations, kill productivity, push good people out the door, and jeopardize the achievement of corporate goals.
As with his other books, Lencioni writes
Silos, Politics, and Turf Wars
as a fictional—but eerily realistic—story. The story is about Jude Cousins, an eager young management consultant struggling to launch his practice by solving one of the more universal and frustrating problems faced by his clients. Through trial and error, he develops a simple yet ground-breaking approach for helping them transform confusion and infighting into clarity and alignment.
Once again, Lencioni's latest fable is as practical as it is engrossing. Anyone who has lived through corporate turf wars or experienced the absurdity of departmental politics will find
Silos, Politics, and Turf Wars
an invaluable resource.

Reviews
"Lencioni's theory around alignment is simple and powerful, and could apply to any type of organization, large or small."
—Gary C. Kelly, vice chairman and chief executive officer, Southwest Airlines Co.
"An incisive and insightful look at how companies can recognize and remedy infighting. The tone of Patrick's writing is as warm and readable as the advice itself is sound."
—Michael A. George, chief marketing officer, Dell Inc.
"Lencioni is a master at creating real and tangible company alignment. We're using these principles to rally our people around building a global brand. Huge applause from our entire organization."
—Brian Scudamore, founder & CEO, 1-800-GOT-JUNK?
>


Reader's Index
Send us your favorite quotes or passages from this book
.
• "If there is a place where the blame for silos and politics belongs, it is at the top of an organization. Every departmental silo in any company can ultimately be traced back to the leaders of those departments, who have failed to understand the interdependencies that must exist among the executive team, or have failed to make those interdependencies clear to the people deeper in their own departments." Pg. 177

About the Author
Patrick M. Lencioni
is founder and president of The Table Group, a management consulting firm specializing in executive team development and organizational health. As a consultant and keynote speaker, he has worked with thousands of senior executives and their teams in organizations ranging from Fortune 500 companies to high-tech startups to universities and nonprofits. Lencioni is the author of 11 best-selling books, including
The Five Dysfunctions of a Team
and
The Advantage
. To learn more about Patrick, and the products and services offered by his firm, The Table Group, please visit www.tablegroup.com.

Table of Contents
| | | |
| --- | --- | --- |
| | Introduction | vii |
| | | |
| | The Fable | |
| | Part One: Entrepreneurial Ambition | 3 |
| | Part Two: Roller Coaster | 19 |
| | Part Three: Rally | 77 |
| | Part Four: Moments of Truth | 139 |
| | | |
| | The Theory | |
| | Introduction to Silos | 175 |
| | Components of the Model | 178 |
| | Identifying a Thematic Goal | 187 |
| | Case Studies | 189 |
| | Managing and Organizing Around the Thematic Goal | 197 |
| | Thematic Goals and Long-Term Context | 202 |
| | Making Matrix Organizations Work | 205 |
| | Getting Started | 207 |
| | | |
| | Acknowledgments | 209 |
| | About the Author | 211 |

Find Items On Similar Subjects

The Five Temptations of a CEO
: A Leadership Fable

The Four Obsessions of an Extraordinary Executive

The Five Dysfunctions of a Team
: A Leadership Fable