Responsibility at Work
: How Leading Professionals Act (or Don't Act) Responsibly
Edited by Howard Gardner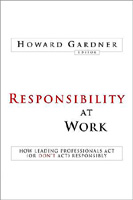 Format:
Hardcover, 368pp.
ISBN:
9780787994754
Publisher:
Jossey-Bass
Pub. Date:
August 17, 2007
Average Customer Review:

For Bulk Orders Call: 626-441-2024

Description and Reviews
From
The Publisher:
Responsibilityat Work
Most persons strive to produce work that is of excellent technical quality, is pursued in an ethical and socially responsible way, and has the qualities of being engaging and meaningful. How can we attain this ideal of good work in a world that changes so rapidly and all too often features an ethically compromised milieu?
Filled with original essays by Howard Gardner, William Damon, Mihaly Csikszentmihalyi, and Jeanne Nakamura and based on a large-scale research project, the GoodWork® Project, Responsibility at Work reflects the information gleaned from in-depth interviews with more than 1,200 people from nine different professions—journalism, genetics, theatre, higher education, philanthropy, law, medicine, business, and precollegiate education. The book reveals how motivation, culture, and professional norms can intersect to produce work that is personally, socially, and economically beneficial. At the heart of the study is the revelation that the key to good work is responsibilty—taking ownership for one's work and its wider impact.
The authors examine how responsibility for work is shaped by both personal and professional components and explore the factors that cause a sense of responsibility, the obstacles that lead to compromised work, and the educational interventions that can lead to a greater sense of responsibility. Most important, this volume provides strategies for cultivating greater responsibility in both seasoned workers as well as the young people who will one day enter the workplace.

Reviews
"In this remarkable collection of essays, Gardner and his colleagues have given us an astonishing array of penetrating insights into the responsibilities, meaning, and ethics of work. Everyone, anyone, in any organization, can learn and profit from the wisdom in these pages."
—Warren Bennis, Distinguished Professor of Business and University Professor at the University of Southern California and author of On Becoming a Leader
"Gardner and his colleagues boldly confront the ever-present tensions between professional action and professional responsibility with superbly crafted individual case studies as well as broad theoretical arguments. Taken together, the writers deepen our understanding of the challenges of leadership—from classical ethical dilemmas to the seemingly mundane question of how to allocate one's time."
—Lee S. Shulman, President, The Carnegie Foundation for the Advancement of Teaching
"Responsibility at Work is a crucial book for our times. It is horrifying to think that a willingness to take responsibility has so long been eclipsed by a demand for rights. It is responsibility that is the cornerstone of our society and is the key to "good work." This insightful, penetrating book gives fresh understanding of that vital and essential concept and how it can be applied in the workplace."
—ALEX S. JONES, Director, Shorenstein Center on the Press, Politics and Public Policy, Kennedy School, Harvard University
"The key to building community, as argued here, is for citizens to take responsibility toward others. But where do people gain that sensibility? What social forces encourage it? What can we do to enrich it? In short, how can we revive people's commitment to others? Drawing upon hundreds of interviews from the GoodWork® Project, the authors of these essays wrestle admirably with these questions. Taken together, these essays are not only richly rewarding but reassuring: perhaps it is just possible we can find our way again."
—DAVID GERGEN, Professor of Public Service and Director of the Center forPublic Leadership at Harvard University's John F. Kennedy School of Government

About the Editor
Howard Gardner
is the Hobbs Professor of Cognition and Education at the Harvard Graduate School of Education. He is the author of more than twenty books translated into twenty-four languages. Gardner also holds positions as adjunct professor of psychology at Harvard University, adjunct professor of neurology at Boston University, and senior director of Harvard Project Zero.

Find Items On Similar Subjects

Good Work
: When Excellence and Ethics Meet

Five Minds for the Future