Good Work
: When Excellence and Ethics Meet
Howard Gardner, Mihaly Csikszentmihalyi and William Damon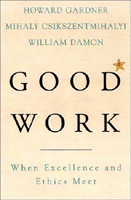 Format:
Paperback, 304pp.
ISBN:
9780465026081
Publisher:
Basic Books
Pub. Date:
October 2001
Average Customer Review:

For Bulk Orders Call: 626-441-2024

Description and Reviews
From
The Publisher:
In this groundbreaking book, three world-renowned psychologists reveal how professionals can succeed in carrying out Good Work—work that is both expert and socially responsible-even in these relentlessly market-driven times.
What does it mean to carry out "good work"? What strategies allow people to maintain moral and ethical standards at a time when market forces have unprecedented power and work life is being radically altered by technological innovation? These questions lie at the heart of this eagerly awaited new book. Focusing on genetics and journalism-two fields that generate and manipulate information and thus affect our lives in myriad ways-the authors show how in their quest to build meaningful careers successful professionals exhibit "humane creativity," high-level performance coupled with social responsibility.
Over the last five years the authors have interviewed over 100 people in each field who are engaged in cutting-edge work, probing their goals and visions, their obstacles and fears, and how they pass on their most cherished practices and values. They found sharp contrasts between the two fields. Until now, geneticists' values have not been seriously challenged by the demands of their work world, while journalists are deeply disillusioned by the conflict between commerce and ethics. The dilemmas these professionals face and the strategies they choose in their search for a moral compass offer valuable guidance on how all persons can transform their professions and their lives. Enlivened with stories of real people facing hard decisions,
Good Work
offers powerful insight into one of the most important issues of our time and, indeed, into the future course of science, technology, and communication.

About the AuthorsHoward Gardner
is Hobbs Professor of Cognition and Education Chairman of the Steering Committee of Project Zero at the Harvard Graduate School of Education, and Adjunct Professor of Neurology at the Boston University School of Medicine. He is the author of eighteen books, including
Frames of Mind, Creating Minds, Leading Minds, Multiple Intelligences
, and
Intelligence Reframed
. He has been honored with the MacArthur "Genius" award, the University of Louisville Grawemeyer Award, and eighteen honorary doctorates. He lives in Cambridge, Massachusetts.
Mihaly Csikszentmihalyi
(pronounced "CHICK-sent-me-high") is currently Professor at the Drucker School of Management at Claremont Graduate University in Claremont, California and former Professor and Chairman of the Department of Psychology at the University of Chicago. His previous books include the best-selling
Flow, Being Adolescent, The Evolving Self, Creativity, Finding Flow
, and
Becoming Adult
. He is a member of the National Academy of Education, the American Academy of Arts and Sciences, and the National Academy of Leisure Sciences. He lives in Claremont, California.
William Damon
is Professor in the Department of Education at Stanford University and Director of its Center on Adolescence. He is the author of
The Moral Child, Some Do Care, Greater Expectations
, and
The Youth Charter
.

Find Items On Similar Subjects

Responsibility at Work
: How Leading Professionals Act (or Don't Act) Responsibly