Discover Your True North
(Expanded and Updated Edition)
Bill George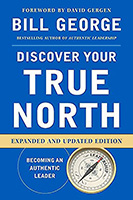 Format:
Hardcover, 320 pp.
ISBN:
9781119082941
Publisher:
Jossey-Bass
Pub. Date:
Expanded and Updated edition August 10, 2015
Average Customer Review:


For Bulk Orders Call: 626-441-2024

Description and Reviews
From
The Publisher:
"Just as a compass points toward a magnetic field, your True North pulls you toward the purpose of your leadership. When you follow your internal compass, your leadership will be authentic, and people will naturally want to associate with you. Although others may guide or influence you, your truth is derived from your life story and only you can determine what it should be."
—From the Introduction
True North
shows how anyone who follows their internal compass can become an authentic leader. This leadership tour de force is based on research and first-person interviews with 125 of today's top leaders—with some surprising results. In this important book, acclaimed former Medtronic CEO Bill George and coauthor Peter Sims share the wisdom of these outstanding leaders and describe how you can develop as an authentic leader.
True North
presents a concrete and comprehensive program for leadership success and shows how to create your own Personal Leadership Development Plan centered on five key areas:
Knowing your authentic self
Defining your values and leadership principles
Understanding your motivations
Building your support team
Staying grounded by integrating all aspects of your life
True North
offers an opportunity for anyone to transform their leadership path and become the authentic leader they were born to be.
Personal, original, and illuminating stories from Warren Bennis, Sir Adrian Cadbury, George Shultz (former U.S. secretary of state), Charles Schwab, John Whitehead (Cochairman, Goldman Sachs), Anne Mulcahy (CEO, Xerox), Howard Schultz (CEO, Starbucks), Dan Vasella (CEO, Novartis), John Brennan (Chairman, Vanguard), Carol Tome (CFO, Home Depot), Donna Dubinsky (CEO/cofounder, Palm), Alan Horn (President, Warner Brothers), Ann Moore (CEO, Time, Inc.) and many others illustrate the transitions that shape the type of leaders who will thrive in the 21st century.

Reviews
"With great clarity and insight, Bill George and Peter Sims make a persuasive argument that the journey toward authentic leadership--that finding and pursuing your own
True North
--is the key to leadership in all fields, whether in business, government, or the nonprofit arena."
—From the Foreword by David Gergen
"In
True North
, Bill George once again provides a roadmap for leadership in the 21st Century. The future belongs to leaders who want to win, without ever losing track of their own values. We live in a day when the best people can work anywhere. They will follow only authenticity—a person who leads with passion and purpose."
—Jeff Immelt, CEO, General Electric
"
True North
is an awe-inspiring gift to the world. The 125 men and women whose leadership journeys are so beautifully rendered in this book show us that we can have enormous impact without compromising our values—indeed, that we are more successful when we stay true to our ideals. Every aspiring leader (or leader who aspires to become even better) will draw strength and wisdom from this wonderful book."
—Rosabeth Moss Kanter, Harvard Business School professor and best-selling author of Confidence: How Winning Streaks & Losing Streaks Begin & End
"
True North
is about the power of authentic leadership. Great leaders are defined by a sense of passion and purpose and by a profound desire to make a difference. Anyone can find their own
True North
, if you care deeply and love what you do. This book is a wonderful roadmap for how to get started on the journey."
—Andrea Jung, chairman and CEO, Avon Products, Inc.
"If you want to move your leadership in the right direction, read
True North
. Drawing on the personal stories of some of the world's most effective leaders, the book shows that you become a successful leader when you stay on course with your highest self."
—Ken Blanchard, coauthor of The One Minute Manager® and Leading at a Higher Level
"
True North
provides a new leadership paradigm and a window into the stories and approaches of dozens of our nation's best leaders. It is an inspirational, invaluable source of guidance for those who want to make a significant impact."
—Wendy Kopp, president and founder of Teach for America
"
True North
reveals just how powerful authentic leadership can be and, best of all, how to achieve it."
—Warren Bennis

About the Author
Bill George
is professor of management practice at the Harvard Business School and former chairman and CEO of Medtronic, the world's leading medical technology company. Under his leadership, Medtronic's market capitalization grew from $1.1 billion to $60 billion, averaging 35 percent a year. He is the author of the best-selling
Authentic Leadership
and a board member of Goldman Sachs, Target, and Novartis. George has been recognized as "Executive of the Year" by the Academy of Management Director of the Year" by the National Association of Corporate Directors, and one of Public Broadcasting's Top 25 Leaders of the Past 25 Years.
Peter Sims
established "Leadership Perspectives," a class on leadership development at the Stanford Graduate School of Business, and cofounded the London office of Summit Partners, a leading investment firm. He was also part of the Deloitte Touche Tomatsu Global Strategy Team and has contributed to numerous publications including the
Harvard Business Review
.

Table of Contents
| | | |
| --- | --- | --- |
| | Acknowlegements | ix |
| | The Authors | xi |
| | Editor's Note by Warren Bennis | xiii |
| | Foreword by David Gergen | xvii |
| | Introduction: True North | xxiii |
| | Part One: Leadership Is a Journey | 1 |
| 1 | The Journey to Authentic Leadership | 3 |
| 2 | Why Leaders Lose Their Way | 27 |
| 3 | Transformation from "I" to "We" | 43 |
| | Part Two: Discover Your Authentic Leadership | 65 |
| 4 | Knowing Your Authentic Self | 67 |
| 5 | Practicing Your Values and Principles | 85 |
| 6 | What Motivates You to Be a Leader? | 103 |
| 7 | Building Your Support Team | 117 |
| 8 | Staying Grounded: Integrating Your Life | 133 |
| | Part Three: Empowering People to Lead | 151 |
| 9 | Leading with Purpose and Passion | 153 |
| 10 | Empowering People to Lead | 169 |
| 11 | Honing Your Leadership Effectiveness | 185 |
| | Epilogue The Fulfillment of Leadership | 201 |

Find Items On Similar Subjects

True North Groups
: A Powerful Path to Personal and Leadership Development

Authentic Leadership
: Rediscovering the Secrets to Creating Lasting Value • Paperback

What Really Matters
: Service, Leadership, People, and Values