Leading for Growth
: How Umpqua Bank Got Cool and Created a Culture of Greatness
Raymond P. Davis and Alan Shrader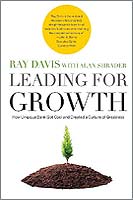 Format:
Hardcover, 240pp.
ISBN:
9780787986070
Publisher:
Jossey-Bass
Pub. Date:
March 16, 2007
Average Customer Review:

For Bulk Orders Call: 626-441-2024

Description and Reviews
From
The Publisher:
When Ray Davis took over the regional South Umpqua Bank (and its five branches) in 1994, many poked fun at his insistence that employees answer the phone with a cheery "World's Greatest Bank." Eleven years, $7 billion in assets, and more than 120 bank stores later, many now accept that statement without question. Other banks scoffed when Davis sent his tellers to the Ritz-Carlton to learn customer service. But with two top design awards, a name change, and a completely new definition of the banking business, Umpqua has become a growth powerhouse, increasing 30 times in size. The
New York Times
calls Umpqua "Starbucks with tellers."
Leading for Growth
tells how any business can use the same leadership discipline and creative thinking that made Umpqua Bank get bigger, better, more agile, and more customer focused, and turned it into a relentless competitor. This important book shows how to truly lead—as opposed to manage, plan, or strategize—through extreme growth. Ray Davis's insights will help you
Discover what business you are really in and create your competitive advantage
Build an organization with committed employees
Connect marketing strategy and execution on the ground
Create learning opportunities for all managers and staff
Fight the syndrome that often pulls people back into old routines
Rise above the day-to-day conflicts to achieve a strategic perspective on your company and where it is going
Manage mergers and acquisitions in ways that support rather than dilute your culture
Leading for Growth
is written for any leader who wants to create a competitive atmosphere for exceptional growth.

Reviews
"Ray Davis addresses many of the key issues we face in continuing to drive growth at Nike—staying connected with the consumer, leading change, building the brand, and cultivating a strong corporate culture. He offers clear solutions and creative leadership approaches for all business leaders, regardless of industry."
—Charlie Denson, president, Nike Brand
"Ray Davis is a leader for the 21st century. He understands that winning companies compete on ideas—ideas that shape the future of their industry and reshape the sense of what's possible among customers, employees, and investors."
—Polly LaBarre, coauthor, Mavericks at Work: Why the Most Original Minds in Business Win
"Thanks to Ray Davis's leadership, Umpqua Bank is the premier experience-stager in the banking industry. The principles that he brought to bear to lead what once was a small, sleepy company into a dynamic, growing organization are yours for the taking in
Leading for Growth
. Read it, apply them, grow, repeat."
—B. Joseph Pine II, coauthor, The Experience Economy, and cofounder, Strategic Horizons LLP
"Growing a business demands basic disciplines that are often ignored. Leading for Growth provides a compelling look at what's required for companies to break out of the pack."
—James Champy, coauthor, Reengineering the Corporation, and chairman of consulting for Perot Systems
"
Leading for Growth
presents an inspiring and powerful set of lessons about growing a company from a leader who has 'been there and done that.' The book is relevant to anyone in a leadership position faced with the need to change a culture and/or grow successfully—essentially, all of us."
—Eric Flamholtz, president, Management Systems Consulting Corporation, and professor of management, Anderson School, UCLA

About the Authors
Ray Davis
—Ernst & Young's 2004 Regional Retail Entrepreneur of the Year—is a pioneer of change in the banking industry, revolutionizing how banks look, feel, sound, and operate. He is the president and CEO of Umpqua Holding Corporation and has been featured in the Wall Street Journal, the New York Times, Fast Company, BusinessWeek, Business 2.0, Newsweek, and CNBC. Umpqua was named to Fortune Magazine's "100 Best Companies to Work For" list in 2007. Ray lives with his wife, Bobbi, in Portland, Oregon.
Alan Shrader
is managing editor of Leader to Leader and an experienced writer and editor of business books.

Find Items On Similar Subjects

Leading Through Uncertainty
: How Umpqua Bank Emerged from the Great Recession Better and Stronger than Ever

The Starbucks Experience
: 5 Principles for Turning Ordinary Into Extraordinary