Run With the Bulls Without Getting Trampled
: The Qualities You Need to Stay Out of Harm's Way and Thrive at Work
Tim Irwin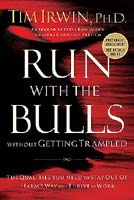 Format:
Paperback, 224pp.
ISBN:
9781595559739
Publisher:
HarperCollins Leadership
Pub. Date:
February 10, 2015
Average Customer Review:

For Bulk Orders Call: 626-441-2024

Description and Reviews
From
The Publisher:
Thundering hoof beats are headed your way—the events, the circumstances, and the obstacles that are a part of every workplace. Bulls rage around us constantly: inept leaders, unrealistic pressure from senior management, downsizings, misguided compensation systems, outdated IT, and organizational structures that make our jobs difficult or even obsolete—they're all part of normal organizational life.
But don't take it personally. "To view these organizational realities as unfair or out to get us is impracticable and maybe even naïve," says author Tim Irwin. These organizational bulls are indifferent to us—not caring whether or not we reach our goals but only whether or not they reach theirs.
Your organization's goals are extraordinarily simple and straightforward—survival and success. To not meaningfully contribute to theses goals or even to be irrelevant to the accomplishment of them automatically puts you in harm's way. If you work, you're running with the bulls, whether you want to or not.
The run requires great wisdom, perspective and forethought—we must develop a strategic mind-set. Dr. Tim Irwin shows you how in
Run With the Bulls Without Getting Trampled
.

Reviews
"
Run With the Bulls Without Getting Trampled
grabbed me from page one and never let go. It's one of those rare business books full of fresh, original stories that inspire us to take a look at our three Cs: commitment, character, and competence. I'm 'Gung Ho' about Tim Irwin's ideas on work."
—Ken Blanchard
"
Run With the Bulls Without Getting Trampled
is one of those books that really makes you want to be a better manager, a better leader, a better person. The stories are powerful, the anecdotes are right on the money, and the wisdom is so evident and clear. I'm going to keep the book on my nightstand and pick it up again and again as a reminder."
—Pat Lencioni
". . . Tim Irwin's combination of vivid storytelling, personal revelations, and insights into human nature stands firmly on its own. He delves beyond organizational theory to show us how success in the workplace can be something more-but is never less-than the sum of our experiences, emotions, and intelligence. I really liked this book."
—Marcus Buckingham
"
Run With the Bulls Without Getting Trampled
reminds me of something I've known for many years: it takes a lot of unspectacular preparation to produce spectacular results. The highly successful people I know put in the time and preparation required to excel at all seven of Tim Irwin's critical universal skills. In this inspiring and adventure-filled book, Tim creatively weaves in stories from his own experiences with hard-hitting corporate examples. It's a great read for those willing to do the work required to experience their own spectacular results and enjoy success."
—Roger Staubach
"As a member of the senior White House staff and a veteran in banking and the executive search fields, I have interviewed thousands of highly successful people. In
Run With the Bulls Without Getting Trampled
, Dr. Tim Irwin nails the essential differences between those who do well and those who don't. If you want to know what it takes to make it in any endeavor, read this book!"
—J. Veronica Biggins, Senior Partner, Heidrick & Struggles
"If you're engaged in the process of building your business or career, I highly recommend
Run With the Bulls Without Getting Trampled
."
—Dan Cathy, President/COO, Chick-fil-A

About the Author
J. Timothy Irwin, Ph.D.
, for more than twenty years, has consulted with many of America's most well-respected organizations and top Fortune 100 companies. He also served in a senior management post for a US-based company with more than three hundred offices worldwide. He is a frequent speaker on leadership development, organizational effectiveness, and executive selection. Presently, he is managing partner of IrwinInc, psychologists to business.

Table of Contents
| | | |
| --- | --- | --- |
| | | |
| | Foreword by Steven S. Reinemund, Chairman of the Board and CEO, PepsiCo | xiii |
| | Preface | xv |
| | Acknowledgments | xix |
| | | |
| 1 | The Run | 1 |
| | | |
| | Section I. Thoughtful Commitment | |
| 2 | Run to Win | 15 |
| 3 | The Arena | 33 |
| 4 | Getting to the Arena | 49 |
| | | |
| | Section II. Authentic Character | |
| 5 | Run by the Rules | 67 |
| 6 | Keep on Running | 85 |
| 7 | Don't Get Disqualified from the Race | 101 |
| | | |
| | Section III. Exceptional Competence | |
| 8 | Make Sure You?re Fit to Run | 115 |
| 9 | Run Well with Others | 131 |
| 10 | Run with Skill | 143 |
| 11 | Running our Best Race | 163 |
| | | |
| | Epilogue | 181 |
| | | |
| | Introduction to Online Assessment and Developmental Resources | 189 |
| | Notes | 193 |

Find Items On Similar Subjects

Derailed
: Lessons Learned from Leaders Who Failed

Purpose
: The Starting Point of Great Companies