Nurturing the Leader Within Your Child
: What Every Parent Needs to Know
Tim Elmore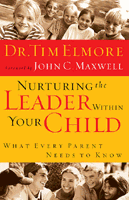 Format:
Paperback, 240pp.
ISBN:
9780785209614
Publisher:
Thomas Nelson Publishers
Pub. Date:
May 1, 2008
Average Customer Review:

For Bulk Orders Call: 626-441-2024

Description and Reviews
From
The Publisher:
Parents will discover the leadership qualities that exist in every child and find how best to develop and encourage the development of those characteristics.
How do I bring out the best in my child? What can I do to help my children reach their full potential? Why is it important to enocurage leadership in my child? John Maxwell protégé, Dr. Tim Elmore, answers these questions and others in Nurturing the Leader Within Your Child. Using a survey of over 3,000 students, he enters the minds of today's youth to understand their desire to affect their world, their way.
Beginning with a foreword by John C. Maxwell, the book is in four unique sections (What You Need to Know, What They Need to Know, When to Seize the Moment, How to Pass it On). Dr. Elmore gives practical tools for bridging the generation gap to foster character and growth in your children. Offering a list of fundamental qualities every leader must possess, Dr. Elmore helps parents and youth workers recognize teachable moments and equips them to structure an individual mentoring plan for each child. Finally, he offers evaluation methods for recognizing progress.

About the Authors
Dr.
Tim Elmore
is the founder and president of Growing Leaders (www.GrowingLeaders.com), an Atlanta-based nonprofit organization created to develop emerging leaders. Since founding Growing Leaders, Elmore has spoken to more than 300,000 students, faculty, and staff on hundreds of campuses across the country, including the University of Oklahoma, Stanford University, Duke University, Rutgers University, the University of South Carolina, and Louisiana State University. Elmore has also provided leadership training and resources for multiple athletic programs, including the University of Texas football team, the University of Miami football team, the University of Alabama athletic department, and the Kansas City Royals Baseball Club. In addition, a number of government offices in Washington, D.C. have utilized Dr. Elmore's curriculum. From the classroom to the boardroom, Elmore is a dynamic communicator who uses principles, images, and stories to strengthen leaders. He has taught leadership to Chick-fil-A, Inc., The Home Depot, HomeBanc, and Gold Kist, Inc., among others. He has also taught courses on leadership and mentoring at nine universities and graduate schools across the U.S. Committed to developing young leaders on every continent of the world, Elmore also has shared his insights in more than thirty countries-including India, Russia, China, and Australia.

Find Items On Similar Subjects

Generation iY
: Our Last Chance to Save Their Future

The Absorbent Mind

Leading at School
(PowerPak Collection Series)