Generation iY
: Our Last Chance to Save Their Future
Tim Elmore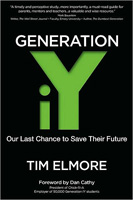 Format:
Paperback, 228pp.
ISBN:
9780578063553
Publisher:
Poet Gardener Publishing
Pub. Date:
August 17, 2010
Average Customer Review:

For Bulk Orders Call: 626-441-2024

Description and Reviews
From
The Publisher:
The one book every parent, teacher, coach, and youth pastor should read. This landmark book paints a compelling-and sobering-picture of what could happen to our society if we don't change the way we relate to today's teens and young adults. Researched-based and solution-biased, it moves beyond sounding an alarm to outlining practical strategies to:
Guide "stuck" adolescents and at-risk boys to productive adulthood
Correct crippling parenting styles
Repair damage from (unintentional) lies we've told kids
Guide them toward real success instead of superficial "self-esteem"
Adopt education strategies that engage (instead of bore) an "i" generation
Pull youth out of their "digital" ghetto into the real world
Employ their strengths and work with their weaknesses on the job
Defuse a worldwide demographic time bomb
Equip Generation iY to lead us into the future

Reviews
"Those adults blessed with the privilege of programming our next generation of leaders should read this book right now! Dr. Tim Elmore's research into the iY phenomenon provides insightful information why many young adults are struggling with their transition to adulthood as well as offers strategies to help them acquire the necessary tools for success."
—Joseph R. Castiglione · Vice President for Intercollegiate Athletics, University of Oklahoma
"In my experience as a mother and senior corporate executive, I know the importance of bringing along the next generation of leaders. Dr. Tim Elmore outlines a solid plan of action. To date I have not found another book that equips a parent, employer, or educator to accomplish this task. This one gets it done! A must read for anyone in the position of growing future leaders."
—Tami Heim · Mother of a 23-year-old daughter, Former president, Borders Inc. Partner, The A Group Brand Development
"I have admired the work of Tim Elmore and his passion to train future leaders. He has incredible insights into the unique challenges of the iY generation and we've benefited from them at the University of Alabama. This book will help you understand their worldview and how they live, think, and learn. If you are a teacher, parent, coach, youth worker or employer, this is a must-read for you. Tim's honest approach will help identify alarming concerns with practical solutions."
—Kevin Almond · Associate Athletics Director – Support Services University of Alabama
"Dr. Elmore has committed a lifetime to the development of young leaders. He models passion, intelligence, creativity, discipline, and a relentless dedication for this cause. His recent work, Generation iY, is both profound and thought-provoking. Tim challenges all of us to be more engaged with the youth of our world to produce a fulfilling future not only for their generation but for generations to come."
—Dr. John Green · Area Superintendent, Gwinnett County Public Schools
"Dr. Tim Elmore's insight into this generation is mind-boggling. The statistics are clear and sobering. This is a must-read for any adult with influence in the lives of today's youth. Every parent, teacher, youth leader, coach and influencer should take a hard look at this study of the next generation. The game plan outlined in Generation iY will leave you motivated and encouraged to impact this unique group."
—Craig Groeschel · Senior Pastor, LifeChurch.tv and Author, The Christian Atheist
"This book is a clarion call to adult leaders to think critically about the environment in which a new generation is developing, to create teachable moments for engaging these students, and to courageously call them to leadership—living beyond themselves and for the common good. For more than a decade, Tim Elmore's relevant, well-researched concepts on leadership, and his practical and sustainable solutions for influencing the next generation, were a tremendous resource for me as a student affairs leader working to develop students."
—Wayne Barnard, PhD · Director of Student Ministries, International Justice Mission
"Our children are our future leaders. My wish is that all children would be provided a strong foundation so they could grow up to be responsible adults who love who they are, care for and respect others and enjoy what they do. This journey starts with helping children develop good character. I see so many parents starting well with their children, but as they grow, some begin to play defense, rather than offense. Tim Elmore helps us understand what young people need today—from parents, teachers, coaches and employers. This book will reveal what we must avoid and what we must embrace to enable our children to become little leaders that mature into adult leaders."
—Jo Kirchner · President and CEO, Primrose School Franchising Company
"Tim Elmore understands Gen Y. He also understands what our role is in leading and shaping this next generation of leaders. A cultural shift is taking place, and we must be educated, aware and prepared for our role. Generation iY provides the insight we all need."
—Brad Lomenick · Executive Director, Catalyst
"Tim's mission has always been to grow leaders—when I was on a campus, I often called on him to facilitate leadership development training for my staff, so that they could provide the appropriate balance of challenge and support for university students. In my role with the CCCU, I'm on campuses throughout the nation, meeting leaders who are tasked with developing and educating the iY Generation—this book is a terrific resource for those interested in equipping this generation of students to their fullest potential."
—Dr. Mimi Barnard · Vice President for Professional Development and Research Council for Christian Colleges & Universities

About the Author
Dr.
Tim Elmore
is the founder and president of Growing Leaders (www.GrowingLeaders.com), an Atlanta-based nonprofit organization created to develop emerging leaders. Since founding Growing Leaders, Elmore has spoken to more than 300,000 students, faculty, and staff on hundreds of campuses across the country, including the University of Oklahoma, Stanford University, Duke University, Rutgers University, the University of South Carolina, and Louisiana State University. Elmore has also provided leadership training and resources for multiple athletic programs, including the University of Texas football team, the University of Miami football team, the University of Alabama athletic department, and the Kansas City Royals Baseball Club. In addition, a number of government offices in Washington, D.C. have utilized Dr. Elmore's curriculum. From the classroom to the boardroom, Elmore is a dynamic communicator who uses principles, images, and stories to strengthen leaders. He has taught leadership to Chick-fil-A, Inc., The Home Depot, HomeBanc, and Gold Kist, Inc., among others. He has also taught courses on leadership and mentoring at nine universities and graduate schools across the U.S. Committed to developing young leaders on every continent of the world, Elmore also has shared his insights in more than thirty countries-including India, Russia, China, and Australia.

Find Items On Similar Subjects

Nurturing the Leader Within Your Child
: What Every Parent Needs to Know