Weird Ideas That Work
: How to Build a Creative Company
Robert I. Sutton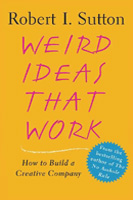 Format:
Paperback, 240pp.
ISBN:
9780743227889
Publisher:
Free Press
Pub. Date:
May 15, 2007
Average Customer Review:

For Bulk Orders Call: 626-441-2024

Description and Reviews
From
The Publisher:
Creativity, new ideas, innovation—in any age they are keys to success, but in today's whirlwind economy they are essential for survival itself. Yet, as Robert Sutton explains, the standard rules of business behavior and management are precisely the opposite of what it takes to build an innovative company. We are told to hire people who will fit in; to train them extensively; and to work to instill a corporate culture in every employee. In fact, in order to foster creativity, we should hire misfits, goad them to fight, and pay them to defy convention and undermine the prevailing culture.
Weird Ideas That Work
codifies these and other proven counterintuitive ideas to help you turn your workplace from staid and safe to wild and woolly—and creative. Stanford professor Robert Sutton is an authority on innovation and a popular speaker.
In
Weird Ideas That Work
he draws on extensive research in behavioral psychology to explain how innovation can be fostered in hiring, managing, and motivating people; building teams; making decisions; and interacting with outsiders. Business practices like "hire people who make you uncomfortable," "reward success and failure, but punish inaction," and "decide to do something that will probably fail, and then convince yourself and everyone else that success is certain" strike many managers as strange or even downright wrong. Yet
Weird Ideas That Work
shows how some of the best teams and companies use these and other counterintuitive practices to crank out new ideas, and it demonstrates that every company can reap sales and profits from such creativity.
Weird Ideas That Work
is filled with examples of each of Sutton's 11 1/2 practices, drawn from hi- and low-tech industries, manufacturing and services, information and products.
A breakthrough in management thinking, "weird ideas" can help every organization achieve a balance between sustaining performance and fostering new ideas. To succeed, you need to be both conventional and weird.
Hire misfits
Pursue the impractical
Find happy people and encourage them to fight
Reward failure but punish inaction
Forget your own successes
These and other counterintuitive strategies will unlock ideas you never knew you had.

Reviews
"Stanford professor Robert Sutton is a unique voice with an urgent message about how to generate and capitalize on new ideas."
—Fast Company
"One of the best business books of the year."
—Harvard Business Review

About the Author
Robert I. Sutton
is professor of management science and engineering at the Stanford Engineering School, where he is the co-director of the Center for Work, Technology, and Organization and an active researcher in the Stanford Technology Ventures Program. The author of more than seventy articles and chapters in scholarly and applied publications, and co-author of The Knowing-Doing Gap, he lives in Menlo Park, California.

Find Items On Similar Subjects

The No Asshole Rule
: Building a Civilized Workplace and Surviving One That Isn't