The Element
: How Finding Your Passion Changes Everything
Ken Robinson with Lou Aronica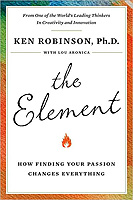 Format:
Paperback, 320pp.
ISBN:
9780143116738
Publisher:
Penguin Books
Pub. Date:
December 29, 2009
Average Customer Review:


For Bulk Orders Call: 626-441-2024

Description and Reviews
From
The Publisher:
The Element is the place where passion and skill meet. People find The Element when they engage in the thing that they love that they are also especially good at doing. This leads to more than just a sense of personal satisfaction. Being in The Element insulates people against unpredictable changes and leads to a more flexible and productive society. The new paradigm of The Element has a profound impact on education, corporations, organizations, and, especially individuals. It is available to every person who knows how to find it.
The Element
is an enlightening tour through this new paradigm. Illustrated by stories, many based on exclusive interviews, of celebrities, entrepreneurs, scientists, and other highly accomplished people who have found The Element, it is as entertaining as it is profound.
From the Introduction:
My aim in writing it is to offer a richer vision of human ability and creativity and of the benefits to us all of connecting properly with our individual talents and passions. This book is about issues that are of fundamental importance in our lives and in the lives of our children, our students, and the people we work with. I use the term the Element to describe the place where the things we love to do and the things we are good at come together. I believe it is essential that each of us find his or her Element, not simply because it will make us more fulfilled but because, as the world evolves, the very future of our communities and institutions will depend on it.

The world is changing faster than ever in our history. Our best hope for the future is to develop a new paradigm of human capacity to meet a new era of human existence. We need to evolve a new appreciation of the importance of nurturing human talent along with an understanding of how talent expresses itself differently in every individual. We need to create environments—in our schools, in our workplaces, and in our public offices—where every person is inspired to grow creatively. We need to make sure that all people have the chance to do what they should be doing, to discover the Element in themselves and in their own way.

This book is a hymn to the breathtaking diversity of human talent and passion and to our extraordinary potential for growth and development. It's also about understanding the conditions under which human talents will flourish or fade. It's about how we can all engage more fully in the present, and how we can prepare in the only possible for a completely unknowable future. To make the best of ourselves and of each other, we urgently need to embrace a richer conception of human capacity.

We need to embrace the Element.

Reviews
"The Element is another reminder of why Sir Ken Robinson is one of America's finest imports. With a crackling wit and a deep humanity, he urges us to ignore the naysayers, bypass the crowd, and find the place where our talents and desires intersect. This is a truly inspiring book."
—Daniel H. Pink, author of A Whole New Mind
"A great and inspiring book. It's been said that an unexamined life is not worth living. True enough and Ken Robinson doesn't let us off the hook. After the first page, you have to abandon your ego and look for your own gifts and graces."
—Warren Bennis, author of On Becoming a Leader: The Leadership Classic

About the Author
Dr Ken Robinson
is a leading force in the development of creativity and human resources and an internationally recognised expert. His reputation is based on his own groundbreaking research and leadership in creativity, education and training. He is also in demand as an inspirational speaker with a unique talent for conveying a profoundly serious message with enormous humour, passion and wit. He speaks to audiences throughout the world on the changing needs of business, education and organisations in the new global economies. In 2000, he was voted Business Speaker of the Year by over 200 European companies.

Table of Contents
| | | |
| --- | --- | --- |
| | | |
| | Acknowledgements | vii |
| | Introduction | xii |
| | | |
| 1 | The Element | 1 |
| 2 | Think Differently | 27 |
| 3 | Beyond Imagining | 52 |
| 4 | In the Zone | 83 |
| 5 | Finding Your Tribe | 103 |
| 6 | What Will They Think? | 132 |
| 7 | Dou You Feel Lucky? | 156 |
| 8 | Somebody to Help Me | 169 |
| 9 | Is It Too Late? | 187 |
| 10 | For Love or Money | 207 |
| 11 | Making the Grade | 225 |
| | Afterword | 251 |
| | | |
| | Notes | 261 |
| | Index | 269 |

Find Items On Similar Subjects

Out of Our Minds
: Learning to be Creative