Out of Our Minds
: Learning to be Creative
Sir Ken Robinson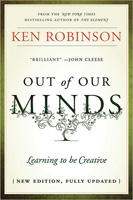 Format:
Hardcover, 344pp.
ISBN:
9781907312472
Publisher:
Capstone
Pub. Date:
2 edition March 8, 2011
Average Customer Review:

For Bulk Orders Call: 626-441-2024

Description and Reviews
From
The Publisher:
There is a paradox. As children, most of us think we are highly creative; as adults many of us think we are not. What changes as children grow up? Organizations across the globe are competing in a world that is changing faster than ever. They say they need people who can think creatively, who are flexible and quick to adapt. Too often they say they can't find them. Why not? In this provocative and inspiring book, Ken Robinson addresses three vital questions:
Why is it essential to promote creativity? Business leaders, politicians and educators emphasize the vital importance of promoting creativity andinnovation. Why does this matter so much?
What is the problem? Why do so many people think they're not creative? Young children are buzzing with ideas. What happens as we grow up and go through school to make us think we arenot creative?
What can be done about it? What is creativity? What can companies, schools and organizations do to develop creativity and innovation in a deliberate and systematic way?
In this extensively revised and updated version of his bestselling classic,
Out of Our Minds
, Ken Robinson offers a groundbreaking approach to understanding creativity in education and in business. He argues that people and organizations everywhere are dealing with problems that originate in schools and universities and that many people leave education with no idea at all of their real creative abilities.
Out of Our Minds
is a passionate and powerful call for radically different approaches to leadership, teaching and professional development to help us all to meet the extraordinary challenges of living and working in the 21st century.

Reviews
"I shall add Ken Robinson's absorbing account of creativity to my personal list of gems. I was sorry to reach the end of the text, as it had maintained its momentum throughout. The reading may finish, but the thinking goes on, just as you would expect from a book on this intriguing subject."
—Times Educational Supplement, 11th May 2001
"This is a thoughtful book .... A truly mind-opening analysis of why we don't get the best of people in a time of punishing change."
—The Director, June 2001
"This well-written book focuses on the widening gulf between academic institution teachings and the feelings, emotions and imagination that drive us as humans."
—Arts Professional, 4th June 2001
"I recommend that you read the book, take part in the debate and become part of the new paradigm"
—People Management, 12th July 2001
"this book will stimulate and challenge"
—Professional Manager, September 2001
"...a rattling, informal read, sparkling with ideas, jokes, anecdotes and ideas.."
—Music Teacher, December 2001

About the Author
Sir Ken Robinson PhD
is an internationally recognized leader in the development of creativity, innovation and human resources. He speaks to audiences throughout the world on the creative challenges facing business and education in the new global economies.
Sir Ken is Professor Emeritus of Education at the University of Warwick in the UK and has worked with governments in Europe, Asia and the United States, with international agencies, Fortune 500 companies, and some of the world's leading cultural organizations. His renowned talks at the annual TED conference (2006 and 2010) continued to be viewed online by many millions of people around the world. In 2003, he received a knighthood from H.M. Queen Elizabeth II for his services to the arts. In 2005 he was named as one of Time/Fortune/CNN's Principal Voices. He has received numerous honorary degrees and awards for his international work in education, creativity and cultural development. He is author of New York Times bestseller The Element: How Finding Your Passion Changes Everything, which has been translated into 20 languages.

Table of Contents
| | | |
| --- | --- | --- |
| | About the Author | xi |
| | Preface | xiii |
| | | |
| 1 | Out of Our Minds | 1 |
| 2 | Facing the Revolution | 19 |
| 3 | The Trouble with Education | 49 |
| 4 | The Academic Illusion | 81 |
| 5 | Knowing Your Mind | 109 |
| 6 | Being Creative | 139 |
| 7 | Feeling Better | 167 |
| 8 | You Are Not Alone | 197 |
| 9 | Being a Creative Leader | 219 |
| 10 | Learning to be Creative | 245 |
| | | |
| | Afterword | 285 |
| | Endnotes | 287 |
| | References | 307 |
| | Index | 315 |

Find Items On Similar Subjects

The Element
: How Finding Your Passion Changes Everything

A Whole New Mind