Small Move, Big Change
: Using Microresolutions to Transform Your Life Permanently
Caroline Arnold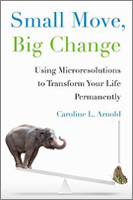 Format:
Hardcover, 272pp.
ISBN:
9780670015344
Publisher:
Viking Adult
Pub. Date:
January 16, 2014
Average Customer Review:

For Bulk Orders Call: 626-441-2024

Description and Reviews
From
The Publisher:
A Wall Street tech leader explains how small behavioral changes lead to major self-improvement
Whether trying to lose weight, save money, or get organized, we're always setting goals and making resolutions but rarely following through on them. Determination and willpower aren't strong enough to defeat our mass of ingrained habits; to succeed we have to learn how to focus our self-control on precise behavioral targets and overwhelm them, according to longtime Wall Street technology strategist Caroline Arnold.
Small Move, Big Change
is Arnold's guide to turning broad personal goals into meaningful and discrete behavioral changes that lead to permanent improvement. A microresolution is easily kept and designed to nail a self-improvement target exactly and deliver benefits immediately. While the traditional resolution promises rewards on a distant "someday," a microresolution rewards us today by instantly altering our routines and, ultimately, ourselves.
A wife, mother, and business innovator, Arnold uses her own successes and failures as case studies. Contrasting her career success with her personal resolution failures, Arnold recounts how by analyzing her own behavior she was able to reengineer her resolutions so that they were guaranteed to succeed every time, from losing weight to improving key relationships. Providing scores of engaging examples from the wide circle of colleagues and friends who practice her microresolution method, Arnold also shows how her system is supported by new willpower and habit science.

Reviews
"Small Move, Big Change is a rare self-improvement book that actually works. With the right mix of science and practical examples, Caroline Arnold offers powerful advice for motivating ourselves to save more, eat less, get organized, boost our willpower, and even keep our New Year's resolutions. It's the most useful guide to getting things done since Getting Things Done."
—Adam Grant, Wharton professor and bestselling author of Give and Take
"The only thing this book did for me was to get me to floss regularly, which led to less red wine, which led to snapping at my kids less, which led to them doing the dishes more. Who knew that flossing could change your life?
—Dr. Wendy Walsh, CNN's Human Behavior Expert
"Didn't expect to -- but I love this book! From page one, Small Move, Big Change is filled with wisdom, insight, and whip-smart "micro" suggestions you can actually implement to change your life. Caroline Arnold manages to be funny, down to earth, and hard-hitting all at the same time. This is a must-read."
—my Chua, Yale Law professor and author of Battle of the Tiger Mother and The Triple Package: How Three Unlikely Traits Explain the Rise and Fall of Cultural Group

About the Author
Caroline Arnold
has been a technology leader on Wall Street for more than a decade, leading a team of nearly five hundred technologists at Morgan Stanley. She and her team received the Wall Street and Technology Award for creating the Google IPO Auction platform and her name appears on several patents. She is a managing director at a leading investment banking firm and lives in New York City with her family.

Find Items On Similar Subjects

Adversaries into Allies
: Win People Over Without Manipulation or Coercion