Adversaries into Allies
: Win People Over Without Manipulation or Coercion
Bob Burg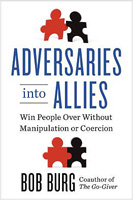 Format:
Paperback, 272pp.
ISBN:
9781591848165
Publisher:
Portfolio
Pub. Date:
June 23, 2015
Average Customer Review:

For Bulk Orders Call: 626-441-2024

Description and Reviews
From
The Publisher:
The Sages asked, "Who is mighty?" and answered, "Those who can control their own emotions and make of an enemy a friend."
In the bestselling book
The Go-Giver
, Bob Burg and John David Mann revolutionized the way we think about success via one very simple lesson: "Shifting one's focus from getting to giving (constantly and consistently providing value to others) is both very fulfilling and the most profitable way to do business.
Now Burg is back with a new book, offering deeper insight into what it means to be truly influential and providing powerful strategies for mastering the art of winning people over.
Faced with the task of persuading someone to do what we want, most of us expect, and often encounter, resistance. We see the other person as an adversary and often resort to coercion or manipulation in order to get our way. But while this approach might at times bring us short-term results, it leaves people with a bad feeling about themselves and about us. At that point, our relationship with the person is weakened and our influence dramatically decreased.
There is a better way.
Drawing on his own experiences and the stories of other influential people, Burg offers five simple principles of what he calls Ultimate Influence—the ability to win people to your side in a way that leaves everyone feeling great about the outcome . . . and about themselves!:
Control your own emotions
: Responding calmly rather than allowing your emotions to get the better of you will ensure not putting others on the defensive but rather help them remain open to your ideas.
Understand the clash of belief systems
: Every individual operates based on an unconscious set of beliefs, experiences, and ideas, which are most likely very different from yours. Understand this and you can avoid confusion and numerous misunderstandings that stand in the way of most people's ability to influence.
Acknowledge their ego
: People want to feel good about themselves; if you make someone genuinely feel good, you're one step closer to making an ally.
Set the proper frame
: People react and respond to other people. Approach potential conflicts from a position of benevolence, resolution, and helpfulness and they will follow suit.
Communicate with tact and empathy
: While the first four principles are vital, this is what brings it all home. Saying the right thing at the right time makes all the difference in terms of moving people to your side of the issue and taking the appropriate action that benefits all concerned.
In the tradition of Dale Carnegie's
How to Win Friends and Influence People
and Robert Cialdini's
Influence
, Burg offers a tried-and-true framework for building alliances at work, at home, and anywhere else you seek to win people over.

Reviews
"Adversaries into Allies is full of practical wisdom for becoming more persuasive while keeping your integrity intact. Bob Burg, a master of winning friends and influencing people, has written an immensely useful and thoroughly enjoyable book."
—Adam Grant, Wharton Professor; Author of Gie and Take
"How can we achieve the challenging goal of turning adversaries into allies? We can start by turning the pages of Adversaries into Allies, which provides an impressively clear and compelling explanation of just how to do it."
—Robert B. Cialdini, Author of Influence
"I wish I had read Bob Burg's newest book early in my career. What a difference it would have made! It is definitely a must read for everyone who wants to enhance their business success, but don't just read it once. It's a book you need to read time and time again. Many thanks to Bob for a valuable new work."
—Susan Solovic, Co-founder of Small Business Television
"Bob Burg has delivered again! In Adversaries into Allies, you'll learn how to influence and persuade others toward outcomes that create genuinely good feelings and results for everyone involved. The principles of how exactly to do that, consistently and predictably, are powerfully presented in this tremendous book. And you're about to learn them from a master."
—Stephen M. R. Covey, Author of The Speed of Trust
"Simultaneously challenging and encouraging, Adversaries into Allies delivers on the promise of sustainable influence. You will literally feel your perspective shift as you turn the pages. Bob drives timeless wisdom into real-time action."
—Dondi Scumaci, Author of Career Moves

About the Author
Bob Burg
is the coauthor of The Go-Giver, Go-Givers Sell More, and It's Not About You and the author of Endless Referrals. The Go-Giver was a BusinessWeek and Wall Street Journal bestseller and has been translated into more than twenty languages. Together, his books have sold more than a million copies. A highly sought after speaker, Burg presents to corporations and associations internationally, including Fortune 500 companies, franchises, and direct sales organizations.