Confessions of a Public Speaker
Scott Berkun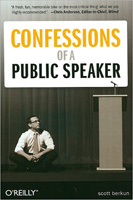 Format:
Paperback, 238pp.
ISBN:
9781449301958
Publisher:
O'Reilly Media
Pub. Date:
January 8, 2011
Average Customer Review:

For Bulk Orders Call: 626-441-2024

Description and Reviews
From
The Publisher:
" at 7:48 a.m. on a Tuesday, I am showered, cleaned, shaved, pruned, fed, and deodorized, wearing a pressed shirt and shiny shoes, in a cab on my way to the San Francisco waterfront I'm far from home, going to an unfamiliar place, and performing for strangers, three stressful facts that mean anything can happen "
In this hilarious and highly practical book, author and professional speaker Scott Berkun reveals the techniques behind what great communicators do, and shows how anyone can learn to use them well. For managers and teachers—and anyone else who talks and expects someone to listen—
Confessions of a Public Speaker
provides an insider's perspective on how to effectively present ideas to anyone. It's a unique, entertaining, and instructional romp through the embarrassments and triumphs Scott has experienced over 15 years of speaking to crowds of all sizes.
With lively lessons and surprising confessions, you'll get new insights into the art of persuasion-as well as teaching, learning, and performance-directly from a master of the trade.
Highlights include:
Berkun's hard-won and simple philosophy, culled from years of lectures, teaching courses, and hours of appearances on NPR, MSNBC, and CNBC
Practical advice, including how to work a tough room, the science of not boring people, how to survive the attack of the butterflies, and what to do when things go wrong
The inside scoop on who earns $30,000 for a one-hour lecture and why
The worst-and funniest-disaster stories you've ever heard (plus countermoves you can use)
Filled with humorous and illuminating stories of thrilling performances and real-life disasters,
Confessions of a Public Speaker
is inspirational, devastatingly honest, and a blast to read.

Reviews
"A fresh, fun, memorable take on the most critical thing: what we say. Highly recommended."
—Chris Anderson, Editor in Chief, Wired
"Loved it! Anyone who speaks for a living-including teachers-will greatly benefit from this book."
—Garr Reynolds, author of Presentation Zen

About the Author
Scott Berkun
worked on the Internet Explorer team at Microsoft from 1994-1999 and left the company in 2003 with the goal of writing enough books to fill a shelf.
The Myths of Innovation
is his second book: he wrote the best seller,
The Art of Project Management
(O'Reilly 2005). He makes a living writing, teaching and speaking. He teaches a graduate course in creative thinking at the University of Washington, runs the sacred places architecture tour at NYC's GEL conference, and writes about innovation, design and management at www.scottberkun.com. Scott Berkun is a regular contributor to Harvard Business Digital and a management and creative thinking expert who appears frequently on MSNBC and CNBC.

Table of Contents
| | | |
| --- | --- | --- |
| | | |
| | Disclaimer | xi |
| | | |
| 1 | I can't see you naked | 1 |
| 2 | The attack of the butterflies | 11 |
| 3 | $30,000 an hour | 25 |
| 4 | How to work a tough room | 39 |
| 5 | Do not eat the microphone | 55 |
| 6 | The science of not boring people | 69 |
| 7 | Lessons from my 15 minutes of fame | 79 |
| 8 | The things people say | 95 |
| 9 | The clutch is your friend | 111 |
| 10 | Confessions | 125 |
| | | |
| | The little things pros do | 145 |
| | How to make a point | 153 |
| | What to do if your talk sucks | 161 |
| | What to do when things go wrong | 169 |
| | You cant do worse than this | 183 |
| | Research and recommendations | 195 |
| | How to help this book: a request | 203 |
| | | |
| | Acknowledgments | 205 |
| | Photo credits | 209 |
| | Colophon | 213 |
| | About the Author | 221 |

Find Items On Similar Subjects

The Myths of Innovation

The Presentation Secrets of Steve Jobs
: How to Be Insanely Great in Front of Any Audience