Results That Last
: Hardwiring Behaviors That Will Take Your Company to the Top
Quint Studer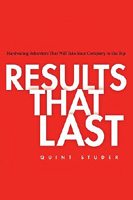 Format:
Hardcover, 320pp.
ISBN:
9780471757290
Publisher:
Wiley
Pub. Date:
October 19, 2007
Average Customer Review:

For Bulk Orders Call: 626-441-2024

Description and Reviews
From
The Publisher:
Business results that truly last don't come from products and services or particular employees and leaders, no matter how good they are. Products change and evolve; people come and go. What really leads to sustainable business results over time is quality leadership—not leaders, but leadership. Consistently excellent leadership is the key to long-term success and profitability. But how do you develop it?
In
Results That Last
, "Master of Business" Quint Studer shows you how to build an organizational culture that develops great leaders today and instills the mechanisms and the mindset that will continue to foster great leadership tomorrow. Studer pre-sents the most effective leadership practices and shows you how to apply them across every group, department, or division, resulting in improved leadership and performance on the individual, group, and organizational levels.
The practical and proven tools and techniques Studerreveals are designed to align your goals, behaviors, andprocesses in a way that virtually guarantees leadership excellence, vastly improved customer relations, and organizational outcomes. The
Results That Last
methodology provides real, workable solutions that help you:
Standardize the behavior and responses of leaders to ensure a consistent experience for employees and customers
Align processes to lessen confusion andincrease effectiveness
Bring leaders in line with organizational goalsand values
Adopt and master key tactics like Rounding for Outcomes and Managing Up
Determine what employees need and want from leadership and how to deliver it, creating better morale and increased personal accountability
Employ an objective evaluation system that keeps leaders on track to reach organizational goals and achieve personal excellence
Results That Last
helps you develop standardized leadership practices that will survive in your organization much longer than any individual leader or team. The result is better strategy, better employee and customer relations, and bigger long-term profits. With the right practices in place, your organization's success won't depend on individuals. Instead, excellence will be hardwired into your culture—giving you a sustainable, tangible advantage over the competition.

Reviews
"Quint Studer is a superb communicator with a deep belief in the power of relationships. His informal tone, sense of humor, and real-world stories bring his business principles to life. Results That Last has a vital, optimistic quality that will keep readers re-reading long after other leadership books have been relegated to a dark corner of the shelf."
—Nido Qubein, author of How to Get Anything You Want; President, High Point University; Chairman, Great Harvest Bread Company; and founder, National Speakers Association Foundation
"Results That Last is long overdue and fills a big gap in effective business management. There are legions of books that show us the way to achieve successful results in business, but very few that teach us how to institutionalize success. In reality, achieving success is the easy part. The real challenge is to achieve results that last. Quint Studer not only proves it is possible to hardwire a culture for lasting results, but lays out a simple, logical, and effective way to do so. Anyone who wants to make success a habit needs to read this book."
—Bob MacDonald, former CEO, Allianz Life of North America and author of Beat the System: 11 Secrets to Building an Entrepreneurial Culture in a Bureaucratic World
"I have always been fascinated by how the various parts of an organization work together to achieve strategic objectives. In Results That Last, Quint Studer explores the complex subject of performance improvement in a fresh, readable, and easy-to-grasp way. By standardizing certain business practices and leader behaviors, any company in any field can create an environment that allows it to achieve and sustain long-term results."
—David F. Giannetto, coauthor of The Performance Power Grid: The Proven Method to Create and Sustain Superior Organizational Performance

About the Author
Quint Studer
not only teaches it, he has done it. After leading organizations to breakthrough results, Quint formed the Studer Group®, an outcomes firm that implements evidence-based leadership systems that help clients attain and sustain outstanding results. He was named one of the "Top 100 Most Powerful People in Healthcare" by Modern Healthcare magazine for his work on institutional healthcare improvement. Studer was named "Master of Business" by Inc. magazine.

Find Items On Similar Subjects

Execution
: The Discipline of Getting Things Done