How
: Why HOW We Do Anything Means Everything
Dov L. Seidman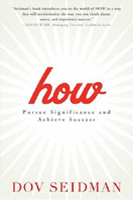 Format:
Hardcover, 384pp.
ISBN:
9781118106372
Publisher:
Wiley
Pub. Date:
Expanded Edition - September 21, 2011
Average Customer Review:


For Bulk Orders Call: 626-441-2024

Description and Reviews
From
The Publisher:
An updated edition of the classic book on how to find sustainable competitive advantage in the 21st century
The flood of information and unprecedented transparency reshaping today's business world has dramatically changed the rules of the game. It's no longer merely what you do that sets you apart from others, but how you do it. Sustainable advantage and enduring success—for both companies and individuals—now lie in the realm of HOW. In this new era, our behavior is the ultimate source of competitive advantage. For two decades, Dov Seidman has helped some of the world's most respected companies build "do it right," winning cultures, and now he's making his unique approach available to everyone in HOW.
Now updated and enhanced,
HOW
includes a foreword from President Bill Clinton and new insights from Dov Seidman on the relevance of HOW in a post-crisis, globally-interconnected and thus interdependent world. Seidman shares the power of "sustainable values"—the values that literally sustain us as individuals and institutions and help us forge enduring relationships—and the "inspirational leadership" required for our 21st century realities.
Seidman's distinct vision of the world, business, and human endeavor has enabled more than 15 million people doing business in over 100 countries to outbehave the competition
Exposes the forces and factors that have fundamentally changed the world in which business operates, placing a new focus on the "hows" with which we conduct ourselves
Through entertaining anecdotes, surprising case studies, cutting-edge research in a wide range of fields, and revealing interviews with a diverse group of business leaders, experts, and everyday people on the front lines, this book explores how we think, how we behave, how we lead and how we govern ourselves to uncover the values-driven "hows" of 21st-century success
For business people looking to stand out and thrive in our fast changing, hyper connected, and hyper transparent world, HOW refocuses efforts in powerful new ways.

Reviews
"HOW is a trip through the lens of a first-class observer. Dov Seidman captures the life lessons that impact how we should think and respond in today's world. HOW's clarity and common sense make it a must read for aspiring entrepreneurs everywhere."
—Sam Zell, Chairman, Equity Group Investments
"Dov Seidman's intellect and passion – brilliantly displayed in HOW's well-written and entertaining case studies, anecdotes, and research – show us a new way to think about enduring success in times of change. Seidman's penetrating insights into what really matters in a wired world challenge the very best in each of us to see what is right and wrong in everyday decision making."
—Senator Bill Bradley
"In HOW, Dov Seidman takes the idea of 'success' even further, redefining it as a quest for significance. Isn't that what we all really want? To have a positive impact, to make a difference, to excel? To do that you have to achieve significance, and Seidman brilliantly shows you HOW. This book will change your life in profound ways."
—Marcus Buckingham, author, Go Put Your Strengths To Work
"HOW is a radically different and compelling approach to competing in business today. We're all aware of the implications of operating in a transparent, wired, global marketplace. Dov Seidman crystallizes how we need to think and act to win in this new world."
—Jeff Kindler, Chairman & CEO, Pfizer Inc.
"This book is the ultimate guidebook for successful living. Its truths are simple but stunningly powerful."
—Marianne Williamson, author, Everyday Grace
"We do business on every continent. Everywhere we go, Dov Seidman's message rings equally true. HOW provides valuable insight for anyone who believes their company culture and core values can determine their ultimate success."
—Massimo Ferragamo, Chairman, FERRAGAMO USA
"Dov Seidman captures the power that Ray Kroc instilled in us at McDonald's from the day he opened his first restaurant in 1955 – a culture based on values puts the customer first. In today's world, focusing on the HOW is critical to accelerating momentum. HOW is required reading for anyone seeking enduring success in business or life."
—Jim Skinner, CEO, McDonald's Corporation


Reader's Index
Send us your favorite quotes or passages from this book
.
• "To gain a true understanding of the world of HOW, you must be prepared to struggle and wrestle with complexity and uncertainty and new ways of seeing." Pg. 59

About the Author
Dov Seidman's professional career has focused on how companies and their people can operate in both a principled and profitable way. He is the Founder, Chairman, and CEO of LRN. Leading companies such as Disney, Dow Chemical, eBay, Johnson & Johnson, Procter & Gamble, Raytheon, and 3M turn to LRN to help management govern more effectively and workers do the right things the right way, even in the most challenging of situations. Dov is a Harvard Law School graduate who also earned a bachelor's and master's degree in philosophy from UCLA, and a BA with honors in philosophy, politics, and economics from Oxford University.

Table of Contents
Preface
ix
Prologue. Making Waves
1
Part One: How We Have Been, How We Have Changed
Introduction. The Spaces Between Us
13
1
From Land To Information
Lines of Communication • Getting Flattened
17
2
Technology's Trespass
The Ties That Bind Us • Distance Unites Us • Can You Hear Me Now? • The Age of Transparency • The Persistence Of Memory • The Information Jinni is Out of the Lamp
25
3
The Journey To How
Just Do It • The Certainty Gap • The Limitations of Rules • Outbehaving the Competition • HOW We Go Forward
41
Part Two: How We Think
Introduction: The Paradox of Journey
57
4
Playing To Your Strengths
Help! • You Can Judge a Book By Its Cover • Looking Out for Number Two • The Evolution of What is Valuable • Believe It
63
5
From Can To Should
Rules as Proxies • Dancing with Rules • On The Tip of Your Tongue • Unlocking Should • Risk and Reward
81
6
Keeping Your Head In The Game
Distraction • Small Lapses, Large Costs • Dissonance • Doing Consonance • Friction • Putting it in the Whole
103
Part Three: How We Behave
Introduction: How We Do What We Do
125
7
Doing Transparency
Beyond Proxies and Surrogates • I.C.U., U.C. Me • The Market Defines You • Say You Are Sorry • Interpersonal Transparency • Sig, Don't Zag
129
8
Trust
The Soft Made Hard • How High is the Ceiling? • Goin on a T.R.I.P. • Tripping • Doing Trust • Trust is the Drug • Trust, But Verify
157
9
Reputation, Reputation, Reputation
Reputation in a Wired World • Reputational Capital • Mismanaging Reputation Management • A Second Chance
181
Part 4: How We Govern
Introduction: Innovating in HOW
209
10
Doing Culture
The Sum of All HOWS • The Spectrum of Culture • The Four Types of Culture • Five HOWS of Culture
215
11
The Case For Self-Governing Cultures
Self-Governance on the Shop floor • Freedom is Just Another Word • Taking Culture for a Test Drive • Closing the Gap • Values in Action • A Journey to Culture • Why Self-Governance is the Future of Business
241
12
The Leadership Framework
Leadership • Walking the Talk • The First Five HOWS of Leadership • Circles in Circles (A Thought) • The Leadership Framework Continued
267
Afterword
299
Acknowledgements
305
Notes
310
Selected Bibliography
325
Index
331

Customer Reviews
Write your own online review
.

Find Items On Similar Subjects

Transparency
: How Leaders Create a Culture of Candor