Transparency
: How Leaders Create a Culture of Candor
Warren Bennis, Daniel Goleman and James O'Toole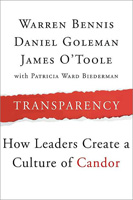 Format:
Paperback, 144pp.
ISBN:
9781118771648
Publisher:
Jossey-Bass
Pub. Date:
June 9, 2008
Average Customer Review:

For Bulk Orders Call: 626-441-2024

Description and Reviews
From
The Publisher:
In a time when the reputation of an organization or a leader can be shattered by the click of a mouse, transparency is often a matter of survival in a world of global competition. But as stakeholders in different organizations increasingly clamor for transparency, what are they truly asking for? What is the promise of transparency? What are its very real risks? And why is it essential that leaders understand it? In this book, distinguished authors Warren Bennis, Daniel Goleman, and James O'Toole explore what it means to be a transparent leader, create a transparent organization, and live in an ever more transparent world culture.
In three interconnected essays, they examine transparency from three different vantage points—within and between organizations, in terms of personal responsibility, and finally, in the context of the new digital reality—all with an emphasis on how these relate to leaders and leadership. The first essay explores an urgent dilemma for every contemporary leader: how to create a culture of candor. The second essay—with the provocative title "Speaking Truth to Power"—discusses a prerequisite for transparency and a responsibility we too often fail to fulfill. The final essay explores how digital technology is making the entire world more transparent.
Combining theory and experience, this book offers both a long view of transparency and a wealth of practical advice. The ideas in each chapter will make anyone both a better follower and a better leader.
In
Transparency
, the authors–a powerhouse trio in the field of leadership–look at what conspires against "a culture of candor" in organizations to create disastrous results, and suggest ways that leaders can achieve healthy and honest openness. They explore the lightning-rod concept of "transparency" – which has fast become the buzzword not only in business and corporate settings but in government and the social sector as well. Together Bennis, Goleman, and O'Toole explore why the containment of truth is the dearest held value of far too many organizations and suggest practical ways that organizations, their leaders, their members, and their boards can achieve openness. After years of dedicating themselves to research and theory, at first separately, and now jointly, these three leadership giants reveal the multifaceted importance of candor and show what promotes transparency and what hinders it. They describe how leaders often stymie the flow of information and the structural impediments that keep information from getting where it needs to go. This vital resource is written for any organization–business, government, and nonprofit–that must achieve a culture of candor, truth, and transparency.

Reviews
"After watching so many American presidents derailed by a culture of secrecy—Richard Nixon and George W. Bush are only the most recent—one might imagine that transparency would become the watchword of leaders everywhere. Alas, it has not: witness Enron and subprime mortgages. Here in these pages, with arguments that are enormously compelling, Warren Bennis, Daniel Goleman, and James O'Toole urge leaders of every stripe to create 'a culture of candor' around them. Please give this book to anyone heading toward the front office, especially if it is oval."
—David Gergen, professor and director of the Center for Public Leadership, Harvard University; former White House advisor; author of Eyewitness to Power
"Transparency vividly describes the powerful imperative for open and honest communication in a boundless world transformed by information technology and its impact on corporations and politics. With many practical examples, the authors underscore the importance of the leadership values of integrity, candor, courage, and responsibility as fundamental to sustainable success in an increasingly complex environment."
—Daniel Vasella, M.D., chairman and CEO, Novartis AG, Basel, Switzerland
"In this vital new book, Warren Bennis, Daniel Goleman, and Jim O'Toole have teamed up to address the vital question of our times, whether organizations have the courage to be open, honest, and most of all, transparent. They give deep insights into why transparency is essential to long-term business success. It is a mustread for anyone who wants to build an authentic organization."
—Bill George, former CEO, Medtronic; professor, Harvard Business School; author of True North and Authentic Leadership

About the Author
Warren Bennis
is Distinguished Professor of Business Administration and founding chairman of The Leadership Institute at the University of Southern California. He also serves as chairman of the Advisory Board of the Center for Public Leadership at Harvard University's John F. Kennedy School of Government. He is the author or coauthor of numerous books, including Judgment and On Becoming a Leader.
Daniel Goleman
authored the best-selling books Emotional Intelligence and Primal Leadership. He is codirector of the Consortium for Research on Emotional Intelligence in Organizations, based at Rutgers University.
James O'Toole
is the Daniels Distinguished Professor of Business Ethics at the University of Denver's Daniels College of Business. He is the author of seventeen books, including The Executive's Compass, Creating the Good Life, and Leading Change.

Table of Contents
Preface by Warren Bennis
1
Creating a Culture of Candor
Warren Bennis, Daniel Goleman and Patricia Ward Biederman
2
Speaking Truth to Power
James O'Toole
3
The New Transparency
Warren Bennis
Notes
The Authors

Find Items On Similar Subjects

Authentic Leadership
: Rediscovering the Secrets to Creating Lasting Value • Paperback