The Performance Pipeline
: Getting the Right Performance at Every Level of Leadership
Stephen Drotter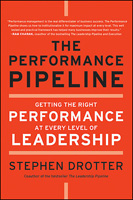 Format:
Hardcover, 000 pp.
ISBN:
9780470877289
Publisher:
Jossey-Bass
Pub. Date:
September 21, 2011
Average Customer Review:

For Bulk Orders Call: 626-441-2024

Description and Reviews
From
The Publisher:
"What I see most often isleaders spending much of their time solving today's problems personally and not spending enough time anticipating and planning for the future or on developing their people."
—from the Preface
From Stephen Drotter, coauthor of the bestselling book
The Leadership Pipeline
, comes the next-step resource designed to help leaders at every level succeed in an uncertain business environment.
The Performance Pipeline
is a groundbreaking book that is based on Stephen Drotter's forty years of in-depth work with more than 100 companies worldwide. The book defines how work flows from top to bottom and reveals what results each layer must produce and what each layer must pass down to make the layers below successful.
Filled with illustrative examples and personal experiences, the book shows how Performance Pipelines work in real-world organizations.
The Performance Pipeline
uses a framework that is as easy to apply as it is to understandand addresses three critical business needs:
How to improve business performance by defining the unique purpose of each layer and providing clarity and focus on the results to be achieved
How to make all leaders successful by having leaders at every layer pass down to the layers below things they need to be successful
How to help leaders make the transition to a new layer and how to remove performance roadblocks so leaders deliver the results required at their new layer
Drotter's Performance Pipeline method wascreated to be flexible and can be adopted by companies of all sizes and in any industry.Using this book as a touchstone, profess-ionals will learn how to define and install their own Performance Pipeline to obtain the benefits of role clarity and to sharpen the focus of all their leaders at all levels. Leaders and professionals will learn how to measure the work of leaders at every level.

Reviews
"The best solutions for the most difficult issues involve clarity yet rigor. The performance standards are just that, and underpin our transitionfrom a bureaucratic government-owned company to a modern privatesector corporation."
—Lance Hockridge, chief executive officer, QR National
"As we evolve Newmont's leadership capability to be highly effective in addressing the challenges of our global business environment, the performance standards have provided focus and clarity on the critical changes needed from every leader."
—Richard O'Brien, chief executive officer, Newmont Mining Corporation
"The performance standards gave us three great benefits. First, they created a common definition of performance and aligned 43,000 employees in 28 countries. Second, they helped us move from opinions to fact-based, more productive conversations about performance and how to help employees improve. Third, we are now clear about what to expect from each layer and have focused development activities on things that make a difference for each layer. The performance standards are now the central focus for all people-related processes and are included in business planning and business review sessions."
—Bernard Kunerth, senior vice president and chief human resources officer, Coca-Cola Hellenic
"Performance management is the real differentiater of business success.
The Performance Pipeline
shows us how to institutionalize it for maximum impact at every level. This well tested and practical framework has helped many businesses improve their results."
—Ram Charan, coauthor of the bestselling The Leadership Pipeline and Execution

About the Author
Stephen Drotter
is CEO of Drotter Human Resources, a global company that specializesin CEO succession; executive assessment, selection, and development; and enterprise-level organization design. He was one of the original designers of GE's succession planning process and ran human resources at INA Corporation and Chase Manhattan. He has a degree in economics from Amherst College. He is coauthor of The Leadership Pipeline and The Succession Planning Handbook for the Chief Executive.

Table of Contents
| | | |
| --- | --- | --- |
| | | |
| | Preface | ix |
| | | |
| | Part One The Performance Pipeline Concept | |
| | Introduction Dealing with Pervasive Uncertainty | 3 |
| 1 | Defining Your Performance Pipeline | 21 |
| | | |
| | Part Two Expected Results at Every Level of Leadership | |
| 2 | Enterprise Chief Executive Officer: Perpetuating the Enterprise | 47 |
| 3 | Group Managers: Portfolio of Businesses | 71 |
| 4 | Business Managers: Short-Term and Long-Term Profit | 93 |
| 5 | Function Managers: Competitive Advantage | 113 |
| 6 | Managers of Managers: Productivity | 129 |
| 7 | Managers of Others: The Enablers | 147 |
| 8 | Self-Managers: Delivering the Products and Services | 175 |
| | | |
| | Part Three Successful Implementation of the Performance Pipeline | |
| 9 | Creating a Context for Performance | 201 |
| 10 | Enabling Layer Transitions | 225 |
| 11 | Implementing Your Performance Pipeline | 245 |
| | | |
| | Tool 1: Actual Performance Pipeline from Company E | 261 |
| | Tool 2: Interview Questions | 279 |
| | | |
| | Acknowledgments | 285 |
| | The Author | 287 |
| | Index | 289 |

Find Items On Similar Subjects

The Leadership Pipeline
: How to Build the Leadership Powered Company