The Leadership Pipeline
: How to Build the Leadership Powered Company
Ram Charan, Stephen Drotter and James Noel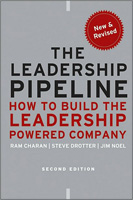 Format:
Hardcover, 352pp.
ISBN:
9780470894569
Publisher:
Jossey-Bass
Pub. Date:
2nd edition - January 11, 2011
Average Customer Review:

For Bulk Orders Call: 626-441-2024

Description and Reviews
From
The Publisher:
"Many of the best and most successful corporations in the world have adopted the Leadership Pipeline model as the core framework for their efforts on the human side of their businesses.
Built around the common leadership 'passages' all leaders go through, it helps organizations select, develop, and assess based on specific respon-sibilities and work values at each leadership level." —from the Foreword
Strong leaders at all levels within an organization are a requisite for business success. Yet the leadership pipeline—the internal architecture for growing leaders—is often broken or nonexistent. This updated edition of the best-selling
The Leadership Pipeline
has been revised to help address the challenges of today's business environment. Anchored in experience, it offers a tested model for planning leadership succession and development that has proven to get results.
The authors draw on their work at more than one hundred international companies to report on what has been learned in the ten years since the first edition of
The Leadership Pipeline
was published. They show how a company can develop leadership in each layer of their organization by defining the different skills required as leaders move from one level to the next. They explain how time should be applied differently, how work values required for success must change, and clearly illustrate what inappropriate leadership looks like at each step. In addition, the authors answer commonly asked questions and add new insights from their in-the-field research.
The Leadership Pipeline
shows how today's companies can keep their leadership "pipeline" filled and flowing to ensure a steady supply of skilled leaders throughout the organization.

Reviews
"Management Development 101—but only if you have read the book and understood and acted on the processes so clearly articulated. While these are first principles, it is very useful to have them set out. I have seen them work to great effect in several companies."
—John B. Prescott, chairman, QR National Limited
"The wisdom added to this second edition is based on experience working with many of the best companies in the world. Whether you are a first-time reader or rejoining the conversation, this book adds critical points and answers that can be used immediately in your leadership work to make your business better. Charan, Drotter, and Noel make clear what can be confusing about the work of a leader at every level."
—Tom Flanagan, president and CEO, Applied Insight Consulting, Inc.
"The Leadership Pipeline has the ability to transform a company. The leadership concepts are enduring and simple enough that managers at every level can quickly grasp what it means to be a highly effective leader. The authors, Charan, Drotter, and Noel, are true leadership development 'gurus' and continue to provide us with the best thinking in developing the world's future generation of business leaders."
—Abby Curnow-Chavez, vice president of talent management, Newmont Mining Corporation

About the Authors
Ram Charan
is an advisor to many of the world's top CEOs and corporate directors. He is author or coauthor of sixteen books including the New York Times bestseller Execution. He has also taught at Wharton, the Kellogg School of Management, and GE's Leadership Center. He has degrees from Harvard Business School.
Stephen Drotter
is CEO of Drotter Human Resources, a global network that specializes in CEO succession; executive assessment, selection, and development; and corporate-level organization design. He was one of the original designers of GE's succession planning process and ran Human Resources at INA Corporation and Chase Manhattan. He has a degree in economics from Amherst College.
Jim Noel
is a retired consultant and leadership coach who assisted companies in the selection, assessment, and development of key leadership teams. He is a former manager of Executive Education and Leadership Effectiveness at GE.