Made in Canada Leadership
: Wisdom from the Nation's Best and Brightest on the Art and Practice of Leadership
Amal Henein and Francoise Morissette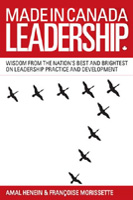 Format:
Hardcover, 288pp.
ISBN:
9780470839430
Publisher:
Jossey-Bass
Pub. Date:
May 25, 2007
Average Customer Review:

For Bulk Orders Call: 626-441-2024

Description and Reviews
From
The Publisher:
Leadership is currently one of the most daunting issues facing all sectors of the economy in Canada and abroad. Much has been made in the media about a leadership 'deficit' and organizations are concerned about the quality and quantity of leadership available to meet their current and future needs. Many think we are faced with a leadership shortage and need to take drastic measures to remedy this problem.
As a result, organizations wonder about the most effective approach to leadership development and seek to implement the best strategies and programs to enable their workforce to acquire and hone leadership skills.
Made In Canada Leadership
seeks to answer three fundamental questions:
What are the best ways to develop competent leaders?
How to ensure a reliable supply of capable leaders for the country?
How to strengthen Canadian leadership?
To do so, the authors draw upon the collective wisdom and experience of 295 exceptional Canadian leaders in the private, public, community, art, sport and co-operative sectors from coast to coast as well as 66 professional leadership development experts representing programs in universities, institutes, corporations, public sector entities, co-operatives as well as sports, community and youth programs
Leadership matters. More than any other factor, it affects the success of an enterprise. But there is currently a concern in Canada and abroad about a growing leadership deficit, in all sectors of the economy. Organizations everywhere increasingly worry about the quality and quantity of leadership available to meet their current and future needs.
There are few "born leaders," but an abundant supply of excellent leaders can be developed with the appropriate support systems, mentoring and focus on judgment and critical competencies.
Made in Canada Leadership
explores effective ways to prepare leaders, by drawing on the best practices of exceptional Canadian leaders and those responsible for developing them.
Featuring the voices of hundreds of participants,
Made in Canada Leadership
reveals the nation's collective wisdom on the art and practice of leading. The authors interviewed 295 exceptional leaders from coast to coast, in business, the arts, the community, cooperatives, sports, and the public sector. In their own words, these accomplished leaders share what leadership means to them, what contributed to their own development, and recommendations to expand individual, organizational and national leadership capacity.
The book also features insights and best practices from experts involved in 66 leadership development programs across the country, in corporations, community organizations, consulting firms, cooperatives, sports organizations, universities, youth programs, and leadership institutes.
Made in Canada Leadership
explores what is unique about the Canadian brand of leadership, why our leadership style is so appealing on the international scene, and how it broadens our influence.
By offering stories and words of wisdom from the exceptional leaders it features,
Made in Canada Leadership
will inspire individual Canadians to answer the call of leadership, and organizations to create the conditions for developing excellent leaders. Beyond inspiration, it also provides practical advice on how organizations can build their leadership capacity, and how we can enhance our leadership effectiveness as a nation.

About the Author
Amal Henein CHRP
is a well-rounded HR professional for over 20 years, Amal has worked in the business and non-profit sectors as an internal practitioner and an external consultant. She has held senior management positions in Human Resources and led a national HR function for a global organization. Over the years, she has partnered with senior management to integrate business and human resources strategies in order to achieve an optimal fit and maximize business results. As a change agent, she has helped create environments conducive to leadership development and efficiency. Areas of expertise include: coaching, establishing partnerships, employee relations, leadership development, building successful teams, aligning performance for success, employee morale and well-being, motivation, leading through role modeling, restructuring, training & development, and facilitation.
Françoise Morissette M.Ed., P.C.C.
, as a Human Resource Consultant, Françoise is a major contributor to the field of Organizational and Individual Development, with an expertise in Leadership Development. She has been a Faculty Member at Queen's University's prestigious Industrial Relations Centre since 1994, and was made a Fellow in 2006. She has played a key role in the design of two OD Certificates intended for practitioners, the first of their kind in Canada. She is also an Associate at the Centre for Leadership Studies at the University of Guelph. Her consulting practice takes her across North America and internationally. For instance, she has been involved in projects in Sweden, Finland, France and the UK. Françoise offers services that enhance the performance of organizations, teams and individuals. Through a variety of interventions, Françoise helps leaders to increase their effectiveness and organizations to enhance their leadership capacity.

Find Items On Similar Subjects

The Leader of the Future
: New Visions, Strategies, and Practices for the Next Era • P