The Leader of the Future
: New Visions, Strategies, and Practices for the Next Era
Frances Hesselbein, Marshall Goldsmith and Richard Beckhard -
Editors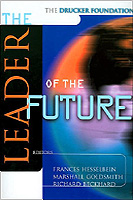 Format:
Paperback, 352pp.
ISBN:
9780787909352
Publisher:
Jossey-Bass
Pub. Date:
New Edition August 19, 1997
Average Customer Review:

For Bulk Orders Call: 626-441-2024

Description and Reviews
From
The Publisher:
The Leader of the Future
is a compendium of new thought. It is a book about the future quality of our lives, our businesses, our organizations, our society - and the leadership required to move us into the exciting unknown. Each of the acclaimed authors offers a special perspective on leadership, a unique glimpse into the future, and together their thinking forms a treasure trove of insight and knowledge. All essays were written especially for this book, providing even the most astute reader with new insights and directions crucial to becoming an effective leader in the organization of tomorrow.
The Leader of the Future offers cutting-edge essays that directly address the future quality of businesses, organizations, and communities—and the leadership required not just to survive, but to thrive. Acclaimed authors, world-renowned consultants, and respected executives present their special perspectives on leadership and a compelling glimpse into the future.
This best-selling collection demonstrates:
How leaders motivate by turning the organizational pyramid upside down
How partnering has become a primary skill of world-class leaders
How leaders of the next millennium can create an organizational culture based on principles
How leaders emerge—independent of official rank or status—from organizations that nurture dispersed authority
How to inspire hope and purpose in those who want direction and wish to contribute
Peter F. Drucker, Charles Handy, Sally Helgesen, Rosabeth Moss Kanter, Stephen R. Covey, and many other great thinkers share their visions of tomorrow's leader—as different and commanding as their individual records of success—and each powerfully relevant to the future of business, government, and the nonprofit sector.

Reviews
"An exciting exposition of numerous ideas on leadership that can nourish the reader spiritually, intellectually, and emotionally. The book is richer for its contributions from diverse leadership thinkers—academics, consultants, and practitioners.... It can offer a challenge to the reader wishing to become more like the leaders whom these numerous authors profile."
—Academy of Management Executive
"
The Leader of the Future
is a thought-provoking collection of essays that gets readers up to speed on the most important trAnds facing today's leaders. It's a one-stop shopping guide that shows how leaders can be successful."
—Training & Development

About the Editors
Frances Hesselbein
is chairman of the board of governors of the Peter F. Drucker Foundation for Nonprofit Management in New York City, where she lives.
Marshall Goldsmith
is a consultant to Fortune 500 corporations. He lives in San Diego, California.
Richard Beckhard
is an organizational development consultant. He lives in New York City.

Table of Contents
| | | |
| --- | --- | --- |
| | Foreword | |
| | Preface | |
| 1 | The New Language of Organizing and Its Implications for Leaders | 3 |
| 2 | Leading the De-Jobbed Organization | 11 |
| 3 | Leading from the Grass Roots | 19 |
| 4 | Creating Organizations with Many Leaders | 25 |
| 5 | Leading Learning Organizations: The Bold, the Powerful, and the Invisible | 41 |
| 6 | Leadership and Organizational Culture | 59 |
| 7 | Leading a Diverse Work Force | 71 |
| 8 | Turning the Organizational Pyramid Upside Down | 81 |
| 9 | World-Class Leaders: The Power of Partnering | 89 |
| 10 | Seven Lessons for Leading the Voyage to the Future | 99 |
| 11 | Leaders Who Shape and Keep Performance-Oriented Culture | 111 |
| 12 | The "How to Be" Leader | 121 |
| 13 | On Future Leaders | 125 |
| 14 | Peacetime Management and Wartime Leadership | 131 |
| 15 | A Recipe for Glue | 141 |
| 16 | Three Roles of the Leader in the New Paradigm | 149 |
| 17 | Developing Three-Dimensional Leaders | 161 |
| 18 | New Skills for New Leadership Roles | 175 |
| 19 | The Ultimate Leadership Task: Self-Leadership | 189 |
| 20 | The Following Part of Leading | 199 |
| 21 | Credibility x Capability | 209 |
| 22 | Learning from Past Leaders | 221 |
| 23 | Ask, Learn, Follow Up, and Grow | 227 |
| 24 | The Leader Who Serves | 241 |
| 25 | A Constitutional Model of Leadership | |
| 26 | Either/Or Yields to the Theory of Both | 257 |
| 27 | Key Leadership Challenges for Present and Future Executives | 265 |
| 28 | Energy and Leadership | 273 |
| 29 | The Puzzles of Leadership | 281 |
| 30 | An "Outsider's" View of Leadership | 293 |
| 31 | Growing Tomorrow's Leaders | 303 |
| | Index | 311 |

Find Items On Similar Subjects

My Life in Leadership
: The Journey and Lessons Learned Along the Way

The Leader of the Future 2
: Visions, Strategies, and Practices for the New Era

Leader to Leader
: Enduring Insights on Leadership from the Drucker Foundation's Award-Winning Journal

Leading Beyond the Walls