The Innovative Leader
: How to Inspire Your Team and Drive Creativity
Paul Sloane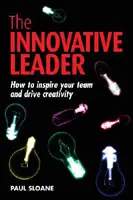 Format:
Paperback, 192pp.
ISBN:
9780749450014
Publisher:
Kogan Page
Pub. Date:
July 1, 2007
Average Customer Review:

For Bulk Orders Call: 626-441-2024

Description and Reviews
From
The Publisher:
The Innovative Leader
stresses the importance of innovation and creativity in modern business to help organizations secure competitive advantage over rivals. It shows how to apply methods of innovation and creativity to the individual, to business peers, and to the organization. Author Pual Sloane demonstrates the importance of setting out your vision clearly and emphasizes the need for continual evaluation of the process. Numerous international examples illustrate how organizations such as Virgin, Body Shop, Disney, and 3M have benefited from this approach, encouraging excellence and entrepreneurship through challenging goals that keep employees motivated and engaged.

About the Author
Paul Sloane
is the founder of Destination Innovation (www.destination-innovation.com). Clients for his presentations and workshops include Vodafone, GlaxoSmithKline, Phillip Morris, IBM, Prudential and L'Oreal. He is the author of The Leader's Guide to Lateral Thinking Skills, now in its second edition from Kogan Page.

Table of Contents
About the author x
Introduction 1
Leading innovation 3
Have a vision for change 5
Issue a declaration of innovation 7
Set drastic expectations 8
Fight the fear of change 9
Tell stories 11
Set goals for innovation 13
Get rid of the cynics 15
Throw down a challenge 16
Encourage dissent 17
Be an arsonist and a fire fighter 19
Think like a venture capitalist 20
Break down internal barriers 22
Destroy the hierarchy 24
Have your best people working on innovation 26
Be passionate 28
Problem analysis 31
Diagnose the current situation 33
Analyse problems 35
Ask 'Why, Why?' 36
Use Six Serving Men 38
Redefine the problem 40
Ask 'What business are we in?' 42
Generating ideas 45
Have a suggestions scheme 47
Run ideas events 49
Allow line manager bypass 50
Plan your brainstorm meetings 51
Brainstorm meetings - generate great ideas 55
Brainstorm meetings - evaluate the ideas 57
Juice up your brainstorm meetings 59
Bring in unrelated experts 61
Use a facilitator 63
Break the rules 64
Define your ideal competitor 66
Try weird combinations 67
Go for quantity 70
Try a different environment 72
Conceive a different business model 74
Ask 'Who killed our business?' 76
Look for new ways to reach the customer 78
Anticipate the wave 80
Innovate by subtraction 81
Look for the solution within the problem 83
Ask 'What if...?' 86
Pass the parcel 87
Look for a distant relation 89
Idealize the answer 91
Be careful what and how you reject 93
Wear Six Thinking Hats 94
Implementing innovation processes 97
Allocate time and resources for innovation 99
Give everyone two jobs 100
Identify the need for replacement 101
Borrow with pride 102
Train for innovation 105
Measure progress 106
Broadcast success 107
Reward success 108
Track the astonishing 110
Be cool or outsource cool 111
Collaborate 113
Observe customers 115
Co-create 117
Create a community 119
Crowdsource 121
Gate the process 122
Appoint innovation champions 124
Run an innovation incubator 125
Employ an ideas searcher 127
Streamline your approval process 128
Kill the losers 129
Build prototypes 130
Implement 132
Overcome customer resistance 134
Building a creative culture 137
Don't tell, ask 139
Praise the innovators 141
Focus on what went right 142
Make it fun 144
Welcome failure 146
Fear success 149
Set puzzles 150
Use the right language 152
Make your own products obsolete 154
Trust 155
Empower employees 156
Personal creativity 159
Check assumptions 161
Ask questions 163
Move out of your comfort zone 165
Simplify things 167
Look at things from a different angle 169
Trust your intuition 171
Incubate 173
Don't take the first answer 174
Develop your personal creativity 175
Become an evangelist 177
Simplify your life 179
Be disconnected 180
Visualize with mind maps 181
Keep fit 182
Be lucky 183
Conclusion 185
References and further reading 187
Puzzle answers 189
Index 191

Find Items On Similar Subjects

The Leader's Guide to Lateral Thinking Skills
: Unlocking the Creativity and Innovation in Yourself and Your Team