Thriving in the New Economy
: Lessons from Today's Top Business Minds
Lori Ann LaRocco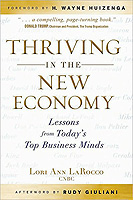 Format:
Hardcover, 304pp.
ISBN:
9780470557310
Publisher:
Wiley
Pub. Date:
December 29, 2009
Average Customer Review:

For Bulk Orders Call: 626-441-2024

Description and Reviews
From
The Publisher:
The world's top business leaders help you survive and thrive in today's economy
These are make-or-break times for business leaders and their organizations. Economic contraction and plummeting consumer confidence have made this a defining moment in the new economy. Whether you're a business owner, a manager, or a team leader—in any industry—you face unprecedented conditions and tough challenges daily.
Thriving in the New Economy
gives you a unique look at what some of today's best economic and business minds are doing to stay ahead of the pack. Filled with profiles of top industry leaders, the book offers inspirational personal stories, useful advice, and actionable strategies you can use immediately to skirt financial peril, seize opportunities, and flourish in today's economy.
Take a tour inside the heads of some of the biggest names in business, including:
Financial publisher Steve Forbes
Vanguard Group founder Jack Bogle
Former director of the National Economic Council Larry Lindsey
Saks CEO Steve Sadove
Toyota Motor Sales U.S.A. President Jim Lentz
Renowned economist David Malpass
Real estate industry leaders Don Peebles, Richard LeFrak, and Ron Peltier
And many more!
With a Foreword by H. Wayne Huizenga, founder of Waste Management, Inc., Blockbuster Video, and AutoNation and owner of the Miami Dolphins and with an Afterword by former New York City mayor Rudy Giuliani, Thriving in the New Economy offers the kind of business and leadership wisdom you'll find nowhere else. If you're struggling to stay afloat in these rough economic waters, this book offers safe passage—and a competitive advantage.

Reviews
"Thriving in the New Economy is a must-read for anyone who wants to think big. Leaders are people who can look at a crisis and act accordingly. This book has strategies from business leaders who do just that. Lori Ann LaRocco sits down with some of the biggest and brightest minds on Wall Street and has them open up and tell their stories in a compelling, page-turning book."
—DONALD TRUMP, Chairman and President, The Trump Organization
"Lori Ann's book is a fast read and gives some interesting perspectives on the disaster that we're currently coming out of and some predictions for the calamity that we are now facing."
—BERNIE MARCUS, cofounder of Home Depot and Chairman, Marcus Foundation
"A fascinating analysis of the recent American financial markets directly from the mouths of major participants, all of whom are unusually articulate and able to convert complex issues into easily understood concepts. A must-read for both the novice and the professional, yet in a style that makes for easy and enjoyable reading."
—LEONARD STERN, Chairman and CEO, Hartz Group
"Lori Ann LaRocco has edited and written a compendium from a group of successful innovators and investors . . . it is a very worthwhile read. Our thanks to her for doing this."
—John Gutfreund, former CEO, Salomon Brothers and President, Gutfreund & Company

About the Author
Lori Ann LaRocco
is Senior Talent Producer at CNBC and one of the producers of the CNBC show Squawk Box.

Table of Contents
| | | |
| --- | --- | --- |
| | | |
| | Foreword by H Wayne Huizenga | ix |
| | Preface | xiii |
| | | |
| | Part One: The Economy | 1 |
| 1 | Larry Lindsey | 3 |
| 2 | Steve Forbes | 25 |
| 3 | David Malpass | 31 |
| 4 | Jack Bogle | 37 |
| 5 | Bob Doll | 47 |
| 6 | Abby Joseph Cohen | 59 |
| 7 | Paul Mcculley | 71 |
| 8 | Ron Baron | 79 |
| 9 | Ken Langone | 91 |
| 10 | Peter Cohen | 99 |
| 11 | | 115 |
| 12 | Jerry York | 117 |
| | | |
| | Part Two: Banking | 123 |
| 13 | Kelly King | 125 |
| 14 | Donald Powell | 141 |
| 15 | Cam Fine | 149 |
| 16 | Donald Marron | 165 |
| | | |
| | Part Three: Real Estate | 177 |
| 17 | Richard Lefrak | 179 |
| 18 | Don Peebles | 189 |
| 19 | Ron Peltier | 199 |
| | | |
| | Part Four: Autos | 207 |
| 20 | Mike Jackson | 209 |
| 21 | Jim Lentz | 215 |
| 22 | Gerald Greenwald | 225 |
| | | |
| | Part Five: Retail | 239 |
| 23 | Steve Sadove | 241 |
| | | |
| | Part Six: Opportunities | 249 |
| 24 | Wilbur Ross | 251 |
| | | |
| | Epilogue | 265 |
| | Afterword by Mayor Rudy Giuliani | 267 |
| | | |
| | Acknowledgments | 271 |
| | About The Author | 273 |
| | Index | 275 |

Find Items On Similar Subjects

Giants of Enterprise
: Seven Business Innovators and the Empires They Built