Giants of Enterprise
: Seven Business Innovators and the Empires They Built
Richard S. Tedlow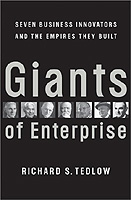 Format:
Paperback, 464pp.
ISBN:
9780066620367
Publisher:
HarperCollins
Pub. Date:
July 1, 2003
Average Customer Review:

For Bulk Orders Call: 626-441-2024

Description and Reviews
From
The Publisher:
Witness seven extraordinary men doing what Americans do best: building new businesses. These entrepreneurs broke old rules and made their own, mastering the future by shaping it. They overcame seemingly impossible obstacles to achieve enormous success and, in the process, played a role in the creation of the modern world.
Masterfully combining his understanding of business and American history, Harvard Business School professor Richard S. Tedlow illuminates the professional and personal lives of these nineteenth- and twentieth-century titans, men with penetrating insight whose need to fulfill their destiny outweighed their fear of failure:
ANDREW CARNEGIE - The impoverished immigrant who rose to become the richest man In the world
GEORGE EASTMAN - The personally shy but professionally assertive tycoon who created a whole new market with his Kodak Brownie camera
HENRY FORD - The gifted mechanic who put America on wheels but outlived his own usefulness
THOMAS J. WATSON SR. - The founder of IBM, who knew better than anyone else how to sell
CHARLES REVSON - The founder of Revlon, who made his company domi nant through his mastery of the television revolution
SAM WALTON - The master motivator who started with a tiny shop in small-town Newport, Arkansas, and built Wal-Mart, the twentieth century's retail powerhouse
ROBERT NOYCE - The cofounder of Intel and inventor of the silicon integrated circuit, which gave Silicon Valley its name
Each of these men traveled his own special road to preeminence, a road determined by the complex interactions of his character, his company, and his times. Tedlow critically explores each visionary with compassion and wit, and in so doing sheds new light on issues of urgent importance in the business world today: How do you get a business going? How do you grow it from a one-man show to an institution? How do you develop a value proposition so compelling that your customers can't do without you? How do you maintain your perspective as you rise above your peers? What is the personal price of exceptional business achievement? When is it time to step aside?
Through its exploration of the triumphs and failures of these seven men, Giants of Enterprise provides us with an unmatched understanding of the challenges of business. These riveting stories contain innumerable lessons that make this book essential reading for anyone interested in entrepreneurial greatness.

Reviews
"One of the top ten business books of 2001. Tedlow's 'passionate and fluid writing' makes GIANTS OF ENTERPRISE a pleasure to read."
—Business Week

About the Author
Richard S. Tedlow
is the Class of 1949 Professor of Business Administration at the Harvard Business School. His work has been published in journals around the world. In addition to his teaching and research, Tedlow has consulted and taught both marketing and business history to a variety of companies and organizations, including Intel, Time Warner, General Motors, and the Federal Communications Commission, and others.

Find Items On Similar Subjects

In Their Time
: The Greatest Business Leaders of the Twentieth Century