Talk Less, Say More
: Three Habits to Influence Others and Make Things Happen
Connie Dieken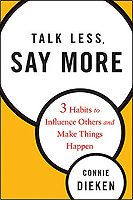 Format:
Hardcover, 176pp.
ISBN:
9780470500866
Publisher:
Wiley
Pub. Date:
September 22, 2009
Average Customer Review:

For Bulk Orders Call: 626-441-2024

Description and Reviews
From
The Publisher:
Talk Less, Say More
is a revolutionary guide to 21st century communication skills to help you be more influential and make things happen in our distracted, attention-deficit world. It's loaded with specific tips and takeaways to ensure that you're fully heard, clearly understood, and trigger positive responses in any business or social situation.
It's the first book to deliver a proven method to master the core leadership skill of influence.
Talk Less, Say More
lays out a powerful 3-step method called Connect, Convey, Convince (R) and guides you in how to use these habits to be more influential. This succinct book solves your modern communication issues in today's demanding, distracted world at a time when interaction skills are plummeting.
Communication is the single greatest challenge in business today. It takes just 3 habits to conquer it.
Talk Less, Say More
will help you achieve more with less. Less wordiness. Less tune-out. Less frustration. You'll gain more time. More positive outcomes. More rewarding relationships.

Reviews
"Talk Less, Say More is packed with powerful advice to get your points across and make things happen in today's time-pressed world. Connie's forward-thinking, actionable communication shortcuts can elevate anyone's game."
— Bruce Carbonari, Chairman & CEO Fortune Brands
"Connie Dieken is a true communication virtuoso and genuine phenomenon. She is on a mission to elevate our ability to communicate. Talk Less, Say More should be required reading for all leaders and emerging leaders. It can instantly transform the way people respond to you, giving you the power to deliver brief, clear messages that influence the world."
—Robert Johnson, Managing Counsel McDonald's Corporation
"Connie Dieken's three-step strategy is a smart, practical guide for business leaders and others who want to create a high-performance culture. It's an important, powerful book on how to master communication in the 21st century."
— Tom Swidarski, President & CEO Diebold
"Thanks to Connie's communication expertise, she makes it easy for anyone to transform from a good communicator to an excellent one. Her three simple principles are based on real-world experiences and demonstrate the power of a strong communicator."
—David Lingafelter, President Moen Incorporated
"Talk Less, Say More has become an integral part of our sales training program. In today's manufacturing environment, our sales engineers must be able to quickly gain mind share of our customers, deliver the appropriate messages, and win new business. Talk Less, Say More provides the communication tools critical for success."
—Dana Fritz, Manager, Global Sales Training Rockwell Automation
"Talk Less, Say More is the answer to become an effective communicator. Connie's principles can be employed immediately to improve both your personal and business interactions."
—Terry Bauer, Corporate Director of Sales Execution Reinhart FoodService

About the Author
Connie Dieken
is the nation's leading authority on influential communication in a distracted, short attention span world. She's the founder and CEO of onPoint Communication and guides leaders at organizations such as Apple, Olympus, McDonald's, Moen, and American Greetings to be high performance communicators who trigger positive results.
A former Emmy Award-winning television broadcaster, inductee of the Radio/TV Broadcasters Hall of Fame, and winner of a Top Ten Women's Business Owners Award, Connie helps leaders ignite positive action during their presentations, media appearances, and leadership development. She is also a Certified Speaking Professional - a distinction earned by less than 7% of speakers worldwide.

Find Items On Similar Subjects

Made to Stick
: Why Some Ideas Survive and Others Die