The Management Mythbuster
David A. J. Axson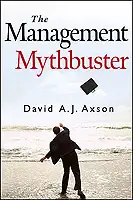 Format:
Hardcover, 368pp.
ISBN:
9780470463628
Publisher:
Wiley
Pub. Date:
February 2, 2010
Average Customer Review:

For Bulk Orders Call: 626-441-2024

Description and Reviews
From
The Publisher:
Are you brave enough?
"We've finally lost it! All sense of perspective has disappeared from the practice of management, buried under the overwhelming weight of methodologies, theories, best practices, models, tools, systems, processes, benchmarks, scorecards, competencies, mission statements, and value propositions. Common sense has been subjugated by nonsense!"
—David Axson, from The Management Mythbuster
As the world was rocked by the near collapse of the global financial system in 2008, the time had arrived to take a closer look at many of the practices and processes that govern much of modern management behavior, practices that promised to revolutionize corporate operations and turbocharge the bottom line, yet had been found wanting. Most of the management practices upon which organizations rely are broken beyond repair.
At no time did this become clearer than in 2008. Within the space of a few months, much of the framework of modern management practice came crashing down. Corporate titans were humbled, long established compensation practices failed, and the only certainty about any forecast was that it would be wrong. All of this upheaval is causing executives in every industry to rethink the conventional management wisdom they had so implicitly trusted.
Taking a seriously irreverent look at some of the more popular management myths,
The Management Mythbuster
features short chapters on many of the theories, tools, and behaviors that continue to govern decision-making in today's business world, such as:
Missions, visions, and other expensive pastimes
Strategy and stuff like it
Gurus, consultants, and other advisors
Forget success, focus on failure
Budgeting—A Modern Vision of Hell (Well, Purgatory at Least)
The Futility of Forecasting
Total Quality, Six Sigma, Process Re-engineering, and more
Pay for Performance? Failure Pays Very Well These Days
The Business of Spin
Why Accountants Rule the World
And much more!
It's time to question the effectiveness of long-established management practices. Entertaining and insightful,
The Management Mythbuster
takes you on a humorous tour of management today with a thought-provoking message.
Following the trials and tribulations of the fictional management team of Cruciant, Inc., author David Axson illustrates the destructive power of many of the management myths that continue to govern decision-making today and presents a realistic "new normal" road map for successful management today.

About the Author
David A.J. Axson
, author of
Best Practices in Planning and Performance Management
, is President of the Sonax Group, a business advisory firm. He is a former head of corporate planning at Bank of America and was a cofounder of The Hackett Group. He is a sought-after speaker and writer on business strategy and management and is widely regarded as a thought leader in the industry.

Table of Contents
Preface.
Introduction.

Strategic Plans are of Little Use in Times of Great Uncertainty and Volatility
Operating Plans and Budgets Provide a False Sense of Security
Management Reporting is Driven by an Obsolete View of the World
Incentive Compensation Rewards Poor Performance and Penalizes Outstanding Performance
Investments in Staff Education Have Been Inadequate and Misdirected

Technology has Failed to Improve and in Many Cases has Reduced the Effectiveness of Management

What I Really Think!
About this Book
Notes

Prologue
The Cruciant Story
Facts—What's In A Name?
Notes

Chapter 1: Missions, Visions and Other Expensive Pastimes.
Fiction: Meeting Room At An Exclusive Country Club In Northern New Jersey—February 2007
Facts: "We Are On A Mission From God".
So What?
Notes

Chapter 2: Strategy and Stuff Like It.
Fiction: The Four Seasons Hotel – Nevis – Early May 2007
Facts: Yes, We Are Very Strategic
Fatally Flawed
So What?
Notes

Chapter 3: Gurus, Consultants, and other Advisors
Fiction: Henry's Office—October 2008
Fact: Are You Renting Bodies Or Brains?
Objectivity and Independence—No Not Really!
So What?
Notes

Chapter 4: Forget Success, Focus On Failure.
Fiction: Did you know Wal-Mart, Kmart and Target were all founded in the same year –1964?
May 2003—Executive Steering Committee
Fact: Accept Failure, Fear Success
Success Can Be Dangerous For Your Health
The Perils of Being Number One
Forget In Search of Excellence, How About Excellence Lost?
Preparing to Fail
New Coke—A Lesson in Management Excellence—Honestly
IBM—From Survival to Leadership
So What?
Note

Chapter 5: Budgeting—A Modern Vision of Hell (Well, Purgatory At Least).
Fiction: Henry Pritchett's Office –Early September 2007
The Target Negotiation: VP of Sales, Sarah Coombs' office – October 2007
The Budget Review
Henry's Office – October 2007
Early November 2007
The Boardroom –Mid November 2007
Fact: Not Just A Waste of Time
Detail Does Not Equal Accuracy
Why Do We Plan The Wrong Stuff?
Are You On The Road To Hell?
Learn To Love the Budget
So What?
Notes

Chapter 6: The Futility of Forecasting
March 2008—The Boardroom
June 2008
September 16, 2008
September 23, 2008
September 24, 2008
October 24, 2008
Facts: Forecasts—The Only Certainty Is That They Will Be Wrong
The Extraordinary Is Now Ordinary
Not One Size Fits All
Are Long Term Forecasts An Oxymoron?
Restoring Credibility
So What?
Notes

Chapter 7: Total Quality, Six Sigma, Process Re-engineering and more
Fiction: Quality is Job 1—April 2006
April 2008
November 2008
Facts: The Scourge of Management Communism
Cheap Is Not Always Good
Too Much Process Not Enough Product
So What?
Notes

Chapter 8: New Risks for a New World
Fiction: The Boardroom—April 2007
Facts: Risk is a Four Letter Word
Learn from Tiger, Phil, and the Rest
They Were Going To Change the World
Beware Irrelevance
Different Customers, Different Connections
Beware the Non-Competitive Threat
Every Market Has Its Day
Remember—Stuff Happens
Revenue Volatility Means Down As Well As Up
Reputation Is Everything
So What?
Notes

Chapter 9: Pay for Performance?  Failure Pays Very Well These Days
Fiction:  January 2009
Facts: The Great Incentive Scam
So What?
Notes

Chapter 10: The Business of Spin
Fiction: Steve Borden's office—January 2008
Fact: The Business of Spin
What Planet Were They On?
Spin Cycle: Citigroup 2006-2009
Southwest Airlines: Succeeding Despite the Market
Tall Poppy Syndrome
Nice Work If You Can Get It
Beyond Spin: Sometimes It Is All Smoke And Mirrors
Spot the Crook
So What?
Notes

Chapter 11: Lies, Damn Lies and Performance Metrics
Fiction—Strategic Alignment
Searching For Truth—An Executive Management Meeting
Facts: Measurement Mania
Metric of the Month
Single Version Of The Truth
The Balanced Scorecard—Yet Another Illusion
Reporting What or Why
Windshield or Rear View Mirror
Beware EBITDA
Traffic light syndrome—should I stop or go?
Massaging the Measure
So What?
Notes

Chapter 12: Leveraging Technology for Competitive Advantage
On Time, On Budget—But Irrelevant—August 2007
The IT Sting – May 2008
Facts: Automating inefficiency just gets you bad data faster
Death by Spreadsheet
IT ROI—An Oxymoron
Hype versus Reality
Cool But Pointless
Whatever Happened to Real Time Processing?
Breaking Down the Barriers
Why Do We Keep Fixing Costs In A Variable Revenue World?
Centralized or Decentralized?  What a Dumb Question!
Outsourcing—The Myth And The Reality
So What?
Notes

Chapter 13: Why Accountants Rule The World
Fiction—October 11th, 2007
Facts: Death By Accounting And Other Fatal Diseases
Accounting—an alternative reality
Accounting Irrelevance
Managing A Real Time World In Batch Mode
The Myth of Cost Allocations
Making The Numbers Or Is It Just Making Them Up?
An Accounting Conspiracy Theory
So What?
Notes

Chapter 14: The Synergies Will Be Massive!
Fiction—The Myth of Synergy—August 2006
March 2008
April 2008
May 2009—The Private Equity Rollercoaster
July 1st 2011
Facts—Synergy: Much Touted, Rarely Realized
Private Equity—It's Really Just A Corporate Enema!
So What?
Notes

Chapter 15: Talent Matters
Fiction—A corner office on the 15th floor of Cruciant's headquarters
When is headcount freeze not really a headcount freeze?
Facts—Talent Factories
All GE Managers are Gods
Retaining Talent—Not Always A Good Thing
The Illusion of Competence
Fool Me Once, Shame On You. Fool Me Twice, Shame On Me
The MBA myth
What Makes A Successful Leader?
So What?
Notes

Chapter 16: Ask Dumb Questions
Fiction—May 2007
Facts—Keep It Simple
Isolating Management Stupidity
Follow the Herd
The Parable of the Leaky Valve
So What?
Notes

Index

Find Items On Similar Subjects

The Management Myth
: Why the "Experts" Keep Getting it Wrong

Management Rewired
: Why Feedback Doesn't Work and Other Surprising Lessons from the Latest Brain Science