Management Rewired
: Why Feedback Doesn't Work and Other Surprising Lessons from the Latest Brain Science
Charles S. Jacobs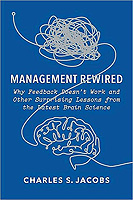 Format:
Paperback, 240pp.
ISBN:
9781591843375
Publisher:
Portfolio Hardcover
Pub. Date:
April 27, 2010
Average Customer Review:

For Bulk Orders Call: 626-441-2024

Description and Reviews
From
The Publisher:
How brain science can help us make smarter management decisions
Businesspeople are taught to make decisions with facts and logic and to avoid emotional bias. But according to the latest research, we almost never decide rationally, despite thinking that we do. Our experiences carry an emotional charge, encoded in the synapses of our neurons. And when we try to deny what our emotions tell us, we lose what we've learned from the past. That's just one of many recent discoveries that help explain why management is so challenging. As Charles Jacobs explains, much of the conventional wisdom taught to managers is not only inadequate, it produces the opposite of what is intended. The better path is frequently counterintuitive.
For example, it turns out that pay doesn't really drive performance. When we do work that's inherently engaging, the neurotransmitter dopamine is released, creating feelings of pleasure not unlike a cocaine high. But when we work primarily for money, the dopamine isn't triggered and it's harder to stay motivated.
Once we understand the lessons of neuroscience, we can create more effective strategies, inspire people to maximize their potential, and overcome the biggest hurdle to improving business performance—making change stick.

Reviews
Jacobs, founder of the Amherst Consulting Group and managing partner of One Eighty Partners, debunks management myths in this provocative, counterintuitive volume, demonstrating how relying on emotions-rather than logic-leads to better business decisions. Jacobs draws on the latest research showing that positive and negative reinforcement don't improve performance, quantifiable objectives cause workers to fixate on the short term and sacrifice long-term focus and certain common management practices produce the opposite of the intended effect. He examines the limitations of current organizational strategy in light of brain science, using layman's language to map out how the brain interprets experience and responds to feedback, reward and punishment. He asserts that organizations that are able to apply brain science to their businesses will have a decided advantage over the competition, and he shows how his findings can enhance performance at every level of a company. Well argued and substantiated, this book turns prevalent management theory on its head and will have lasting impact on how it is taught in business schools and implemented in organizations. (May)
—Publishers Weekly

About the Author
Charles S. Jacobs
is managing partner of One Eighty Partners and an adviser to Fortune 500 companies and was also the founder of the Amherst Consulting Group in the 1980s. He has worked in Europe, Asia, and the United States, and his clients include Verizon, Citigroup, Exxon-Mobil, and over fifty of the Fortune 100. He is an active speaker and lecturer.

Find Items On Similar Subjects

Brain Rules
: 12 Principles for Surviving and Thriving at Work, Home, and School