Start with the Answer
: And Other Wisdom for Aspiring Leaders
Bob Seelert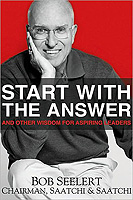 Format:
Hardcover, 256pp.
ISBN:
9780470450321
Publisher:
Wiley
Pub. Date:
April 27, 2009
Average Customer Review:

For Bulk Orders Call: 626-441-2024

Description and Reviews
From
The Publisher:
The Chairman of Saatchi & Saatchi offers timeless wisdom on great business leadership
Start with the Answer
offers transformative insights and practical instruction for men and women determined to succeed as executives and industry leaders. The book presents and explores the eight dimensions of business life–preparation, building and managing a career, business strategy, business operations, finance and economics, leadership, culture and communication, and personal spirit and style. All successful business leaders must master these essentials in order to succeed in the fundamental challenges of business. This book will explain how to do that, and is the road map that today's lost business culture sorely needs. Based on his experience as a leader in a number of industries, Seelert presents both the philosophy and the nuts-and-bolts of a successful and happy career.

Reviews
"Seelert's stories and wisdom demonstrate that the principles and practices leading to winning results in sports are highly transferable to the building of brands, businesses, and organizations. This book tells you how."
—Jack Twyman, NBA Hall of Fame player, former ABC Game of the Week announcer, and former Chairman and CEO, Super Food Services Inc.
"Seelert's comprehensive revelation of his leadership wisdom is priceless—especially the management of culture through innovative communications, fueled by rock-solid personal spirit and style. Read and succeed... it's that actionable. Bob's the real leadership deal."
—John W. Luther, President, Luther & Company, Strategic Growth Consulting
"I've never been at my best when working for a boss in the traditional sense...Authority is not my favorite cultural tool. I am at my best (maybe like you) when I have a coach and mentor. Bob Seelert has played that role for over a decade, providing me with counsel, guidance, perspective, and unconditional love and support. Oh yes, and wisdom. Lots of it! You'll find out what I mean when you read this book."
—Kevin Roberts, CEO Worldwide, Saatchi & Saatchi
"Bob Seelert entered Saatchi & Saatchi in early 1995 when the company was in flux and extremely unstable. In a few short years, he not only stabilized the business, he grew it into an even greater advertising powerhouse than it once was. If anyone is qualified to write about business turnarounds, it's Seelert."
—David Herro, Chief Investment Officer-International, Harris Associates LP
"Spencer Stuart placed Bob Seelert into leadership positions at Kayser-Roth and Saatchi & Saatchi at times when success seemed impossible, but failure was not an acceptable option. In both situations, he achieved highly successful turnarounds, and his stories tell you why."
—Thomas Neff, Chairman, Spencer Stuart USA
"Bob Seelert and I worked together for twenty years, and I saw firsthand how the wisdom in this book enabled him to build businesses and organizations. For MBA students and other aspiring business leaders, this book will become their well-thumbed how-to guide for constructing a successful career."
—Erv Shames, Lecturer, University of Virginia Darden Graduate School of Business and former President and CEO, General Foods USA and Borden, Inc.
"Bob's book is a timely reminder of classic virtues. These are the virtues of simplicity and clarity in setting goals as a leader; consistency, self discipline, courtesy and sustained effort in his approach to work; care for the organisation as a community, commitment to his team and humility in his relations with others...Bob's insights are especially valuable in today's overheated, crisis ridden world...An inspiration for those feeling dwarfed by the size of contemporary challenges."
—Dominic Houlder, Adjunct Professor of Strategic and International Management, London Business School

About the Author
Bob Seelert
(New Canaan, CT) is Chairman of Saatchi & Saatchi, a leading global ideas and advertising company. A Harvard Business School graduate, he has been CEO of five companies, has built brands and businesses, been a party to two mega-mergers, and enacted numerous turnarounds. He has served on Boards of Directors of companies in the United States, the United Kingdom, and France.

Table of Contents
Introduction
xi
Section One: Preparing For A Career In Business
Go with Your Gut
3
Choosing the Right Path
5
What I Learned at Harvard
7
Expect the Unexpected
9
Section Two: Managing Your Career
How to Choose a Career
13
The Interview
15
Your Clothes Are Talking about You
17
Sales Fundamentals
19
Every Memo Is an Ad about You
23
Get to Know Yourself Better
25
I'm an ENTJ, What Are You?
29
You Learn More from Failure than from Success
31
How to Become a Senior Executive
33
The Importance of a Great Executive Assistant
35
You'll Need to "Work Your Ass Off"
39
Stay in Touch with Recruiters
41
Section Three: Planning And Other Essentials Of Business Strategy
Start with the Answer
47
How to Do Strategic Planning
49
Ten Rules for Leading the Turnaround of a Declining Business
51
Quick! You've Got 100 Days to Act
55
Establishing Objectives, Strategies, and Plans
57
Tape the Strategy to Your Forehead
59
Perfecting 100 Day Plans
61
What Does It Take to Get to the Top?
63
Don't Ask, "What's Wrong?" Ask, "What's Right?"
65
Sometimes You Have to Blow Up the Old and Start Anew
67
"Don't Get Fat-Headed by Winning"
69
Choose Your Partners with Care
71
The Acquirer Has Rights
73
Selecting the Right Formula for a Joint Venture
75
Centralization and Decentralization Do Not Mix
77
What's Your Inspirational Dream?
81
Heaven and Hell in Europe
83
Section Four: Business Operations: Looking Beyond The Obvious
Luck Is What Happens When Preparation Meets Opportunity
87
The Scarcest Resource of All
89
Generating Great Ideas
91
Cultivating Big Ideas
93
The Importance of Excellence in Execution
95
Cutting the Tail Off the Dog
97
The Importance of Being First to Market
99
"Three Yards and a Cloud of Dust"
101
One-Third of Consumers Do Two- Thirds of the Consuming
103
Ninety-Five Percent of Winning Is Anticipation
105
How to Defend Against a Competitor's Attack
107
And/And Beats Either/Or
109
Layoffs Are Hard
111
What Seperates a Great Ad from a Good Ad?
113
Secrets to Client Success
115
"Who's Got the 'R'?"
119
Section Five: Finance And Economics, Or Dollars And Sense
The Importance of Market Share Ratios
123
Breaking the Law of Diminishing Returns
125
How to Do Annual Planning
129
Don't Get Outfoxed by Low-Ballers
131
Delivering Budgets in a Client Organizaion
133
Achieving Budgets in an Advertising Agency
135
"If I Knew What the Price of Green Coffee Was Going to Be Tomorrow, I Wouldn't Be Working Here"
137
There Are Three C's in Pricing
139
Adam Smith on Pricing
141
Section Six: Lessons In Leadership
What Is Leadership?
145
Chairmen and Chief Executives
149
The Art and Science of Selecting the Chief Executive Officer
151
Evaluating High Performers
155
Evaluating the Chief Executive Officer
157
What Winners Learn from Losing
161
Occupy the High Ground
163
You Get What You Expect
165
"Don't Tell, Ask"
167
To Try and to Succeed
169
Delegation: The Art of Letting Go and Holding On
171
How Leaders Should Be Involved in Decision Making
173
Go Home and Sleep Like a Baby
175
Sometimes You Have to Fire People
177
Left-Brained Management of Right-Brained People
179
The Chief Executive Officer's Obligation
181
Section Seven: Building Culture Through Communications
One Team, One Dream
185
"Breakfast with Bob"
187
Ability + Chemistry = Team
191
Nothing Is Impossible
193
Passionate, Competitive, Restless
195
Be Relentless, Be Relentless
197
I Can't Say Too Much about Communications
199
"K-R Live"
201
Repeating a Good Thing Is a Good Thing
203
Coin Your Own "OHCCIMR"
205
Section Eight: Personal Style And Spirit
Driving a Ford Fiesta
209
To Improve Your Performance at Work, Go Home
211
Staying Calm, Cool, and Collected
213
A Formula for Success
215
Listen to Your Barber
217
Two Words You Should Avoid
219
Have Fun While You Work
221
Foster a Foreign Language, It Makes You Less Foreign
223
"Plus ça Change, Plus c'est la Même Chose"
225
Be True to Yourself
227
Acknowledgements
229
Index
231

Find Items On Similar Subjects

Enough.
True Measures of Money, Business, and Life