Enough.
True Measures of Money, Business, and Life
John C. Bogle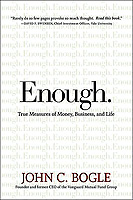 Format:
Paperback, 328pp.
ISBN:
9780470524237
Publisher:
Wiley
Pub. Date:
June 1, 2010
Average Customer Review:


For Bulk Orders Call: 626-441-2024

Description and Reviews
From
The Publisher:
Enough
is a piece of work that simply has not been seen by the likes of Jack Bogle before. Sure, the world knows of his legendary financial mind. He is the Father of Index Investing. He is the founder of Vanguard. He is St. Jack. And now he wants to share his own journey, filled with famous characters and telling anecdotes, that aims to teach investors the importance of doing the right thing, how to be a strong leader in today's world, and what it means to have "enough."
We live during a time where there seems to be no limit to what "enough" entails. CEOs—even those of failing corporations—pull down huge paychecks and hedge fund managers can enjoy billion-dollar paydays. These excesses are only the most obvious examples of the gross excesses that have overwhelmed our financial system, precipitating the crisis we now face.
These excesses extend far beyond the financial markets. Not knowing what is "enough" also undermines our business and professional values, and often leads us astray when attempting to make important personal decisions about our investments and indeed about our own lives.
Throughout his legendary career, John C. Bogle—founder of the Vanguard Mutual Fund Group and creator of the first index mutual fund—has helped investors build wealth the right way and led a tireless campaign to restore common sense to the investment world. Along the way, he's seen how destructive an obsession with financial success can be. Now, with
Enough.
, he puts this dilemma in perspective.
Inspired in large measure by the hundreds of lectures Bogle has delivered to professional groups and college students in recent years,
Enough.
seeks, paraphrasing Kurt Vonnegut, "to poison our minds with a little humanity." Bogle considers what "enough" actually means as it relates to money, business, and life. The world of finance, he argues, is marked by too much cost, and not enough value; too much speculation, and not enough investment; too much complexity, and not enough simplicity. Similarly, our business world is focused too much on counting and salesmanship, and not enough on trust and stewardship; and our society at large is too obsessed with charisma and wealth, and not enough with character and wisdom.
Bogle also considers what "enough" means for him personally, and offers his thoughts on how—in a world increasingly focused on status and score-keeping—you can find your way and take comfort in the knowledge that you can indeed have "enough."
Written in a straightforward and accessible style,
Enough.
inspires and enlightens in equal measure. Bogle offers his unparalleled insights on money, on the values we should emulate in our business and professional callings, and on what we should consider as the true treasures in our lives. Discover what it really means to have "enough" and you'll quickly realize how close you are to having it.

Reviews
"What went wrong? What can, and should, go right? The great Jack Bogle has the answers. Enough. will leave you hungry for more."
—JAMES GRANT, editor of Grant's Interest Rate Observer
"Jack Bogle's wonderful, thoughtful, helpful, and fun-filled little book inspired me to create my own title: Never Enough of Jack Bogle!"
—Peter L. Bernstein, author of Capital Ideas Evolving and Against the Gods
"In Enough., Jack Bogle, 'the conscience of Wall Street,' distills his half-century of observations on the capital markets, and on life in general, into a few hundred entertaining pages—required reading for those concerned about their own future, their family's future, and the nation's future."
—William J. Bernstein, author, A Splendid Exchange and The Four Pillars of Investing
"Enough. gives new meaning to the words 'commitment,' 'accountability,' and 'stewardship.' Bogle writes with clarity and passion, and his standards make him a role model for all of us. Enough. is must-reading for millions of U.S. investors disenchanted by today's culture of greed, accounting distortions, corporate malfeasance, and oversight failure."
—ARTHUR LEVITT, Former Chairman, U.S. Securities and Exchange Commission


Reader's Index
Send us your favorite quotes or passages from this book
.
• "As I have earlier noted, the most important things in life and in business can't be measured. The trite bromide 'If you can measure it, you can manage it' has been a hindrance in the building a great real-world organization, just as it has been a hindrance in evaluating the real-world economy. It is character, not numbers, that make the world go 'round. How can we possibly measure the qualities of human existence that give our lives and careers meaning? How about grace, kindness, and integrity? What value do we put on passion, devotion, and trust? How much do cheerfulness, the lilt of a human voice, and a touch of pride add to our lives? Tell me, please, if you can, how to value friendship, cooperation, dedication, and spirit. Categorically, the firm that ignores the intangible qualities that the human beings who are our colleagues bring to their careers will never build a great workforce or a great organization." Pg. 168

About the Author
John C. Bogle
is founder of the Vanguard Mutual Fund Group and President of its Bogle Financial Markets Research Center. He created Vanguard in 1974 and served as chairman and chief executive officer until 1996 and senior chairman until 2000. In 1999,
Fortune
magazine named Mr. Bogle as one of the four "Investment Giants" of the twentieth century; in 2004,
Time
named him one of the world's 100 most powerful and influential people; and Institutional Investor presented him with its Lifetime Achievement Award. Enough., Bogle's seventh book, follows his 2007 bestseller
The Little Book of Common Sense Investing
.

Table of Contents
| | | |
| --- | --- | --- |
| | | |
| | Foreword | |
| | Acknowledgments | |
| | Introduction | |
| | | |
| | MONEY | |
| 1 | Too Much Cost, Not Enough Value | |
| 2 | Too Much Speculation, Not Enough Investment | |
| 3 | Too Much Complexity, Not Enough Simplicity | |
| | | |
| | BUSINESS | |
| 4 | Too Much Counting, Not Enough Trust | |
| 5 | Too Much Business Conduct, Not Enough Professional Conduct | |
| 6 | Too Much Salesmanship, Not Enough Stewardship | |
| 7 | Too Much Management, Not Enough Leadership | |
| | | |
| | LIFE | |
| 8 | Too Much Focus on Things, Not Enough Focus on Commitment | |
| 9 | Too Much Emphasis on 21st Century Values, Not Enough Emphasis on 18th Century Values | |
| 10 | Too Much "Success," Not Enough Character | |
| | | |
| | ENOUGH | |
| | What's Enough for Me? For You? For America? | |
| | Afterword: a Personal Note About My Career | |
| | | |
| | About the Author | |
| | Index | |

Find Items On Similar Subjects

The House of Dimon
: How JPMorgan's Jamie Dimon Rose to the Top of the Financial World

A Gift to My Children
: A Father's Lessons for Life and Investing

The Snowball
: Warren Buffett and the Business of Life