Jam!
Amp Your Team, Rock Your Business
Jeff Carlisi and Dan Lipson with Jay Busbee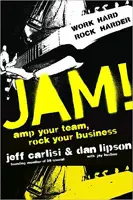 Format:
Hardcover, 256pp.
ISBN:
9780470446522
Publisher:
Jossey-Bass
Pub. Date:
May 18, 2009
Average Customer Review:

For Bulk Orders Call: 626-441-2024

Description and Reviews
From
The Publisher:
What do the world's best bands andbusinesses have in common?
More than you'd think. In fact, the winning teams that built Microsoft, Disney, and Starbucks have much in common with the Rolling Stones and U2.
Like a business, a successful rock band is made up of both visionaries and devoted followers, leaders and team players. But the band only achieves success when the entire group is pulling in the same direction. When all members understand the parts they must play within the group—contributing creatively and playing to their strengths—that's when the hits start coming.
In
JAM!
Jeff Carlisi, former lead guitarist and songwriter of 38 Special, tells his own unique story of rising to the top of the charts and the business world, offering one of the most fun, original approaches to team-building and acquired business savvy. Filled with stories of the rock n' roll life, like that of the architect who became a guitar superstar and the multimillion-selling track that almost never was, this is an insider's view to making it big and the pitfalls to avoid along the way. Each chapter examines a key moment in the development of a band—formation, early success, internal crises, falling out of the spotlight—and demonstrates how executives can use those lessons to crank their own businesses to eleven.
JAM!
also includes insights from seasoned musicians who have played in some of the world's best-known bands, including the Rolling Stones, the Eagles, the Allman Brothers, Night Ranger, and the bands of Eric Clapton, Billy Joel, Rod Stewart, Joan Jett, and Sheryl Crow.

Reviews
"Breaking into the music business is difficult at best; sustaining success even more so. Jeff Carlisi is both a musician and a businessman, and he and Dan Lipson have penned an entertaining and extremely useful book. Read JAM!, and you should be blowing your competition off the stage in no time."
—Terry Stewart, president and CEO, Rock and Roll Hall of Fame and Museum
"Jeff Carlisi's story is worth a book all by itself. But combine it with Dan Lipson's sound and practical business advice, and you've got a combination that's indispensable for any executive looking to make some noise of their own. Highly recommended."
—Dave Sutton, founder and managing partner, TopRight Strategic Marketing, and coauthor, Enterprise Marketing Management
"We've all dreamed of standing on stage before a packed house of screaming fans. Jeff Carlisi has done it, and he and Dan Lipson have built a business dedicated to giving that experience to kids and executives alike. The two of them have crafted a business advice book unlike any other, one that will help you find your own spotlight."
—Gary Byrd, president and CEO, Pratt Financial Services
"Bands that make great music do so with lots of practice, a keen sense of vision, creativity, and the ability within the group to listen and play parts. The same holds true in great organizations. Jeff and Dan understand this, and do a great job of communicating the magic that occurs when individuals within an organization tune up, tune in, and listen to each other playing their directed parts."
—Larry Thomas, chairman emeritus, Guitar Center Inc.
"In the entertainment world, there's almost always a difference between the persona that you see and the real persona. Not with Jeff. He's the same guy on and off stage, and he's had his eyes wide open his whole career. He and Dan offer the kind of practical business advice that anyone can use. You'll learn a lot from Jeff's story."
—John W. Mecom, Jr., former owner of the New Orleans Saints

About the Authors
Jeff Carlisi
was one of the founding members of 38 Special and wrote or cowrote many of its biggest hits, including "Second Chance," "Caught Up In You," and "Hold On Loosely." The band sold over 14 million records and enjoyed worldwide popular and critical acclaim. Jeff left the band in 1997 and is now one of the cofounders of Camp Jam Inc., where he trains young musicians and conducts team-building workshops for corporations. He is a member of the Rock and Roll Hall of Fame's house band.
Dan Lipson
is president and cofounder of Camp Jam Inc., which includes rock and roll camps for adults and children, as well as corporate team-building exercises, and Jamling.com, a virtual band community site. Previously, he was president of Leading Edge Promotions, CEO of Causelink.com, CEO of ExL Corp, and general manager of Home Entertainment at ESPN.
Jay Busbee
has published more than a thousand articles in national magazines, websites, and newspapers, including Yahoo!, USA Today, and the Washington Post.

Table of Contents
| | | |
| --- | --- | --- |
| | | |
| | Introduction | |
| | | |
| 1 | Born to Run | |
| 2 | Dream On | |
| 3 | Band on the Run | |
| 4 | Good Vibrations | |
| 5 | No Direction Home | |
| 6 | Satisfaction | |
| 7 | Welcome to the Jungle | |
| 8 | Just What I Needed | |
| 9 | A Change Is Gonna Come | |
| 10 | So You Wanna Be a Rock `n' Roll Star | |
| 11 | New Kid in Town | |
| 12 | It's the End of the World As We Know It | |
| 13 | Should I Stay or Should I Go? | |
| 14 | No Particular Place to Go | |
| 15 | Second Chance | |
| 16 | Encore: A Camp Jam Crash Course | |
| | | |
| | The Authors | |
| | Index | |

Find Items On Similar Subjects

Sex, Leadership And Rock N' Roll
: Leadership Lessons from the Academy of Rock