The House of Dimon
: How JPMorgan's Jamie Dimon Rose to the Top of the Financial World
Patricia Crisafulli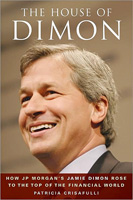 Format:
Paperback, 272pp.
ISBN:
9780470924693
Publisher:
Wiley
Pub. Date:
June 4, 2011
Average Customer Review:

For Bulk Orders Call: 626-441-2024

Description and Reviews
From
The Publisher:
Jamie Dimon is Wall Street's biggest player. Following the eleventh-hour rescue of Bear Stearns by JPMorgan, his profile has reached stratospheric levels. And while the deals and decisions he's made have usually turned out to be the right ones, his journey to the top of the financial world has been anything but easy.
Now, in
The House of Dimon
, business writer Patricia Crisafulli goes behind the scenes to recount the amazing events that have shaped Dimon's career, including his rise to prominence as Sandy Weill's protégé at Citigroup, only to be fired and denied the top spot; his orchestration of the JPMorgan acquisition of BankOne, a deal that brought Dimon back to Wall Street as CEO of JPMorgan; and the drama surrounding the purchase of Bear Stearns, which helped avert a government bailout, and the strategic acquisition of Washington Mutual.
Through interviews with Dimon, Weill, JPMorgan board members, and colleagues who've known Dimon over the course of his career, you'll gain rare access to one of today's savviest financial figures. Each step of the way, this engaging book provides insider accounts of how Dimon successfully acquired and integrated companies; reorganized underperforming units; created efficiencies; and grew bottom-line results as the consummate hands-on manager.
Most importantly, Crisafulli places Dimon in the context of contemporary Wall Street—an environment that has destroyed several top CEOs and led to the demise of numerous major financial institutions—and shows you how Dimon's management style, ability to inspire outstanding performance, and talent for taking calculated risks have allowed him to excel where many others have failed.
Jamie Dimon has flourished by avoiding alluring, but potentially catastrophic risks and taking advantage of strategic opportunities. During one of the most difficult and tumultuous periods in Wall Street history, he has survived and thrived.
The House of Dimon
reveals how he's done it and explores what lies ahead for Dimon, as he attempts to grow JPMorgan in the face of the unrelenting pressures of Wall Street.

Reviews
"Without the profanity and showmanship, Jamie, within the world of business, reminds me most of George S. Patton, America's premier WWll battlefield general. Both read history, prepared meticulously, and led from the front—innovatively and instinctively. Both were confrontational. When asked what unit they had served in during the war, most members of the Third Army responded proudly and simply, 'I was with Patton.' Perhaps one day those at JPMorgan will say the same."
—Wick Simmons, former CEO of Nasdaq and Prudential Securities
"If you care about what it takes to be a successful CEO in the most complicated market ever, you will want to read The House of Dimon. Patricia Crisafulli has captured the growth and development of one of the most outstanding CEOs of our time."
—Frank Zarb, Managing Director, Hellman & Friedman LLC
"The House of Dimon is a great read, allowing you to observe Dimon's actual strategic actions. He's a leader who doesn't obsess over predicting the future but sets his organization on its toes ready to move in any direction when a problem or opportunity arises. For readers interested in real leadership, it's an action thriller. Dimon walks the talk doing the right thing even when it hurts in the short term."
—William J. White, retired chairman and CEO, Bell & Howell Company; Professor, Engineering and Applied Science, Northwestern University
"Crisafulli has accomplished a major feat: gleaning the lessons-to-be-learned from the life thus far of Jamie Dimon, a man of extraordinary talent, rock-solid philosophy of life, and boundless energy, as well as capturing the essence of many of the financial industry's key personalities, explaining in layman's terms the financial instruments, environment, and events of the last two decades. She has done it all in a fast-paced page-turner. The book illustrates principles we'd all benefit from living by. I wish all my business associates and students read this book."
—Warren L. Batts, Adjunct Professor of Strategic Management, University of Chicago School of Business; former CEO of Tupperware Corp., Premark International, Mead Corp., and Triangle Corp.
"The subtitle of this book could easily be 'How Do You Fit All Jamie Dimon's Accomplishments in One Book' Jamie is an inspiration to all who have the privilege of knowing him or working with him."
—Harvey Mackay, author of the New York Times #1 bestseller Swim With the Sharks Without Being Eaten Alive


Reader's Index
Send us your favorite quotes or passages from this book
.
The Credit Crisis:
"I think you're going to be writing and learning from this for years: cases and books about different things from SIVs to accounting to the business purpose of CDO-squareds to regulatory rules to globalization to the balkanization of regulation…. Honestly, I think if you made a list today, you probably wouldn't get half of them. We're in the thick of it."
Lessons Learned:
"Experience and judgment—I don't think they're replaceable. You go to a lot of businesses—they don't remember how bad things can get. It takes someone who has been there. We will never forget the aftermath of the housing bubble, but 40 years from now, believe me, someone is going to forget again somewhere."
Dealing with the Downside:
"Look where you could be wrong; admit when you're wrong. To me it's important to do that because I want everybody to do that, so that we actually make a better decision the next time."
Buying Bear Stearns:
"We weren't looking to buy Bear Stearns. We wouldn't have bought it on its own, but we were asked to look at it. We knew the financial system was extremely delicate and Lehman [Brothers bankruptcy] helped prove that."
The Bear Stearns Negotiations:
"The amazing story wasn't the financial engineering. After I got the call from [Bear Stearns CEO] Alan Schwartz, I called [JPMorgan Investment Bank co-CEOs] Steve Black and Bill Winters, and then we had 50 or 100 people get dressed and come back to work. And by 12 hours later, there were 500 and 1,000 people working on it in every department: bond trading, equity, equity derivatives, all these areas—tax, legal, compliance, systems, ops [operations]—everyone doing their job. And that's the amazing kind of thing: people acting that way—just trying to figure it out very quickly. That really enabled us to do [the Bear Stearns deal]. And then the comfort that when we bought the company we could actually manage all that."
Risk Disclosure:
"If you wouldn't treat your mother that way, don't treat the client that way. If this piece of paper tells the client how much risk they're taking and you don't want to give it to them, they're probably taking on too much risk. Give them the paper."
Financial Discipline:
"You've got to have disciplined reporting and a disciplined review of [what's] reported. And then it's got to be widely shared with smart people who also have experience and judgment. You will minimize problems. You'll still have them, by the way, but they should hopefully be smaller and fewer."
Being Prepared:
"Always have a column called 'worst ever' and make sure you can survive under that." [University of Chicago Graduate School of Business, 2006]
Going to Work for Sandy Weill:
"I went to work for Sandy because my goal in life was not to be a partner in an investment bank, and frankly it wasn't money. It was to build something, whatever that meant… The reason I went to work for Sandy is because I liked him… " [Kellogg School of Management, 2002]
Getting Fired by Sandy Weill:
"I was the president of Citigroup. I walked in and [Weill] said, 'I want you to resign,' and believe me, it was like I was shocked. I didn't expect it in any way, shape, or form." [Kellogg School of Management, 2002]
Life after Citigroup:
"It hurt. But as I tell people…it was my net worth, not my self-worth, involved in the company. I didn't feel less of a person, but all of a sudden you do feel kind of naked out there. You don't do this thing; you aren't president of…Citigroup."
Life Priorities:
"My children, my family—but especially the children I'm responsible for, even though they're kind of on their own… They're way up here. Right next to that is humanity. Honestly, we're not all here just for ourselves."
Marriage and Children:
"I do think that the hardest things to do in life are marriage and kids. They are like complete secrets until you do it. We teach you everything, but we don't teach you that… You've got to work [at] those things." [Kellogg School of Management, 2002]

About the Author
Patricia Crisafulli
is an accomplished business writer and author who has written or ghostwritten sixteen books on business, finance, and leadership. A former journalist, she was a correspondent in the Chicago bureau of Reuters America. Her articles have appeared in the New York Times, Chicago Tribune, Boston Globe, and other prestigious national newspapers. Crisafulli has written articles for the "Leisure & Arts" page of the Wall Street Journal and has appeared on television and radio across the country.

Table of Contents
Preface.
Acknowledgments.
Part One: In the Eye of the Storm.
Chapter 1 The Dimon Way.
Running the House of Dimon.
The Rise, Fall, and Rise of Jamie Dimon.
What You See Is What You Get.
Straight Talk about a Credit Crisis.
Never, Ever Forget the Downside.
A Culture of Transparency.
Doing What It Takes to Get the Job Done.
Chapter 2 Taking a Bear-Sized Bite.
No Ordinary Deal.
Presenting the Deal to Shareholders.
Step-by-Step Through the Deal That Changed Everything.
Reining In the Risks.
On Dimon's Shoulders.
Part Two: The Making of a Wall Street Leader.
Chapter 3 The Weill Years: In the Trenches.
The Making of Jamie Dimon.
The Market in His Blood.
Going to Work for Weill.
The Rise of Sandy Weil.
In the Trenches at Commercial Credit.
Buying Primerica—A New Second Chance.
Chapter 4 A Force on Wall Street.
Primerica Grows.
A New Team for a New Corporate Entity.
Growing Tensions.
The Deal of Deals.
The Firing of Jamie Dimon.
Chapter 5 The Recruitment of Jamie Dimon.
Life after Citigroup.
Bank One's Search for a CEO.
The New Bank One CEO.
Taking Over as CEO.
A House Divided.
The Beginning of a New Culture of Accountability.
Chapter 6 The Turnaround of Bank One.
New Players for the Team.
Welcome to Boot Camp.
Taking It to the Street.
Turning Around Bank One.
Straight Talk from the New CEO.
The Fortress Balance Sheet Debut.
Restoring Profi tability.
Chapter 7 Back onWall Street.
The House of Morgan.
The Deal That Almost Didn't Happen.
Delving into JPMorgan Chase.
Dimon Takes Over.
The Storm of 2007.
The Wall Street Statesman.
Part Three: Weathering the Storm.
Chapter 8 The Dimon Fortress.
Strong Defense, Strategic Offense.
The Signature Phrase.
It Always Pays to Be Prepared.
No Resting on the Laurels.
Advice and a History Lesson.
Stress Testing Assets.
Having Real Capital.
The Long-Term View.
Chapter 9 Taking Over WaMu: A Sign of the Times.
Welcome WaMu.
Washington Mutual Runs into Trouble.
A Strategic Fit for JPMorgan.
"First-Class" Banking Meets "Whoo Hoo!".
A Somber Picture.
Failure and Takeover: A Sign of the Times.
More Acquisitions in the Future?
Waiting for What Comes Next.
Chapter 10 Navigating Financial Storms.
A Brief Postmortem of a Complicated Crisis.
Bubbles Are Trouble.
Even the Best Model Can't Predict Everything.
Blame the Underwriting.
Launch New Products Cautiously.
Risk at One Firm Affects Others.
More Regulation Is Coming.
Bolder, Braver Leaders.
Chapter 11 A Wall Street Statesman.
The Hard Work of Being a Leader.
Family, Humanity, and Then JPMorgan.
Loyal—to the End.
Notes.
About the Author.
Index.




Find Items On Similar Subjects



A Gift to My Children: A Father's Lessons for Life and Investing


The Snowball: Warren Buffett and the Business of Life


Enough. True Measures of Money, Business, and Life