The New Leader's 100-Day Action Plan
: How to Take Charge, Build Your Team, and Get Immediate Results
George B. Bradt, Jayme A. Check and Jorge E. Pedraza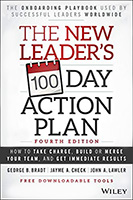 Format:
Hardcover, 321pp.
ISBN:
9781119223238
Publisher:
Wiley
Pub. Date:
4 edition February 1, 2016
Average Customer Review:

For Bulk Orders Call: 626-441-2024

Description and Reviews
From
The Publisher:
Your first 100 days in a new leadership role are critical. They determine the success of your mission, your relationship with your new team, and the trajectory of your career. Turnover is high among new leaders who "didn't work out," and the costs to them and their organizations are dramatic. However, the odds are in your favor, if you have a comprehensive onboarding plan.
This updated and revised Third Edition of the bestseller The New Leader's 100-Day Action Plan provides authoritative guidance to prepare exec-utives for an important transition and accelerate their results. Discover the right approach for taking charge in your new role, learn the key steps you should be making before Day One, and engage your new colleagues by fully understanding the organizational culture. This edition also adds a new 100-Hour Action Plan for crisis situations, which has been adopted by the American Red Cross.
With new chapters, sample action plans, and down-loadable forms to help you plan, this invaluable handbook will help you:
Assess the business context and internal political culture you'll be facing
Implement the "BRAVE" approach to motivating your new team members by understanding their Behaviors, Relationships, Attitudes, Values, and Environment
Provide advice for your bosses so that they'll know how to help you succeed
Use social media and other communication tools to reach and motivate your new stakeholders
The
New Leader's 100-Day Action Plan
will help you deliver better results faster. Ensure that you achieve all of your goals in your next leadership role by implementing an effective plan, starting even before Day One.

Reviews
"What a book! New and experienced managers at every level will 'fly' with this programmed learning."
—The Honorable Bruce S. Gelb, former Ambassador to Belgium; former vice chairman, Bristol-Myers Squibb; former president, Clairol
"I love this book and wish I had read it before stepping into my current leadership role. It provides a practical and indispensable road map to success that will help new leaders stack the odds in their favor. Read it and don't be among the forty percent of leaders who fail in the first eighteen months."
—Sandy Rogers, former marketing manager, Procter & Gamble and Apple Computer; former senior vice president, Corporate Strategy, Enterprise Rent-A-Car
"The New Leader's 100-Day Action Plan offers a comprehensive architecture with practical tools and techniques for new leaders to follow. I believe that leaders who utilize the advice from this book will have demonstrative business and culture-building results."
—Joe Bonito, Vice President, Organizational Development, Coach Inc.; former vice president, Pfizer
"One of the most basic yet comprehensive books I've read regarding the dos and don'ts of a successful on-boarding process. A must-read for all aspiring business leaders, from first-time CEOs to executives at every level of the organization. Also a great tool for human resources and talent management executives."
—Joe Griesedieck, former CEO, Spencer Stuart; Vice Chairman, Korn/Ferry International

About the Authors
George B. Bradt
(AB, Harvard; MBA, Wharton) is founder and Managing Director of PrimeGenesis, the premier executive transition consultancy. He was previously an executive at Unilever, Procter & Gamble, Disney, Coca-Cola, and J.D. Power and Associates.
Jayme A. Check
(BS, Syracuse; MBA, Anderson School at UCLA) is a founder of PrimeGenesis and President of Quantum Leap Associates. His experience includes executive roles in sales, business development, and strategy at firms such as JP Morgan, Brice Manufacturing, and Guidance Solutions. He is a recognized expert in leadership development and serves a broad base of clients worldwide.
Jorge E. Pedraza
(BA, Cornell; PhD, Yale) has led startups and reinvented established businesses at Concrete Media, Le Monde Interactive, and as one of the founding partners of PrimeGenesis. He helped found and is currently Managing Director of Origination at Unison, a wireless lease acquisition firm.

Find Items On Similar Subjects

The New Boss
: How to Survive the First 100 Days

The First 90 Days
: Critical Success Strategies for New Leaders at All Levels