Heroic Leadership
: Leading with Integrity and Honor
William A. Cohen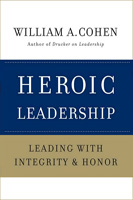 Format:
Hardcover, 288pp.
ISBN:
9780470405017
Publisher:
Jossey-Bass
Pub. Date:
May 24, 2010
Average Customer Review:

For Bulk Orders Call: 626-441-2024

Description and Reviews
From
The Publisher:
Proven leadership strategies used by combat and business leaders to accomplish impossible goals
Heroic Leadership
examines military leadership principles as they apply to business and life. Leadership expert and retired general William Cohen describes the eight universal laws of leadership and explains why heroic leadership has worked so successfully and ethically for thousands of years despite severe conditions of risk, uncertainty and hardship. He also shows how to implement Heroic Leadership to attract fellowship, use influence tactics, develop self-confidence, build, coach, and motivate a team, take charge in crisis situations, and take action.
Includes real-world examples from business as well, as battle, that follow the eight universal laws
Contains proven strategies and techniques to apply the universal laws and multiply the productivity of any group or organization
Suggests little-known, but highly effective methods for building teamwork and esprit de corps
Based on the classic, bestselling books on leadership The New Art of the Leader and the Stuff of Heroes
With a timeless approach to leadership, Heroic Leadership offers innovative ideas for motivating people and helping them to achieve new heights of personal and group performance

About the Author
William A. Cohen
(Pasadena, CA) is an authority on leadership and strategy formulation and deployment. He gives speeches and seminars for the Industrial College of the Armed Forces, the Air War College, the FBI Academy, all four armed services, and corporations from Boeing to The Cheesecake Factory. He is the author of The New Art of the Leader, The Wisdom of the Generals, and How to Make it Big as a Consultant.

Table of Contents
| | | |
| --- | --- | --- |
| | | |
| | Introduction: The Concept of Heroic Leadership | |
| | | |
| | Part One: The Eight Universal Laws of Heroic Leadership | |
| 1 | Maintain Absolute Integrity | |
| 2 | Know Your Stuff | |
| 3 | Declare Your Expectations | |
| 4 | Show Uncommon Commitment | |
| 5 | Expect Positive Results | |
| 6 | Take Care of Your People | |
| 7 | Put Duty Before Self | |
| 8 | Get Out in Front | |
| | | |
| | Part Two: The Eight Basic Influence Tools | |
| 9 | Direction | |
| 10 | Indirection | |
| 11 | Redirection | |
| 12 | Deflection | |
| 13 | Enlistment | |
| 14 | Persuasion | |
| 15 | Negotiation | |
| 16 | Involvement | |
| | | |
| | Part Three: The Eight Competencies of Heroic Leadership | |
| 17 | How to Attract Followership | |
| 18 | How to Develop Your Self-Confidence | |
| 19 | How to Build a Heroic Team | |
| 20 | How to Build High Morale and Esprit de Corps | |
| 21 | How to Motivate When Times Get Tough | |
| 22 | How to Take Charge in Crisis Situations | |
| 23 | How to Develop Your Charisma | |
| 24 | How to Solve Problems and Make Decisions | |
| | | |
| | Epilogue | |
| | Notes | |
| | About the Author | |
| | Index | |

Find Items On Similar Subjects

A Class With Drucker
: The Lost Lessons of the World's Greatest Management Teacher

The Art of The Strategist
: 10 Essential Principles For Leading Your Company to Victory - P