When Growth Stalls
: How It Happens, Why You're Stuck, and What to Do About It
Steve McKee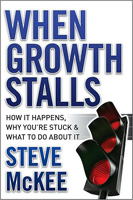 Format:
Hardcover, 240pp.
ISBN:
9780470395707
Publisher:
Jossey-Bass
Pub. Date:
March 3, 2009
Average Customer Review:

For Bulk Orders Call: 626-441-2024

Description and Reviews
From
The Publisher:
One of the biggest challenges any business leader faces is generating consistent, profitable growth. But stalled growth is the rule, not the exception, even for the best-managed companies. That's especially true in today's tumultuous economic environment.
When Growth Stalls
is a practical, hands-on guide for executives, managers, and entrepreneurs who are struggling with stalled growth as well as for those who hope to prevent it. In this book, marketing expert Steve McKee presents fascinating evidence that demonstrates that sluggish growth is usually produced not by mismanagement or strategic blundering, but by natural market forces and destructive internal dynamics that are widespread—and often unrecognized.
All companies struggle with external forces such as economic upheavals, changing industry dynamics, and increased competition.
When Growth Stalls
explores how these forces conspire to take companies down. But the book also looks beyond these natural market forces and explains how four subtle and highly destructive internal factors conspire to keep companies down: a lack of consensus among the management team, a loss of nerve, a loss of focus, and marketing inconsistency. Conquering these, McKee's research shows, is the real key to overcoming stalled growth.
When Growth Stalls
demonstrates that no matter what's going on outside an enterprise, it's what's inside that counts. Public or private, for-profit or not-for-profit, consumer-focused or business-to-business—organizations of every size and shape are subject to the same challenges. Throughout this groundbreaking book, McKee explains how to turn things around, offering proven and practical advice for rekindling growth.

Reviews
"Is there a doctor in the house? Steve McKee is good for what ails today's companies in search of growth. He's been through it, and he has isolated the key symptoms that hold companies back."
—Rance Crain, president, Crain Communications, and editor-in-chief, Advertising Age
"Don't be fooled by the title—this book isn't just for stalled companies. McKee covers important principles that all companies should be thinking about, especially new or fast-growing companies."
—Tony Hsieh, CEO, Zappos.com
"Steve McKee has zeroed in on the symptoms and challenges facing every business. Being aware of the issues is half the battle, and this book helps you win. A must-read for all businesses, especially emerging companies."
—Anupam Narayan, president and CEO, Red Lion Hotels Corporation
"When Growth Stalls is both insightful and timely. I was fortunate to read this during a difficult financial time for my industry. And having read it, I feel more secure in weathering the economic and management storms I face."
—Mary Lee Keane, president, Effie Worldwide
"When Growth Stalls is not only timely, it's timeless. These challenges confront managers in good times and bad, and McKee offers practical advice that people in every industry can use. This book will be relevant for years to come."
—David Humphrey, CEO, Massage Envy
"The message of this book is like a splash of cold water in the face because it truly mirrors the reality we face day in and day out in an increasingly competitive environment. Well worth spending time absorbing and applying to one's business enterprise, whether large or small."
—Mark Chmiel, executive vice president and chief marketing and innovation officer, Denny's, Inc.

About the Author
Steve McKee
is a columnist for BusinessWeek.com and president and co-founder of McKee Wallwork Cleveland Advertising. He has held executive positions at several internationally-respected advertising agencies including NW Ayer, Della Femina Travisano & Partners, Strascina & Partners, and Phillips-Ramsey, a division of McCann-Erickson Worldwide.

Table of Contents
| | | |
| --- | --- | --- |
| | | |
| | Acknowledgments | vii |
| | Introduction | ix |
| | | |
| 1 | It's Not Just Business, It's Personal | 1 |
| 2 | Growth Stalls | 13 |
| 3 | Market Tectonics | 23 |
| 4 | Lack of Consensus | 41 |
| 5 | Loss of Focus | 55 |
| 6 | Loss of Nerve | 73 |
| 7 | Marketing Inconsistency | 91 |
| 8 | The Vicious Cycle | 107 |
| 9 | Take a Deep Breath | 119 |
| 10 | Set Your Sights | 125 |
| 11 | Find Your Target | 137 |
| 12 | Sharpen Your Arrow | 155 |
| 13 | Let It Fly | 175 |
| 14 | It Works | 189 |
| | | |
| | Notes | 199 |
| | About the Author | 213 |
| | Index | 215 |

Find Items On Similar Subjects

Collapse of Distinction
: Stand Out And Move Up While Your Competition Fails

Profit From the Core
: Growth Strategy in an Era of Turbulence